Book of Jude Part 16 (series: Lessons on Jude)
by John Lowe
(Woodruff, S.C.)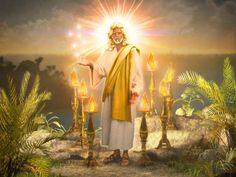 In regard to this passage, quoted from an ancient prophecy, we may remark.

1. That the style bears the marks of its being a quotation, or of its being preserved by Jude in the language in which it had been handed down by tradition. It is not the style of Jude. It is not so terse, pointed, and energetic.

2. It has every credible mark of its having been the actual spoken words of Enoch. The age in which he lived was corrupt. The world was ripening for the deluge. He was a good man, and, perhaps, he was almost the only good man of his generation. Nothing would be more natural than that he would be the object of ridicule and made out to be a fool. And nothing would have been more natural than for him to have pointed the men of his own age to the future judgment.

3. The doctrine of the final judgment, if it was voiced by Enoch, was one of the earliest doctrines in the world. It was well-known even in the first generations of the race. It was one of those great truths communicated early to man to restrain him from sin, and to lead him to prepare for the great events which are to occur on the earth. The same doctrine has been transmitted from age to age, and is now one of the most important and the most effective that refers to the final destiny of men.

When Jesus returns, He will execute His judgment. In the Greek text, Jude uses derivatives of the word ungodly four times in this verse. Apparently, he could not state his case strongly enough. Such people are so despicable that words cannot fully describe them. Nevertheless, Jesus will pronounce judgment on them for their godless deeds and for the abusive things they have spoken against God. These impostors have been able to fool many in the church, but they have never fooled the Lord. When Jesus returns, He will separate those who are His people from those who are not, and the hypocrites will be revealed. "When the Son of Man comes in his glory and all his angels are with him, he will sit on his glorious throne. The people of every nation will be gathered in front of him. He will separate them as a shepherd separates the sheep from the goats... These people will go away into eternal punishment, but those with God's approval will go into eternal life" (Matthew 25:31-32, 46).

Ungodly sinners—not merely sinners, but proud despisers of God: impious.

Against him—those who speak against God's children are regarded by God as speaking against Himself.

16 These are murmurers, complainers, walking after their own lusts; and their mouth speaketh great swelling words, having men's persons in admiration because of advantage.

Their ungodly words and deeds are now described in more detail. They are grumblers, complaining about the providences (divine intervention) of God instead of being thankful for His mercies. They are always finding fault with the Lord. Why does He permit wars and suffering? Why?

A clearer translation of verse 16 would be, "These grumblers and malcontents follow their own lusts; their bloated words are nothing but flattery." Jude continues to describe the behavior of these imposters because he wants believers to be equipped to identify them. If true believers can observe their behavior, it is less likely that they will be deceived by their outward appearance.

These are murmurers. Grudging and grumbling at all men, and at all things; complainers; complainers concerning their fate or destiny—finding fault with God and all his heaven-sent dispensations (the time during which a religious doctrine or practice is believed to be in force), making and governing worlds in their own way; persons whom neither God nor man can please. The word murmurers does not occur in any other place in the Bible, though the word murmur is used frequently, *Matthew 20: 11,**Luke 5:30

The fact that God hates such griping is proved by His punishment of Israel in the wilderness.

*(Matthew 20.11) "And when they had received it, they murmured against the goodman of the house,"
**(Luke 5.30) "But their scribes and Pharisees murmured against his disciples, saying, Why do ye eat and drink with publicans and sinners

Complainers. Literally, finding fault with one's own lot in life. The word does not occur anywhere else in the New Testament; today, it looks like everyone finds time to complain about something. Nothing is more common than for men to complain of their lot; to think that it is hard; to compare theirs with that of others, and to blame God for not having made their circumstances different. The poor complain that they are not rich like others; the sick that they are not well; those in prison that they are not free; the bereaved that they are deprived of friends; the ugly that they are not beautiful; those who live a humble life that their lot was not cast among the great and the famous. The virtue that is opposed to this is contentment-a virtue of inestimable value. "Not that I speak in respect of want: for I have learned, in whatsoever state I am, therewith to be content" (Philippians 4:11). Self-sufficient, not needing outside help, able to make ends meet. Paul was totally independent of man because he was totally dependent upon God. Paul's satisfaction and sufficiency were in Christ. "And he said unto me, My grace is sufficient for thee: for my strength is made perfect in weakness. Most gladly therefore will I rather glory in my infirmities, that the power of Christ may rest upon me" (II Cor 12:9).

Walking after their own lusts. Taking their wild, disorderly, and impure passions for the ruling force of their conduct, and not the writings of the prophets and apostles. It follows then that they will give unlimited indulgence to their appetites and passions. "Knowing this first, that there shall come in the last days scoffers, walking after their own lusts" (2 Peter 3:3). The secret of their murmuring and complaining is the restless voraciousness of their desires. They continually mutter discontentedly with an undercurrent of ungodly talk. They are complainers, blaming some unseen fate for their unfortunate lot in life. Believers' attitudes are to exemplify a stark contrast to that of unbelievers. Deceivers, on the other hand, are never happy and walk after their own lusts. They are always trying to satisfy their own desires, hoping vainly to achieve some measure of satisfaction. Such pursuits of material things survive only for a short time and then give birth to profound emptiness. This emptiness breeds discontent and murmuring; thus, the vicious cycle of worldly pursuits goes round and round, never achieving lasting results.

Great swelling words. "For when they speak great swelling words of vanity, they allure through the lusts of the flesh, through much wantonness, those that were clean escaped from them who live in error" (2 Peter 2:18). Probably this means; it is by their well-modulated, authoritative, bloated vanities that they are able to lure (Gr deleazō, a fishing term) those that were clean escaped (rather, those who are just now barely escaping). New converts are easy prey for these slick-talking pseudo-Christians who are really false teachers.

Having men's persons (their mere outward appearance and rank.) in admiration. Time-servers and flatterers; persons who pretend to be astonished at the greatness, goodness, shrewdness, learning, wisdom; etc., of rich and great men, hoping thereby to acquire money, influence, power, friends, and the like; showing great respect to certain persons, particularly the rich and the great. The idea is that they were not fair in the esteem which they had for others, or that they did not appreciate them according to their real worth, but paid special attention to one class in order to promote their selfish ends.

Because of advantage. For the sake of money and wealth, and because they hoped to derive some benefit for themselves. All the flatterers of the rich are like this kind; and especially those who profess to be ministers of the Gospel. With such persons a rich man is everything; and if he has just a grain of grace, his godliness is extolled to the skies! I have known several ministers and many false Christians with this type of character. These people may be wealthy themselves, because they have taken advantage of others in the church. They may appear cultured, and proficient in the arts and sciences. While their talents convey eloquence and sophistication in human terms, their spiritual lives are empty and void of meaning. "They arrogantly use nonsense to seduce people by appealing to their sexual desires, especially to sexual freedom. They seduce people who have just escaped from those who live in error" (2 Peter 2:18). Nevertheless, they are admired by many people simply because they may have a position of wealth or high standing in the community. However, the believer is warned to avoid the admiration of the world because it all comes from vanity. "You unfaithful people! Don't you know that love for this evil world is hatred toward God? Whoever wants to be a friend of this world is an enemy of God" (James 4:4).