Book of Titus: Part 3 (Series: Lessons on Titus)
by John Lowe
(Woodruff, S.C.)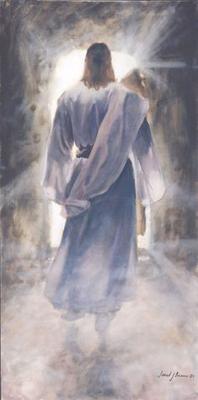 9 "I have manifested Your name to the men whom You have given Me out of the world. They were Yours, You gave them to Me, and they have kept Your word"
10 " For whom He foreknew, He also predestined to be conformed to the image of His Son, that He might be the firstborn among many brethren"
11 just as He chose us in Him before the foundation of the world, that we should be holy and without blame before Him in love, having predestined us to adoption as sons by Jesus Christ to Himself, according to the good pleasure of His will,
12 elect according to the foreknowledge of God the Father, in sanctification of the Spirit, for obedience and sprinkling of the blood of Jesus Christ: and the acknowledgment of the truth which accords with Godliness, The implication is that having knowledge through the Word, is a powerful influence on a person.

It is only through having a connection to Jesus Christ that the truth can be fully apprehended. Hence, the verse states two purposes of ministry: (1) faith, (2) the knowledge of the truth in a Godly life. God declares His truth through dedicated people, and it is a joy to share the Word with others. The truth Paul has in mind here is the gospel truth, the saving message of the death, burial, and resurrection of Jesus Christ. The angels in heaven would love to change places with us, so we should never cease to marvel that God would use us.

Faith is the first principle of sanctification. The gospel is truth; the great, sure, and saving truth (13Col. 1:5)-the word of the truth of the gospel. Divine faith does not rest on fallible reasoning and probable opinions, but on the infallible word, the truth itself, which is after Godliness (of a Godly nature and tendency), pure, and purifying the heart of the believer. This is how to judge doctrines: all doctrines must come from God; whatever is impure, and prejudicial to true piety and practical religion, cannot be from God. All gospel truth is after Godliness, teaching and nourishing reverence and fear of God, and obedience to him; it is truth, not only to be known, but acknowledged; it must be engaged in word and practice, (14Phil. 2:15-16). With the heart, man believes to righteousness, and with the mouth confession is made unto salvation. (Rom. 10:10).

13 "because of the hope which is laid up for you in heaven, of which you heard before in the word of the truth of the gospel." Because of the hope, not on account of the hope. The hope here is for heavenly rewards, specifically, the crown of righteousness. It is stored up like a treasure, reserved (II Tim 4:8; I Pet 1:3–5). The hope Paul speaks of is still future, and its nature is still unknown, but its possession is absolutely certain.
14 that you may become blameless and harmless, children of God without fault in the midst of a crooked and perverse generation, among whom you shine as lights in the world, holding fast the word of life, so that I may rejoice in the day of Christ that I have not run in vain or labored in vain.

Paul will dwell on this theme that when the gospel is believed it will lead to godliness because the people on the island of Crete were abusing the grace of God. They said that if they had been saved by grace they were free to live in sin if they wanted to. Paul answers that right here in the first verse by saying that when the truth of God is believed it will lead to godliness. Grace saves us, but it also lays down certain disciplines for our lives and calls us to live on a high plane. You cannot use the doctrine of the grace of God to excuse sin. If you think you can be saved by grace and live in sin--may I say this kindly, but I must say it--you are not saved by grace; you are not saved at all. Salvation by grace leads to a godly life.

2 in hope of eternal life which God, who cannot lie, promised before time began,
Alternate Translation (NLT): This truth gives them the confidence of eternal life, which God promised them before the world began—and he cannot lie.

in hope of eternal life which God. Paul's commission in connection with the gospel has a third great emphasis. It was not only concerned with: (1) evangelism—furthering the faith of God's elect, past tense; and (2) education—furthering their knowledge of the truth, present tense; but also (3) expectation—in hope of eternal life, future tense.

The NT speaks of eternal life as both a present possession and a future hope. The word "hope" does not imply uncertainty. The moment we trust Christ as Savior we have eternal life as a present possession (15John 5:24) and we become heirs to all the benefits of His redemptive work, but we will not experience the practical enjoyment of all of them until we reach our eternal home. We hope in the sense that we are looking forward to eternal life in its final form when we will receive our glorified bodies and be forever free from sin, sickness, sorrow, suffering, and death 16Phil. 3:20-21).

15 "Most assuredly, I say to you, she who hears My word and believes in Him who sent Me has everlasting life, and shall not come into judgment, but has passed from death into life."
16 "For our citizenship is in heaven, from which we also eagerly wait for the Savior, the Lord Jesus Christ, who will transform our lowly body that it may be conformed to His glorious body, according to the working by which He is able even to subdue all things to Himself." Our citizenship is in heaven. Heaven is the Christian's home; he is only temporarily in this world. The church is really a colony of heaven: our names are enrolled in heaven; we are under heaven's government; we share heaven's glory; we enjoy heaven's honor. Heavenly conduct should mark the Christian. Our allegiance is to Jesus Christ. We wait with eager expectation for the Second Coming of Christ. This is the normal attitude of a citizen of heaven.

The hope is sure because it was promised by God. Nothing is as sure as the word of God, who cannot lie, who cannot be deceived, and who would not deceive. There is no risk in believing what He says. In fact, nothing is more reasonable than for the creature to believe his Creator.

Another, and perhaps even better, translation of the preposition "in" within this context and within the phrase "in hope of eternal life" is "upon." Therefore, the phrase would be "Upon hope of eternal life" upon the basis of a hope or expectation of eternal life.

Since eternal life in the future is a matter of divine promise, its conferral, is consistent with the character of God. The promise was made not merely "before the world began" (A.V.), but before time began (172 Tim. 1:9).

17 "who has saved us and called us with a holy calling, not according to our works, but according to His own purpose and grace which was given to us in Christ Jesus before time began"
The gospel is intended to do more than give the "good news" of salvation through faith in Christ. It will also bring about hope and faith; and take the mind and heart off of the world, and put them on heavenly things. The faith and Godliness of Christians lead to eternal life, and give hope, for the God, that cannot lie, hath promised it. It is to the honor of God that he cannot lie or deceive: and this is a comfort to believers, whose treasure is laid up and kept for them according to his faithful promises. But how is it that he can make a promise before the world began? Answer, The Holy Trinity took council before there was ever a world and decided that faith in the Son of God would be the basis of salvation. That was the embryo of the promise given in 18Genesis 3:15. How wonderfully excellent is this gospel, which was given so early! How much then, should we esteem him, and thank him for our privileges as saints of his kingdom!
18 "And I will put enmity between thee and the woman, and between thy seed and her seed; it shall bruise thy head, and thou shalt bruise his heel."
We believers have eternal life now (19Jn. 5:11-12), but when Jesus returns, we will enjoy eternal life in an even greater way.
19 "And this is the testimony: that God has given us eternal life, and this life is in His Son. He who has the Son has life; he who does not have the Son of God does not have life." The message of the apostles was essentially this: the one who has the Son, that is in the sense of believing in Him, hath life; and he that hath not the Son of God hath not life.

who cannot lie, The phrase "Who cannot lie," literally means "free from falsehood," and is used only here in the New Testament. Perhaps Paul used this phrase to make a comparison of the character of God, who cannot lie, with that of the Cretans, who lie continually. It says in Romans 3:4, "…let God be true, but every man a liar…" You see, God must be true to Himself. If He is holy and He is righteous--that is His nature, and there are certain things He cannot do because of His nature. It is not because it is impossible for Him to do it; but because God is true to His nature, He cannot do it. He is righteous, He is just, and He never deceives. He is One you can depend upon.

promised before time began, God promised eternal life before time began. This may be understood in two ways. First, God determined in past eternity to give eternal life to all who would believe on the Lord Jesus, and what He determined was the same as a promise. Or it may mean that all the blessings of salvation were contained in germ form in the promise of the Messiah found in 18Genesis 3:15. This was before the ages of time or dispensations began to unfold. God's plan of salvation was not an afterthought (20Rev 13:8). The time for Christ's coming was fixed by God in eternity past, and it was the exact right time for Him to come.