BOP BAG SALVATION
by CharlesRobey
(Trussville, AL USA)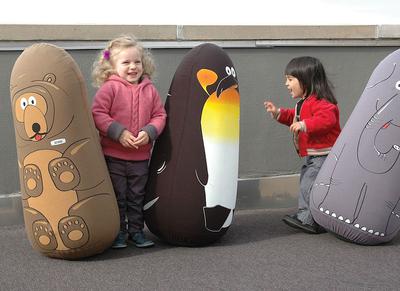 "For we ourselves were once foolish, disobedient, led astray, slaves to various passions and pleasures, passing our days in malice and envy, hated by others and hating one another. But when the goodness and loving kindness of God our Savior appeared, He saved us, not because of works done by us in righteousness, but according to His own mercy, by the washing of regeneration and renewal of the Holy Spirit." (Titus 3:3-5)

An Interesting Object Lesson In Theological Practicality

It was that time again, the time for my son's birthday party. And what did he want? He wanted a big "Bop Bag," the one displaying the life-size figure of a clown.

My son wanting this particular inflatable knockdown toy surely brought back memories of my own childhood. Life was much simpler then. Such toys as Bop Bags, tended to be the highlight of our special occasion gifts, like birthdays and Christmas. So I was determined to make this one dream request come true for him. For it was his sixth birthday, and a very special one at that.

You see, my son was very gifted in some ways, but lacking the normal childhood coordination in others, due to a birth defect. Having this Bop Bag, I felt would surely help in his physical therapy. So getting this very special toy was all that was on my mind that night as I fell off to sleep. What happened in my sleep was surely a lesson in real-life theology show and tell.

I found myself sitting in the middle of a big room filled with Bop Bags. What was so unusual about these particular bags were that they were divided in half. Half were on one side of the room and half on the other, as if they were fixed for war.

Not only were they segregated, but they seemed to be divinely set apart, as if to give a certain contrasting impression. One half was black in color and the other half pure white. And they were not imprinted with the usual cartoon characters, but all had some type spiritual etching engraved on the bag.

The etchings on the black bags each had a large heading which stated "Deeds of the Flesh," followed by such wording as immorality, impurity, sensuality, idolatry, sorcery, enmities, strife, jealousy, outbursts of anger, disputes, dissensions, factions, envying, drunkenness, and carousing.

And the etchings were totally different on the white bags. These bags had a heading of "Fruit of the Spirit," followed by such wordings as love, joy, peace, patience, kindness, goodness, faithfulness, gentleness, and self-control.

The desire to show off the natural talents of my boyhood skill and strength just got the best of me, and I lit into these Bop Bags. However, the strangest thing happened. When I knocked down the pure white Bop Bags, they would pop right back up. And when I would knock down those ugly black Bop Bags, they would stay down. What in the name of peace, does this all mean?" I thought.

Then all of a sudden, an unusual character appeared out of thin air. "Having fun?" he asked.

"Well, yes I am, but the strangest thing is happening," I responded as I gave him a detailed account of my experience with these Bop Bags.

This stranger just grinned, as if to say, "I've got the answer," and continued talking by divine inspiration. "The white-clad Bop Bags with the inscriptions of "The Fruit of the Spirit" are representative of the pure true white light of the gospel. (I Cor. 15:1-4) They are representative of those children of God, redeemed individuals (Ephesians 2:8-9), who are now walking by the Spirit. (Galatians 5:16, 25).

"These individuals have conquered the fleshly passions and desires. (Galatians 5:24). And if and when these individuals falter in life, they will, in like manner with the Bop Bags, pop right back up in their Christian walk."

"However, it's not so with the black-clad bags. They are representative of the darkness of sin, ones who are dead in their trespasses and sin. (Ephesians 2:1) And they will stay down, in their inherited sins (Genesis 3:1-7), until they too are redeemed of their sin. (Romans 3:23)

For just as the illustration of white bags over the black ones, you see the Spirit gives victory over the flesh and its works." (Galatians 5:16)

"So, Mr. Unknown Stranger, do you want to come and pop the Bop Bags with me just for the sake of posterity?" I asked.

"Oh no, not me. That's all the work of the Father who sent me. My task is now done."

Then, as I started towards the bags, I felt the need of one last conversation with this strange fellow, but lo and behold, he was nowhere in sight. And as I started towards the bags, it all changed for I found myself sitting up in bed, sweating profusely. All I could say was, "Wow, what a dream!"

Then, piercing through the dark of night, and lying by my bedside was Mom's old tattered Bible. "How did this happen? It can't be real," I cried out. So I grabbed the old Bible and started to read:

"For God has not destined us for wrath, but to obtain salvation through our Lord Jesus Christ," (I Thess 5:9)

Well, this unusual stranger was surely right. His task was done. Now it was all up to me. Yes, I did settle up with the Father through His Son that happy night, as I got the message. It was by nothing I could do, outside of my faith in His free grace. I couldn't work my way to Him, I couldn't pay enough tithes to get to him. And I certainly could not depend on my family or friends to get me to him. (Ephesians 2:8-9)

Oh my, it's now daylight! I must hurry to the big box store and get that Bop Bag for my son's birthday party. And it must be painted with a clown. So, here I go. And yes, they had plenty of clown Bop Bogs.

Author's Postscript

When it's time to just clown around, why not introduce your kids to the most famous clown of all times, Bozo? Giving him a few bops, on the old Bop Bag, will surely ease that childhood tension and excess energy.

And in parallel, why not give that old evil character, the Devil, a few spiritual bops, as well? "Whatever you do in word or deed, do all in the name of the Lord Jesus, giving thanks through Him to God the Father." (Col. 3:17)

For the phrase "In word and deed" includes what we say and how we act as Christians. Yes, we are to submit it all to Christ. For you see, our relationship with Christ should not be considered to be a fixed set of rules, we are to submit everything and all our time to Him. Amen!