But He Gave It All Up That He Might Know Christ - Part 2 (series: Lessons on Philippians)
by John Lowe
(Woodruff, S.C.)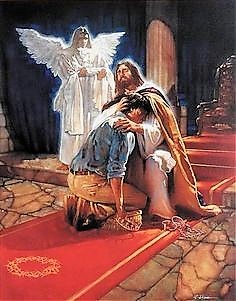 14 press on toward the goal to win the prize for which God has called me heavenward in Christ Jesus.

I "press on toward the goal" is in the present tense, indicating continuous action. Here the "prize" at the end of the race, Paul says, is "the prize for which God has called me heavenward in Christ Jesus "the high calling of God," literally, the upward call.

Paul presses on because it is only when the goal is reached that the prize can be grasped. So he tries to obtain the prize of perfect fellowship with Christ, and his glorification with Christ in the immaculate heritage of heaven hereafter (2 Tim. 4:8; Rev. 2:10). This prize is connected with the upward hheavenly, heavenward call of God which he received at his conversion when God's saving call to everlasting life came to him "in Christ Jesus," i.e. by his merit and in communion with Him." The thought in this verse is well expressed in the familiar hymn, "Fight the Good Fight":

Run the straight race through God's good grace,
Lift up thine eyes, and seek His face;
Life with its path before us lies;
Christ is the way, and Christ the prize.
Here Paul speaks from an eschatological1 perspective as foreign to notions of moral progress in our own time as to the Stoic2notions of his own. He works hard to be faithful to the call of God, not in order to become a wise man who can always decide what is best in a given situation but so that when he stands before God on the Day of Christ, he will not have run the race in vain (2:16; Gal. 2:2). His present striving, then, is oriented toward the final day in a way that seems strange to our culture. It is important, in spite of this strangeness, not to "update" and therefore cloud Paul's meaning with the notion that he is simply trying to become a better person. He is evaluating his life in light of the Judgment Seat of Christ, before whom he and all believers with him will one day stand (2 Cor. 5:10; Rom. 14:10).



Special Notes and Scripture

1 Eschatological refers to a part of theology concerned with the final events of history or the ultimate destiny of humanity. This concept is commonly referred to as the "end of the world or "end times."

2 Stoic philosophy taught that people should be free from passion, unmoved by joy or grief, and submit without complaint to unavoidable necessity.

3 The phrase "taken hold of" means to lay hold of, arrest, or appropriate.