By The Grace Of God, I am"
by Dr. Joseph R. Rogers, Sr.
(Raleigh, North Carolina)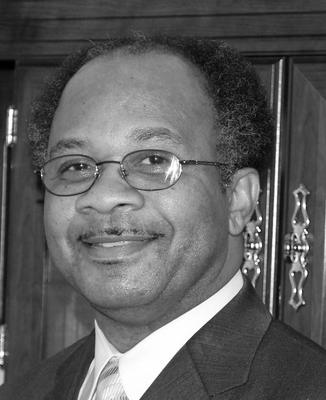 "BY THE GRACE OF GOD I AM"

A Sermon By Dr. Joseph R. Rogers, Sr.
For The Mt. Zion First Baptist Church
Rocky Mount, North Carolina 27804
Theme: God's Unmerited Favor
August 4, 2018

Scripture: "10 But by the 'grace' (favor, mercy) of God I am what I am: and his grace which was 'bestowed'(CONFERRED, GIVEN) upon me was not in vain; but I 'labored' (SERVE, MINISTER) more abundantly than they all: yet not I, but the grace of God which was 'with' (GUIDING, EMPOWERING & SUSTAINING) me". (1 Corinthians 15:10)

Introduction
In the text for the morning, The Apostle Paul writes his first letter to the church at, Corinth. This was a special church to the Apostle Paul, because of its willingness to allow the 'Gifts of the Spirit (chapter 12) to operate in their lives.

I AM, THAT I AM is a familiar term, that we find in the "Book of Exodus", used by the Prophet Moses when he asked God, whom shall I say sent or empowered him to lead The Children of Israel out of bondage onward to the Promised Land. (Exodus 3:14).

I am that I am is a common English translation from the original Hebrew, also is saying "I am who I am", or "I will be what I will be" or "I will be what I will. Such phrases indicate that God has 'no beginning' and 'no end'—His is forever past and forever present and will always BE!

God is saying, "I am That I am (I am Who I am), My nature, i.e., cannot be declared in words nor conceive by human thoughts". God further suggest, "I am independent, unrestricted, limitless and undefined in my existence, from which all things are derived and on which everything else is dependent".

In this text, Two Christian Missionary was an integral part of the Apostle establishing this church at Corinth. It has been suggested by some scholars that 'Aquila' and 'Priscilla' had already been witnessing for God before the Apostle Paul arrived there during his second missionary journey, in the summer of 50 A.D. (Acts 18:1)

Act 18:2- "2And found a certain Jew named 'Aquila', born in Pontus, lately come from Italy, with his wife 'Priscilla'; (because that Claudius had commanded all Jews to depart from Rome:) and came unto them".

The Apostle Paul understood the "POWER OF GRACE" (Favor) of God. Paul, a Jew, born in Tarsus, Turkey. His parents were Jewish, presumably strict Pharisees and Roman citizens. The Apostle Paul was highly educated in the Jewish Law, studied at the feet of the great Jewish Law Doctor, "Gamliel".

The Apostle Paul was not initially a Christian, but his encounter with Jesus Christ on the road called, "Damascus", converted him to the Christian Faith. This chose vessel sent to the 'Gentile Christian'.

After his conversion, he remained on fire for Jesus Christ and gave the ultimate sacrifice, 'physical death' in Rome, after standing before, Procurator Festus, Governor Felix, King Agrippa and Ceasar.

God has given to the world an olive branch, (Grace), of which there are some who do not appreciate it. This underserved favor can be described as follow: "The merciful kindness by which God, exerting his holy influence upon souls, turns them to Christ, keeps, strengthens, increases them in Christian faith, knowledge, affection, and kindles them to the exercise of the Christian virtues." That's grace!

In these verses, The Apostle Paul is 'defending' (Apologetics) the resurrection of the Lord Jesus against the doubts of unbelievers. He mentions the fact that the Resurrected Christ was seen by The Apostle Peter, The Twelve Disciples, Five-hundred Brethren, His earthly brother James and then last of all, by HIM.

The Apostle Paul proceeds to tell his readers that because of his 'sins' and 'attacks' against the church of the Living God, he was the least of the apostles and is not even worthy to be named among them.

However, Paul goes on to say that he is assured that God has anointed, called and used him and that anything that he 'has', 'Is', or 'ever will be', is because of the precious Grace of God.

I would like to remind each of us here this morning, that if it had not been for the Lord's Powerful Hands, Mercy and Grace on our side, where would we be?

Every person in this sanctuary this morning, is wretched, ungodly, filthy, underserving SINNER standing in our own strength and wisdom, insomuch so, that we should be doomed to HELL ETERNAL FIRE.

But because of the blood of Jesus Christ (His Grace), we are 'redeemed', and bought with a price--death! Furthermore, we are high favored, justified, sanctified, and will one day be glorified with an incorruptible body, that will never grow old of fade away.

This morning, by the help of the Lord, The Holy Ghost would like to show us some of the possessions that have been 'bestowed' upon us as children of God because of grace: "By The Grace Of God I Am!"

Exposition I
I. 'SAVED' FROM SIN: (By The Grace of God, I am)
Ephesians 2:8--"For by grace are ye saved through faith; and that not of yourselves: it is the gift of God."

Ephesians 1:7--"In whom we have redemption through his blood, the forgiveness of sins, according to the
riches of his grace."
II. 'SURE' IN MY PROFESSION: (By The Grace of God, I am)
Romans 5:2--"By whom also we have access by faith into this grace wherein we stand and rejoice in hope of the glory of God."
I am 'sure' because my faith rests upon a 'sure foundation', that is, the stone that the builder has rejected, which has become the "CHIEF CORNERSTONE". (Jesus Christ Our Lord)
III. 'SECURE IN MY WALK': (By The Grace of God, I am)
Romans 3:24--"Being justified freely by his grace through the redemption that is in Christ Jesus:"
I am 'secure' in God because, in God's hand, no man can pluck (snatch) my out. I do have the choice to walk away from the fellowship if I choose to do so.
IV. 'STRENGTHENED IN MY ABILITIES': (By The Grace of God, I am)
2 Corinthians 12:9--"And He (Jesus) said unto me, My grace is sufficient for thee: for my strength is made perfect in weakness. Most gladly, therefore, will I rather glory in my infirmities, that the power of Christ may rest upon me."
2 Corinthian 9:8, --"And God is able to make all grace abound toward you; that ye, always having all sufficiency in all things, may abound to every good work:"
V. 'SUPPLIED BLESSINGS BEYOND MEASURE': (By The Grace of God…)
Hebrews 4:16--"Let us, therefore, come boldly unto the throne of grace, that we may obtain mercy, and find grace to help in time of need."
Philippians 4:19-"9And my God will meet all your needs according to the riches of his glory in Christ Jesus".
Ephesians 3:20--20 Now to Him who is able to do exceedingly abundantly above all that we ask or think, according to the power that works in us".
VI. 'SOMEBODY IN MY OFFICE AND ANOINTING': (By The Grace of God)
Ephesians 3:7-8--"Whereof I was made a minister, according to the gift of the grace of God given unto me by the effectual working of his power. Unto me, who am less than the least of all saints, is this grace given, that I should preach among the Gentiles the unsearchable riches of Christ;"
Conclusion
So, as I move toward my conclusion, it is wonderful to have a 'sure' and 'anchored' tool, for which we can stand upon in our walk with the Lord.
Yes! I am talking about God's Grace, God's Amazing Grace—-that Grace that bought us thus far and that Grace that shall lead us on!
Yes! I am talking about God's Grace, God's Amazing Grace--that saved a wretch like me, I once was lost, But now I'm found, Was blind, but now I see!
Yes! I am talking about God's Grace, God's Amazing Grace--that Through many dangers Toils and snares, We have already come
'Twas grace hath brought, Us safe thus far, And grace will lead us home!
Yes! I am talking about God's Grace, God's Amazing Grace—that When we've been there Ten thousand years Bright shining as the sun,
We'll have no less days to sing God's praise, Than when we first begun!
Beloved, there are many things in this life that will 'fail' or 'disappoint' us. Our…
 Friendships will blossom and then die.
 Health can be an elusive thing.
 Riches and wealth will fade from our presence.
 Loved Ones will pass from the scene.
 Our Minds will begin to forget…
However, there is one thing that will never fail, never end, never run out, never run dry and will never be found to be insufficient and that is "The grace of God!" Without question as we journey through this challenging land…
• Our roads will long and dreary,
• Our days will be filled with difficulties and struggles,
• Our good deeds will not always be appreciated,
• Our fruitful advice will be laughed at,
• Our hard work will not be rewarded, But! But! But…
We can rest with 'assurance' that God's Grace is 'sufficient' for every 'struggle', 'challenge', 'need' and 'trial'. That is the promise of God, that will never fail. Because…
He has said, "I will supply your every need and I will never leave thee nor forsake thee".
He has said, "I (God) will remain closer to you than a blood brother or sister".
He has said, "No weapon that forms itself against you (us) will prosper'.
He has said, "When the wicked, even mine enemies and my foes, came upon me (us) to eat up my flesh, they stumbled and fell".
He has said, "Though an host should encamp against me, my heart shall not fear".
He has said, "Though war should rise against me (us), in this will I (we) be confident".
He has said, "For in the time of trouble he shall hide me (us) in his pavilion: in the secret of his tabernacle shall he hide me (us); he shall set me (us) up upon a rock".
He has said, "And now shall mine (our) head be lifted up above mine enemies round about me: therefore, will I (we) offer in his tabernacle sacrifices of joy; I (we) will sing, yea, I (we) will sing praises unto the Lord".
"BY THE GRACE OF GOD I AM"
Dr. Joseph R. Rogers, Sr., Servant Leader
Mount Zion First Baptist Church
Rocky Mount, North Carolina 27804