CAUSES AND EFFECT- GOOD VERSES EVIL
by Charles Robey
(Trussville AL, USA)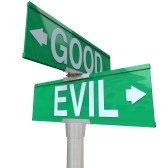 You shall know the truth !
As a child, growing up in red blooded America, a man's word was his bond and his hand shake was the only contract needed. Now-a-days, one cannot turn on the TV, and watch a decent show without seeing numerous commercials split between such ad factions as injury lawyers, prescription drugs, self helps, weight loss programs, etc.

It's not that attorneys are necessarily bad, sick people don't need the necessary medication, we don't need positive behavioral help or that we don't need to shed a few pounds. The underlying factor is that nobody trust anybody these days, ( Proverbs 3:5-6 )and that everybody is just all out for one of three people, me, myself and I. You see, this all seems to have developed when this country started ignoring the sovereignty of a living God. ( Ephesians 1:8 )

This old universe of ours is an effect which requires an adequate cause.( Psalm 19:1 ) In other words, our world being as complex as it is, has always needed divine guidance. And when you take away or ignore such guidance, as our current country has done, this divine fixation falls apart. You see, this universe not only provided a maker but also a designer. ( Romans 1:18-20 ) And now our designer has been eliminated, by various and sundry evil schemes. ( Judges 21:25 )

You've probably heard the old cliché, " the squeaking wheel gets the grease'. That is certainly true in our world today.( Romans 8:5 ) Just let a bare minority yell and see what happens. ( Romans 5:12 ) In such cases as taking Bible out of the school, ( 2 Timothy 2:15 ) violating God's marriage laws, ( Genesis 2:18, 21-25 ) killing the unborn children, ( Psalm 139: 13-16 ) not allowing the Ten Commandments to be displayed, (Deuteronomy 11:13-22 ) and wanting to discard our national motto, " In God We Trust". ( Luke 12:8-10 ) I advocate making the Ten Commandments the law of the land. After all, if it was good for our early civilization, why not now. ( Exodus 20: 1-10 )

The bottom line here is that man is a moral and intellectual being. Hence, man must have had a maker who is also a moral and intellectual being. ( Acts 17:29 ) When this intellect is ignored or not recognized, the system starts falling apart. ( Colossians 3:2 )

Evil's cause and effect is simple. When we fall away from God, the effect is lawlessness, civil disobedience, moral decay, a disastrous economy, increased natural disasters, political up evil, etc. ( 1 John 3:4 )

And what about us Christians, who once tended for the faith,( Jude 1:3 ) but now have fallen by the wayside ? ( Hebrews 6:4-6 ) What would be our cause and effect? Often times, we Christians just give up, ( Romans 8:33-34 ) when we see all the ungodly happenings around us. This, in turn, effects us as the Bible is no longer convincing and our Christian faith does not seem find a home in our daily lives. You see, we then tend to struggle and move away from the Christian priorities, that use to be so much a part of our lives. ( Galatians 5:4 ) However, we must not let the evil persuading of Satan get the best of us. ( Hebrews 2:3 ) ( Hebrews 3:12 )

Therefore, how may we fight today's evil political correct philosophy ? ( Revelation 20:3 ) ( 2 Cor 4:4 ) Revelation 2:13 ) ( 1 Thess 2:18 ) How may we Christians turn back to Him ? The answer is simply put in ( 2 Chronicles 7:1-6 ).

Here, God gives us a defendant promise, if we will do three things, humble ourselves, pray and seek His face. When this is done, God promises to heal our land. And notice, God does not address any particular political persuading, only His people who are called by His name. Hence, we Christians.

Therefore, it's time for us believers who claim the name of Christ, to stand up ( Romans 14:5 ) and be counted for the Lord. ( Hebrews 10:35-38 ) ( Ephesians 3:20 ) .You see God, is ready and willing to help us, if we will only let Him. ( Jeremiah 29:11 )

And don't forget, as we take our stand ( Romans 1:16 ) for Christ, we should encourage others to do likewise.( Acts 5:20 ) ( 1 Cor 4:1-3 ) ( Isaiah 55:11 )

So, here you have it, a short synopsis on the old idiom, "cause and effect", of which started with the very beginning existence of mankind and continues to this day, in both factions of evil and good.