Characteristics of Discipleship Part 2 of 2
by John Lowe
(Laurens SC, USA)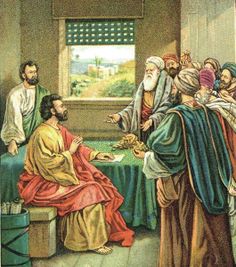 Although they claimed they were children of Abraham and therefore they had God's favor, Jesus tells these men that if they were truly children of Abraham, they would act like Abraham. And it's clear that they weren't doing that, since they wanted to kill Jesus. So instead of being the children of Abraham, they were, in fact, the children of the Devil. Satan is the originator of murder and lying and they are imitating Him. He said, "You do what your father did."

Friends, you and I are to imitate Jesus; He should be our example, not the Devil. We should take on His characteristics and do what He does. Some in the crowd shouted, "We were not born of fornication; we have one Father, even God." Jesus answered them with, "If God were your Father, you would love me, for I proceeded and came forth from God; I came not of my own accord, but he sent me."

How can you tell if you're a child of God? That's easy, Jesus says, "If God were your Father, you would love me." We can love Him because He first loved us and He died for us. John, in his epistle, gives the same answer, "Whosoever believeth that Jesus is the Christ is born of God: and everyone that loveth Him that begat loveth Him also that is begotten of Him" (1 John 5:1). If you love God, then you must be a child of God, because only His children love Him. The "good news" of the Gospel of Jesus Christ is that anyone can believe in Him and be saved. No one is excluded from coming to Jesus.

The third point was, "A True Disciple has Christlike Behavior."

There's One More Characteristic of a True Believer, and That is, "He Honors Christ."

Many claimed to be disciples of Jesus, but they did not honor Him. In fact, they accused Him of being demon-possessed. Jesus replied, "I have not a demon; but I honor my Father, and you dishonor me." They could not be true followers and dishonor the Lord in this way. True disciples honor, and adore, and obey Christ.

Listen as I read verses 48-59.

48 The Jews answered him, "Are we not right in saying that you are a Samaritan and have a demon?"
49 Jesus answered, "I have not a demon; but I honor my Father, and you dishonor me.
50 Yet I do not seek my own glory; there is One who seeks it and he will be the judge.
51 Truly, truly, I say to you, if any one keeps my word, he will never see death."
52 The Jews said to him, "Now we know that you have a demon. Abraham died, as did the prophets; and you say, 'If any one keeps my word, he will never taste death.'
53 Are you greater than our father Abraham, who died? And the prophets died! Who do you claim to be?"
54 Jesus answered, "If I glorify myself, my glory is nothing; it is my Father who glorifies me, of whom you say that he is your God.
55 But you have not known him; I know him. If I said, I do not know him, I should be a liar like you; but I do know him and I keep his word.
56 Your father Abraham rejoiced that he was to see my day; he saw it and was glad."
57 The Jews then said to him, "You are not yet fifty years old, and have you seen Abraham?"
58 Jesus said to them, "Truly, truly, I say to you, before Abraham was, I am."
59 So they took up stones to throw at him; but Jesus hid himself, and went out of the temple.

The Jewish leaders were angered by the accusations that Jesus made; they struck back by accusing Christ of being a demon-possessed Samaritan and not a true Jew. Such an accusation dishonored God and would result in judgment against those who made it.

Next, Jesus said, "Your father Abraham rejoiced that he was to see my day; he saw it and was glad." At this point, the Jews state that now they know He has a demon, after all, every one of the great men of the Old Testament had died. This must disprove Christ's promise that whoever would keep His word would not die. Their conclusion was, "The word of Christ was not true." However, Christ answered their question by claiming that He does not seek glory for Himself, but only for the Father. And if He says that He does not know the Father, He will be a liar like the Jews. Because they were limited to physical understanding, the Jews could not comprehend how Christ saw Abraham.
Christ now makes one of the strongest statements He ever made. He said, "Before Abraham existed, I am." Christ has always been, and He was the great "I AM" of Exodus 3:14, where He spoke to Moses from the burning bush.The religious crowd was so angered by Christ's claim that they belonged to the devil and that Christ was God, they attempted to kill Him. But, as Jesus said, they were only doing the works of their father, the devil. They would not honor the Lord Jesus, because they never accepted Him.

There's a story about a man who did honor Christ. His name was General William Booth; he founded the Salvation Army. At the age of eighty-three, he was told he would not regain his sight. Booth spoke to his son, Bramwell, and said, "You mean that I am blind?" Bramwell replied, "Well, General, I fear that we must consider that." After a pause, the elder Booth asked, "I shall never see your face again?" "No, probably not in this world," said Bramwell. The senior's hand then extended to take hold of his son's hand and he said, "God must know best!"
After another pause, he stated, "Bramwell, I have done what I could for God and for the people with my eyes. Now I shall do what I can for God and for the people without my eyes." Even blindness couldn't stop him from honoring God through helping others.


Conclusion

Are you a true disciple of Jesus Christ? The proof that you are is a continuing commitment to Him, and Christ-like behavior, and a Christ-honoring-life.