Christians and Wisdom: Part 2 of 6 (series: Lessons on 1 Co.)
by John Lowe
(Woodruff, S.C.)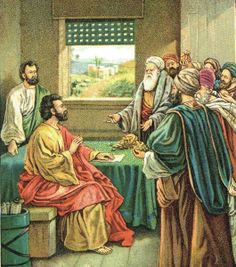 in a mystery;

In the sphere of Christianity, a mystery is any truth that is divinely revealed, that would otherwise be unknowable. "And without controversy great is the mystery of godliness: God was manifest in the flesh, justified in the Spirit, seen of angels, preached unto the Gentiles, believed on in the world, received up into glory" (1 Tim 3:16; KJV). The divine scheme to grant us entrance into the kingdom of God is embodied in CHRIST—" To whom God would make known what is the riches of the glory of this mystery among the Gentiles; which is Christ in you, the hope of glory" (Col 1:27; KJV)— once hidden from us, but now revealed to us who believe.

The Gospel is full of mysteries; there is the mystery of God, of a trinity of persons in the divine essence; the mystery of Christ, of his person, as God manifest in the flesh, of his divine sonship, and incarnation in the womb of a virgin; the mystery of the Spirit's grace in regeneration, of the saints' union with Christ, and communion with him, the resurrection of the same body, the change of living saints at Christ's coming, and many others.

even the hidden wisdom;
The Gospel lay hidden in God from eternity past, and men didn't even know there was such a thing; it was hid in Christ, in whom are hid all the treasures of wisdom and knowledge; it was hid beneath the types and shadows of the ceremonial law; and today it is hid in the Scriptures, where it must be diligently searched for, as if it was some pirates' hidden treasure. It was hid from angels, and from Adam, until it was revealed; it was to some extent hid from the Jews under the former dispensation, to whom it was eventually made known; and it is hid from believers, under the present dispensation, in the sense that now we know it but in part; and it is entirely hid from natural men, even from the wisest and most prudent among them. This depiction expresses the brilliance and grandeur, secrecy, and also security of the Gospel. Hidden things are commonly thought to be valuable, and if kept secret, are also safe; hidden and secret wisdom has always been admired, by both Greeks and Jews. The apostle adds,

which God ordained before the world
The Egyptians and Grecians were proud of the wisdom they amassed and they would boast about how early they came to know it. The great cities of these nations had constructed magnificent libraries to display all the books of learning. They developed astronomy mathematics, astrology, science, and art, and made a profession of learning. The foremost men in their field were revered as national treasures. But none of them mentioned the Gospel, though it was more ancient than anything they knew. It was birthed by God's oldest councils, and was the product of His purposes which He committed to Christ before the world was created; a scheme of things he drew-up in his eternal mind; it is a transcript of the covenant of grace, which existed from the beginning. What the Jews say of the law, is much more true of the Gospel, "that it was treasured up with God (they say two thousand years, and sometimes nine hundred and seventy-four ages), before the world was created."

unto our glory:
We say "Glory to God," when we want to praise Him, or express our adoration; but what is meant by "our glory?" We are living during the Dispensation of Grace, which, thanks to the Gospel, has a glory in it that surpasses that of the former dispensation. It is a glory that belongs both to the ministers of the Gospel, whose honor it is both to be employed in preaching it, and in being the instruments of converting the souls of men by applying it, and to believers who are called by it to obtain the glory of Christ Jesus.

8 Which none of the princes of this world knew: for had they known it, they would not have crucified the Lord of glory.

Which none of the princes of this world knew:
The following conclusions can be made from this clause:
1. The devil, which walks the earth as a roaring lion, and the legions of evil demons that serve him, had no idea what God planned to do through the death of Christ, because if they had known they would never have worked to bring it about.
2. The political governors of the Roman Empire, particularly Pontius Pilate and Herod in Judea were entirely ignorant of God's intentions; because, if they knew what we know, they would never have ordered His crucifixion.
3. The religious rulers of the Jewish church state—the priests, Scribes, Pharisees, Rabbis and learned doctors—did not know anything about the wisdom of the Gospel, or the wise revelations of God concerning salvation by Christ; because, if they knew they would not have yelled, "Crucify Him." They didn't recognize the Messiah when he came or the prophecies concerning him; the Jews and their rulers did what they did through ignorance, and fulfilled those things they knew nothing about.
a. "And now, brethren, I wot that through
ignorance ye did it, as did also your rulers…But those things, which God before had shewed by the mouth of all his prophets, that Christ should suffer, he hath so fulfilled" (Acts 3:17, 18; KJV).
b. "For they that dwell at Jerusalem, and their rulers, because they knew him not, nor yet the voices of the prophets which are read every sabbath day, they have fulfilled them in condemning him" (Acts 13.27; KJV).
for had they known it, they would not have crucified the Lord of glory.
If the rulers of this age would have known who Jesus was they would have received him, believed in him, and not put him to death. But why did the rulers of this age fail to recognize God's wisdom? It was because he was kept a mystery; a "sacred secret" that could only be known by revelation. When they saw the miracles and heard what he taught, many believed in him, but most rejected him because he didn't fit their concept of a Messiah. And they rejected Paul because he preached the hidden wisdom that is now revealed by the Gospel of Jesus Christ
Jesus is called the Lord of glory, or the glorious Jehovah, which is a tribute and recognition of his true identity. The Lord of glory" reference seems to have been taken from Psalms 24:7, where he is called, "the King of glory"; "Lift up your heads, O ye gates; and be ye lift up, ye everlasting doors; and the King of glory shall come in." This is an acknowledgment of his deity: he is given this title because he possessed all the glorious attributes of God, and is the brightness of his Father's glory. The same honor and glory are due to him that is due to the Father; and the same glory is attributed to him by angels and men.
Some scholars consider the Lord of glory the loftiest title Paul ever gave to Jesus. It is certain proof that Paul regarded Jesus as God, the Second Person of the Trinity. It is inconceivable that Paul would give this title to any lesser being.
9 But as it is written, Eye hath not seen, nor ear heard, neither have entered into the heart of man, the things which God hath prepared for them that love him.
But as it is written
Some have mistakenly thought that these things were written in a mythical book, called the Apocalypse of Elijah the prophet, but Paul probably had these words from Isaiah 64:4 in mind, with some variation: "For since the beginning of the world men have not heard, nor perceived by the ear, neither hath the eye seen, O God, beside thee, what he hath prepared for him that waiteth for him." Now, by examining this verse, we may come to understand our text, since one verse can often shed light on another verse.
perceived by the ear—Paul said in 1 Corinthians 2.9, "nor have entered into the heart of man"; the implicit sense of his words, sanctioned by his inspired authority is this; men might hear with the outward ear, but if they are to understand the spiritual significance of God's acts, both those impacting Israel, and those relating to the Gospel, the Holy Spirit must reveal it to their heart.
O God . . . what he . . . prepared—that is, "nor hath eye seen a god beside thee who doeth such things." The prophet refers to God's marvelous acts in the past on behalf of Israel; but Paul, by the inspiration of the Spirit, uses his words to show that the Gospel contains mysterious and hidden wisdom, unknown to the princes of this world, and ordained before the world was created, for the glory of the saints. These are things that had never before been heard by the carnal ear; things not to be understood by mere human wisdom; things God has prepared from all eternity, for all those on whom he bestows his grace; and when they were foretold by the prophets, they were not fully understood or attributed to God; and even after the manifestation of Christ, they could only be understood through the inward teaching of the Holy Ghost. These are things that belong partly to the past and to the present, and partly to the future.
eye hath not seen, nor ear heard:
The things of God have never been seen for what they really are or read with understanding by the eye of man, and the sound of them has never been heard with appreciation by the ear of man, unless the Holy Spirit first causes their eyes to see, their ears to hear, and their minds to understand. Despite the fact that they are to be seen and read in the Holy Bible, and to be heard either read or spoken in a sermon, with the outward hearing of the ear, they cannot be seen or heard intellectually, spiritually, and savingly, unless, God gives eyes to see, and ears to hear; the exterior senses of seeing and hearing are not sufficient to comprehend them; flesh and blood, and human nature, cannot receive them or reveal them, since man lacks the intellectual capacity to do so.