CLIMBING THE STAIRS TO HEAVEN
by Charles Robey
(Intouch1937)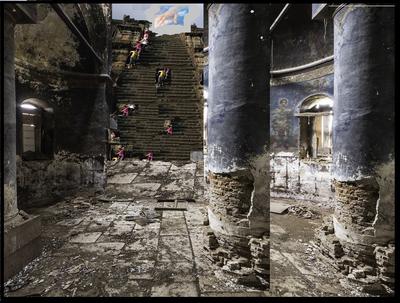 "You heavens above, rain down My righteousness; let the clouds shower it down. Let the earth open wide, let salvation spring up, let righteousness flourish with it; I, the Lord, have created it." Isaiah 45:8)


It was a long time coming, this invite to become a Deacon in our little Bible church. And now that this day has arrived, I'm just not sure if this position is precisely His divine will for me personally. That's why I asked for a couple of weeks to think it over, to sleep on it. And so came my most unusual dream. You see, I've had many a dream before, but none like this one. I trust you will concur.

I found myself wandering aimlessly alone in an old abandoned church yard. And peeking out from all the unkempt foliage was what appeared to be the rundown remains of a once rather large church. This is kind of strange, I thought, so I decided to take a look. Pulling back the underbrush, I carefully made my way inside.

What a sight for sore eyes! Judging from its remnants, I perceived this church to have once been a thriving fixture of the community. I couldn't help but speculate on its history.

However, the strange part of my entire journey was yet to come. For upon entering the old run down church sanctuary, I observed a rather large stairway in the middle of the church ruins, amidst what had once been a rather elaborate altar.

This stairway seemed to reach up through what was left of the church ceiling and on up into the clouds. What was so unusual about the entire scenario was a gigantic nail-pierced hand reaching down through the clouds.

Moving closer, I could see the silhouette of people; people of all ages, dressed in the most outlandish fashions of days gone by, walking up this stairway.

Looking closer, the people seemingly took on ghostly shadows. Although each one had a distinct personal physical look about them, they each still had that ghostly shadow about them, as I could see right through them. Some of these people seemed to have a more difficult time of it, while others simply breezed on upward.

And as the people would reach a certain height, the big hand simply reached down, took the people by the hand and ushered them on upward, disappearing in a cloud.

"Just what is this all about?" I thought. "Is this some kind of sign or apparition? Maybe I should not have considered accepting that church Deacon position," I concluded, as I kept walking closer to this apparent heavenly stairway.

Subsequently, as if by divine appointment, a strange character suddenly appeared walking down the stairway, and acting as a guide for those walking upward. He was dressed as a preacher who had just stepped out of an Eighteenth Century church congregation. He was dressed somberly in a black suit with an ankle length cassock, a neatly starched white shirt and a black cravat tie, and carrying a large, tattered leather-bound Bible.

My first impression was that I should immediately fall at his feet in worship. On second thought, I asked who he was, and what was his purpose of being here. That's when this entire dream progressed rather rapidly.

He spoke to me, "Well, my son. I guess you may be questioning what this is all about."

"Yes, I am. It looks as if all these people are trying to move on up into Heaven, leaving the church behind," I responded rather cautiously.

"Ok then," he replied, "how does one get there, get up there to heaven, that is?"

"Most people would say by simply doing good deeds," I answered.

"Yes," he replied. "Most religions would say that. But what about Christianity? What is the Christian way? What do you say? And what does the Bible say about our good works?"

Then opening his Bible he began reading. (Ephesians 2:8-9)

"You see, if that be the case, just how many good deeds, as opposed to the bad deeds, would you need?" he continued.

"You got me there, I guess. It's not what we do for ourselves, but what He has done for us,"
I said, quoting (John 3:16).
"Yes, my son, that's why this heavenly hand. It is God's hand reaching down to mankind. Redemption can never come from Earth to Heaven, but only from Heaven to Earth. All these hands are reaching up to heaven, but it's only Heaven's hand reaching down to them that counts," he explained, and opening his Bible, he continued reading from the first chapter of the book of John.
"So, I think you've got it, my son. It's all about the heavenly One becoming earthly, so that the earthly may become heavenly," he continued, reemphasizing (John 1:1,14).
And with that, this "Old Time Religion" preacher quickly vanished, and so did the stairway full of people. My dream suddenly ended, as well.
Wow, what a message! What a dream! A dream I badly needed! And yes, my decision had been made. I will not only accept the position of church Deacon, but I will do all within my power to live up to the dictates of that dedicated position.
Then came that timely phone call. "Well, have you made up your mind? Are you going to join us Deacons in service?" they asked.
"Yes, it will certainly be a privilege to serve. Thanks for the invite," I replied.
Dear Lord, thanks for putting up with me, your earthly servant. (2 Cor 6:4) I don't see how you ever have time for your other servants while keeping me straight, but I'm sure glad that you do. I now praise Your holy name. (Psalm 113:1).
Author's Postscript
I trust you have enjoyed the true message behind this little fiction dream parable.
So what was the meaning behind the old church stairway in this blog, as pertaining to this man's pending church leadership position?
Could it be him moving upward from an old lifestyle to a new one of church responsibility? Could it be that his new church Deaconship role would help lead people in the right Christian direction? Could it be that he needed to reaffirm his position on the true gospel (I Cor. 15:1-4) and the true way to heaven? (John 14:6) Or, could it simply mean that we all need a divine helping hand, as we move upward to our final home?
Well, maybe all of the above. We all need divine help in our travels upward. Nonetheless, he surely got the dream message. Amen!
We know that Scripture speaks of more than one Heaven. (Genesis 1:1) The first is the atmosphere heaven, the air around the Earth. (Jeremiah 4:25) The second is the celestial heaven or the outer heaven of the stars and planets, some seen and others not seen by the naked eye. (Genesis 22:17) Then the third heaven, which is the abode of God. (II Cor. 12:2-4) The Heaven of heavens, our final resting place.
An added note: You've probably thought about it at some point: "Is there a heaven? Will I go there when I die?"
So how does one get to heaven ? Get into the presence of God upon death ? Even get into His presences while still living ?
Once, after having been stopped by the police for speeding, the kind old gentleman simply responded, " I needed to quickly get where I was going, before I forgot where I was".
From a secular stand point, there is no "four easy lessons" plan on how to get there. However, from a godly spiritual perspective, the way is simple. Many people feel getting to heaven simply means being a good person, or doing good deeds. The truth is that there is only one way for any human being to get to heaven (John 14:6), and that is to believe in the Lord Jesus Christ. (Acts 2:38)
You see, every human being is, by nature, a sinful being. The Bible says that our efforts at doing "good deeds" are not acceptable in the sight of God (Ephesians 2:8-9). God alone is holy.
God alone is good. So, God has made a way for sinful human beings to enter into His heaven. Thus, the path to God, is through His beloved Son, Jesus Christ. (John 3:16-17)
Merely, take God's word to heart by faith. (Hebrews 11:1,6)