COME HOLY SPIRIT
by Charles Robey
(Trussville AL)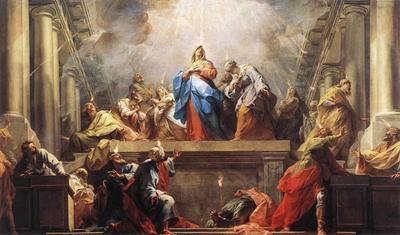 Together In One Accord
"When the day of Pentecost came, they were all together in one place. Suddenly a sound like the blowing of a violent wind came from heaven and filled the whole house where they were sitting. They saw what seemed to be tongues of fire that separated and came to rest on each of them. All of them were filled with the Holy Spirit and began to speak in other tongues as the Spirit enabled them" (Acts 2:1-4).


Come Holy Spirit
May we gather to seek You, in one place to be true
Come Holy Spirit
Like a mighty rushing wind, on our life now descend
Come Holy Spirit
Fiery cloven tongues I pray, be placed on us today
Come Holy Spirit
Show what we ought to be, from all evil set us flee
Come Holy Spirit
May we flee sin's evil sway, moving in Your Holy way
Come Holy Spirit
Let human thoughts give way, to Your spirit sway
Come Holy Spirit
Keep us hallowed day by day, in your will not to stray
Come Holy Spirit
To freely speak to one and all, by faith to receive the call
Come Holy Spirit
Always to be of one accord, as we worship You dear Lord
Come Holy Spirit
We now wait for Your withdraw, when answering the call
Come Holy Spirit
With loved ones forever to be, and the saints all to see
Come Holt Spirit
While still on this earth, I pray all except Heavens birth
Come Holy Spirit
Missed the boat you say, just simply kneel and pray
Come Holy Spirit
By your faith make haste, accepting God's free Grace.
Come Holy Spirit

Truly, it was a happy occasion that Sunday morning in Jerusalem's upper room. For you see the Holy Spirit came upon the followers of Jesus, just as Jesus had predicted ( Acts 1:4-5). And God's church was born, never more to die ( Matthew 16:18).

Do we now need a re-birth of that early church. A re-birth of God's Holy Spirit, not only in our church pews but in our pulpits as well ( Colossians 2:8).

Call me a dinosaur, if you may, but I for one have a longing for that " old time religion" ( Hebrews 13:8). Just to go back to the old time ways. To hear that strong, but simple, evangelistic teaching which states, "For by grace you have been saved through faith; and that not of yourselves, it
is the gift of God; not of works, that no one should boast" (Ephesians2:8-9) To that I shout "Amen."
Additionally, in support of that old evangelistic message, was the old fashioned church altar. Now, I realize the physical make up of that old alter was no different than any other construction. However, that old fashioned alter was very special for me, for that old alter was where I was first introduced to the Living God.
Yes, I still believe in that "Old Time Religion". I can't help but ponder those old "brush-arbor" revival meetings where the "Amen's" and the "Hallelujah's" echoed, as the spirit led. Revival meetings that started with an outbreak of God's Holy Spirit, and continued until that last soul was "saved". Amen ! ( Psalm 51:11)
I also feel one of the most missing elements of our modern day church is that we Christians are not in "one accord." One accord with the doctrine of the gospel ( 1 Cor 15:1-4), one accord with the doctrine of salvation ( John 14:6) and one accord with respect to the doctrine of the Holy Spirit. ( Acts 2:1)
Truly, the upper room marked the beginning of the New Testament Church. It was also the beginning of the kingdom of Christ in its operational sense, when the Holy Spirit started to reign over his kingdom. It was, in reality, the beginning of the entire Christian system. They were all of "one accord."
So, why is the 21st Century Christian Church not following the example of the early church ? In other words, why are we Christians still not of " one accord"? Do we not believe in the "Full Gospel", as given in (1 Corinthians 15:1-4) ?
Maybe, we sometimes just find ourselves doubting God's love, feeling all alone without God, wondering if God really cares about our situations. However, this is where God's Holy Spirit comes into play in our lives.( Romans 8:16-17)
So, just keep trusting God by:
------ Preaching the gospel under the influence of God's Holy Spirit.
------ Witnessing in the power and strength of God's Holy Spirit.
------ Having God's Holy-Ghost boldness to speak.
------ Allowing God's Holy Spirit to turn us into a different person.
------ Experiencing God's Holy Spirit joy in hardship and opposition.
-------Being filled with God's sanctifying influence by living a holy life.
Remember, just keep looking up for our redemption draws neigh. ( Jeremiah 29:11)
Amen and Amen !