COME HOME- COME HOME IT'S SUPPER TIME
by CharlesRobey
(Trussville, AL USA)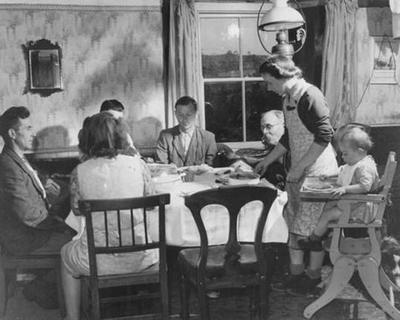 Come home, Come home

It's supper time.
The past has yielded time.
The call was in my prime.
Come home, Come home
It's supper time.
It was my Mom's faithful cry,
Was the call of days gone by.
Come home, Come home
It's supper time,
Came the call at the end of day,
Calling me home from my play.
Come home, Come home
It's supper time.
Like a small boy out to play
I now await that blessed day.
Come Home, Come home
It's supper time.
Just to hear my Lord's faithful cry,
Just to meet Him in the sky.
Come home, Come home
It's supper time,
When to his side I will quickly fly
To meet him in that sweet by and by.
Come home, Come home
It's supper time.
Many friends are waiting up there
Just to meet me up in the air.
Come home, Come home
It's supper time.
Many friends will be left behind
To the faith they remained unkind.
Come home, Come home
It's supper time.
What a sad day for them to find
That they were surely left behind.
Come home, Come
It's supper time.

"Love is patient, love is kind. It does not envy, it does not boast, it is not proud.It does not dishonor others, it is not self-seeking, it is not easily angered, it keeps no record of wrongs. Love does not delight in evil but rejoices with the truth. It always protects, always trusts, always hopes, always perseveres. "(I Cor. 13:4-7)

What a happy time, my childhood days around the old home place! We didn't have much money and hardly any fame. But we were all happy (Colossians 3:13), especially, at the close of the day when Mom would call out, "Come home, come home, it's supper time. Come wash up and get ready to eat."

And eat we did! The one thing
we were proud of was all that home cooking and those huge homemade buttermilk sopping biscuits. You see, we were allowed to use the biscuits to sop up our leftover plate gravy.
This sopping was a treat for us kids. We would see who could draw the best picture in the leftover plate gravy using our biscuits as a drawing tool.
You see, the supper table was our family's social event of the day. Dad would come in from a hard day in the field. (I Timothy 5:8) We kids would have done our school homework. (Proverbs 22:6) Gramps would be ready to discuss the latest cowboy-Indians radio broadcast. (Psalm 133:1) And Mom, of course, was ready to proudly display the family meal which she had slaved over that big wood-burning kitchen stove cooking all day long. (Proverbs 31:17)
After supper, Dad would always read a portion of the Scripture and ask us kids to comment on the reading. I could write a book on these childhood remarks. (Deut 6:6-7)
Then it was prayer time and off to bed as night would fall, for tomorrow was another big farming day.
You know, today's kids just don't know how to appreciate the simple things of life, to wait in the field to hear a Mom call them home to supper, and to enjoy a good home-cooked meal at the family table.
These basic pleasures could never be gleaned from an iPad, an iPhone, or any of the other modern high tech devices that occupy our lives today. (Genesis 11:16)
Well, Mom's not here any more. Her earthly tasks are done. She has been "promoted to glory." One thing for sure, if her Lord has allowed, she will still be cooking those big Baptist biscuits for all her loved ones to share. And then, all would just sit around the table enjoying the past. Amen!