COMING SOON, THE DEVIL'S CEO
by CharlesRobey
(Trussville)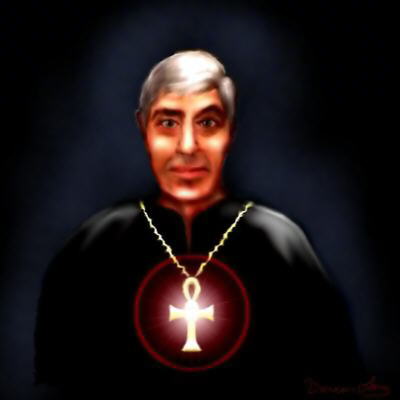 Here I Come, Ready Or not
PLEASE READ (DANIEL 8:23-25)

Are you ready for the Devil's CEO to come on the scene? You might as well be, as according to Bible prophecy, the time is near.

What, you don't believe the Bible prophecy ? I can fully understand. In today's world very few churches preach prophecy. However, one out of every three Bible passages, deals with this subject, and so is it not important to God and our faith (2 Peter 1:9). Should it not be important to us to study God's prophetic Word because it is our hope (Titus 2:13).

Just look around you ? One need only read the local newspaper, tune into the history TV channel, surf the internet, or even talk with that theologically disciplined nosy next door neighbor over the backyard fence, to get any variation of opinions or any number of merited comments and suggestions on this subject of the antichrist.

So, who is this antichrist and is he currently alive and well today ? Could he be the head of the European Union, the head of the United Nations, a well known Dictator, a Prime Minister, a well know Religious leader, or a President ? Could this antichrist be of western descent or maybe from a middle-eastern descent? Nonetheless, any assumptions of the human mind is purely conjecture, as only God Himself knows who the antichrist is, when he will appear and where he will come from. And for all you non-believers, who know nothing about the antichrist phenomenon, your mind-set will not make this occurrence any more untrue. It will happen, and soon I believe. (2 Thess 2:3-4).

The word "anti" in antichrist does not necessarily mean someone who is going to openly be against Christ, although this will happen. The word "anti" in the original Bible language can actually mean "in place of". So, could the Bible antichrist be someone who has actually put himself "in place" of Christ (1 John 2:18-19) ? Is that "thinking cap" whirling around now ? Mine is, as I can think of many world leaders fitting this description.

No one knows for sure, when the antichrist will come to power (Matthew 24:36). The Bible in (2 Thess 2:3-4 ) tells us how we will recognize the Antichrist. However, the Holy Spirit must first be taken out of the world (2 Thess 2:6-7), at the time of the rapture, when all Christians are are called up to meet Jesus in the sky (1 Cor 15:51-52). For you see, The church began on the Day of Pentecost with a visitation of the Holy Spirit (Acts 2:1-4). The church ends at the rapture with the translation of living saints and the resurrection of those who have died in Christ (1 Thess. 4:13-18).

The antichrist could very well be alive today, and just waiting in the wings to be anointed by Satan himself. As we are probably closer to the end of time, as we know it, than ever before. Satan is doing everything in his power (Ephesians 6:12) to prepare the way for this antichrist's future reign, based on his godless track record of going against God's word (1 Timothy 4:1-5) (2 Timothy 3:1-7,13) The mere mention of this antichrist character is already causing a sustentation of mockery from the worlds unbelievers. Yet, the world's society has already started leading people astray (Isaiah 9:16).

So, how will the antichrist come to power ? Will this grand entrance be set up free for all of the world to see by way of a ticker-tape parade and open shows in media and public, or by overcoming the legal system with ungodly laws ? As a prelude to the antichrist's rule, will America be a nation ruled by an ungodly political party or a big party lead by a charismatic leader ? Which confusion will emerge to usher us into the time of the antichrist ? God only knows. Just be prepared. Just keep looking up.(Revelation 22:20)

I feel that the world will be in such dire need of a false savior, that he will instantly emerge world-wide, based on his reputation. Obviously, this will be a false representation. So, let's look at some characteristics of the antichrist.

....... He Will Blaspheme God- One of the greatest of these characteristics is that he will blaspheme the holy name of God (Revelation 13:6).

....... He Claims to be God and is Worshiped- A strong characteristic is that the antichrist will seek to be worshipped like God (2 Thess 2:3-4).

...... He Will Display Miraculous Powers- He will dazzle those who are deceived and that is why many will worship him (2 Thess 2:9-12) (Revelation 13:13).

...... He will come Back to Life- Just like Jesus Christ died on the cross and was resurrected, the antichrist will recover from what was considered a mortal wound (Revelation 13:14).

...... He will rule in Full Authority- The antichrist, again mimicking Jesus sovereignty, will rule for 42 months over the earth. For three and a half years he "was given authority to continue literally "make war" for forty-two months" (Revelation 13:5-7).

...... He will control the World's Economy- Whoever rules the world's goods rules the unsaved world (Revelation 13:16-17).

...... He will desecrates God's Temple- He will lead the "abomination of desolation". (Daniel 11:21-24, 12:11).

...... He will attempt destruction of Israel- Satan and all of those under his rule have always sought the destruction of the Jews. The end times see this brought to fruition ( Daniel 9:27, 11:40-41).

....... He will cause earth's armies to fight against Christ- The antichrist makes an unwise decision, showing that pride comes before the fall. And what a great fall this is(Revelation 19:19-21). That will be the last decision that antichrist makes and it will be a fatal one for he is cast alive into the lake of fire where he can deceive the nations no more.

PLEASE NOTE:

A few months after the beast comes to earth he will attempt to force every person on earth to receive the mark of the beast. He will make a law requiring every person to receive the mark of the beast and there will be stiff penalties to anyone who refuses. This law will apply to every person in every country on earth (Revelation 13:6).

People will want to get the mark of the beast because then they will be allowed to buy food, water, medicine and clothes. They will be able to work and get paid. Humanly speaking, getting the mark of the beast will be the logical, sane, safe, smart thing to do. But spiritually speaking, it is not wise to get the mark of the beast. For those accepting this mark, will be doomed forever.

In conclusion, is reading these antichrist characteristics not like reading today's newspaper ? I think yes! This old world is so ripe for someone, anyone, to come on the scene and give us peace. To give us hope. To give us a reason for being here.

If you are denying Jesus Christ is God and that He came in the flesh and lived a perfect, sinless life. That He died for sinners, and was raised again and today sits at the right hand of God, (1 Cor 15:1-4) and that He is coming again to judge the world in righteousness, then you are also an antichrist, with a little "a". There is nothing that is not forgivable except not believing in Jesus Christ as the Son of God (1 John 1:9). If you do not believe in Jesus Christ then you are an antichrist and you stand condemned to hell unless you repent (John 3:18).

So, what is the antichrist eventual destiny? In spite of the antichrists brief stay of power, he will ultimately fail. All of the little antichrist's (unbelievers) and the one and only antichrist are decisively headed to one place; the lake of fire (1 John 1:9) (John 3:18) (Revelation 20:19-20).

Author's Post Script:
It is my personal belief that the world is being prepared right now for the entrance of the antichrist. He has been groomed by a number of powerful political forces to make his grand entrance.That the antichrist will be from the East, not the West, but will be loved, honored and revered by both and in every corner of the Earth. And by the end times, many will easily be deceived and embrace the antichrist because his spirit will already dwell within the world

He will be like no other man, as he will be controlled by Satan, himself . He will be loved by his psychology of love, peace and the importance of unity among nations. He will perform many miracles. Images of his face will appear everywhere. He will even be seen associating with many religious world leaders. Through the power of Satan, he will be able to create acts, which will shock many and these will be deemed to be miraculous.

To the ignorant of many, including some so-called Christians, he will be seen as the coming Messiah. He will then proclaim he was sent by God to save the world. Many, including those in the world who do not accept the living God, will be persuaded that this man is the Son of man, Jesus Christ. Those who honor and obey what he asks of them, will be doomed with such evil that their souls will be sucked into a vacuum, out of which they will find it impossible to extradite themselves.

However, those who know the scripture truths, will recognize the deceit, which will be placed before the human race and they will withstand this abomination (2 Timothy 3:16). Does anyone come to mind now? Amen!