Concerning Widows - Page 2 (Lessons on 1st Corinthians)
by John Lowe
(Woodruff, S.C.)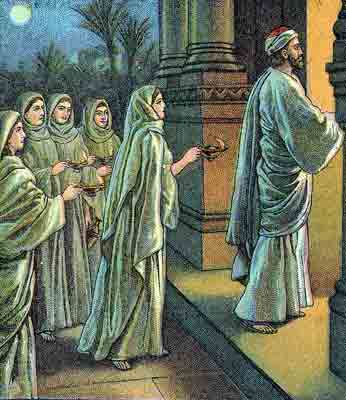 only in the Lord.


It has been pointed out several times all ready, that the apostle's preference was the single state, and that he received that instruction from the Holy Spirit. Later, in another letter to the Corinthians, Paul wrote: "Be ye not unequally yoked together with unbelievers: for what fellowship hath righteousness with unrighteousness? and what communion hath light with darkness?" (2 Co 6:14; KJV). Christians should only marry Christians, and the one they choose should have a proper sense of their obligations to Christ, and they should live in a manner that would promote His glory. The apostle thought that could not be done if she were allowed to marry a heathen, or one of a different religion. That is the same sentiment he advances in 2 Corinthians 6:14; and it was his intention, undoubtedly, to affirm that it was not proper for a widow to marry anyone who was not a Christian. The reasons at that time would be obvious:
1. They could not have fellowship around the most important of all subjects, if the one was a Christian and the other a heathen: "Be ye not unequally yoked together with unbelievers: for what fellowship hath righteousness with unrighteousness? and what communion hath light with darkness? And what concord hath Christ with Belial? or what part hath he that believeth with an infidel?" (2 Cor 6:14-15; KJV).
2. If she should marry a heathen, would it not show that she did not have as deep a conviction of the importance of her religion as she ought to have? If Christians were required to be "separate," to be "a peculiar people," and not "to be conformed to the world," how could these precepts be obeyed if the society of a heathen was voluntarily chosen, and if she became united to him for life?
3. She would in this way greatly hinder her usefulness; put herself under the control of one who had no respect for her religion, and who would demand her time and attention, and as a result interfere with her ability to serve God.
4. She would greatly endanger her piety. There would be danger from the opposition, the taunts, and the sneers of the enemies of Christ; from the negative influence of living with a man who had no respect for God; from his introducing her into a society that was ungodly, and that would tend to mar the beauty of her piety, and to draw her away from her devotion to Jesus Christ.


40 But she is happier if she so abide, after my judgment: and I think also that I have the Spirit of God.

But she is happier if she so abide,

That is, she will be happier if she continues to be a widow: the apostle's meaning is, that she would be more free from the cares of the world, and less liable to be bothered by the trouble that faced Christians at that time; she would live in peace and tranquility, and she would have more leisure time to serve the Lord. In his judgment, which was surely influenced by the persecution that prevailed at that time, she will be happier if she remains a widow. 1 Tim. 5:14—"I will therefore that the younger women marry, bear children, guide the house, give none occasion to the adversary to speak reproachfully"—might be thought to conflict with this, but it does not, when we remember that Paul's advice here is due to prevailing circumstances, which is something which must always be considered. The question of marriage or remarriage is one of far-sighted considerations.

How could St. Paul tell a widow that she would be happier if she were to continue as a widow, rather than to remarry? She had tried both the state of celibacy (as an unmarried young woman), and the state of marriage; certainly, she could tell which state was the best for her. But Paul could not tell anything relative to the future state of any widow, unless he had been informed by an express revelation from heaven. It is certain that he can never be understood as speaking in general terms, since there are multitudes of persons abundantly more happy in their married than in
their single state; and there are many widows who are much happier in their second marriage than they were in their first.
after my judgment:
Paul makes it clear again that this is his judgment, his advice; which he received by the light of the Holy Spirit, who has shown him the tribulations that are coming upon the church. But, he says in 1 Corinthians 7:28: I spare you-I will not be more explicit concerning the evils that lie ahead, because I wish to save you from all warnings and revelations which bring anxiety and fear. However, in light of the present circumstances and what lies ahead for them, he sticks by the advice he had given previously to unmarried persons, whether young women or widows; that they will be happier if they remain unmarried, providing they are equipped for that life. The important thing, though, is to serve God, to put God first in your life. If a person is married, God should still be first in his life. Unfortunately, there are many Christian couples who are compatible—at least they are not going to the divorce court—but God does not have first place in their marriage.
In deciding your marital status, the most important consideration is not what your Christian friends will say or how society in general will regard you. The question you need to ask yourself is: In what way can I put God first in my life?
and I think also that I have the Spirit of God.
The expression "I think also that I have the Spirit of God," has been understood by some to suggest that Paul did not know for sure if he was writing under inspiration. This is not the case at all. The verb think (Gr dokeō) does not suggest doubt in any way; in point of fact, "dokeo" is often used to express what is TRUE and CERTAIN. A better translation of the phrase is, "and I consider also that I have the Spirit of God." The apostle cannot be expressing any doubt of his being under the inspiration of the Holy Spirit, since that would have defeated his object in giving the above advice; because, if the advice was not dictated by the Spirit of God, it could not have become rules of conduct for the people of God, for the reason that there would have been suspicion that Paul's writing was motivated by self-interest, and strong passions. They must have understood that the apostle's words were directed by the Holy Spirit, or else they could not have been expected to obey. The judgment of the church through the ages concurs in this. As Wesley said: "Whoever would conclude from this that Paul was not certain he had the Holy Spirit neither understands the true import of the words, nor considers how expressly he lays claim to the Spirit, both in this epistle—"For who hath known the mind of the Lord, that he may instruct him? But we have the mind of Christ" (1 Cor 2:16; KJV); "If any man think himself to be a prophet, or spiritual, let him acknowledge that the things that I write unto you are the commandments of the Lord" (1 Cor 14:37; KJV); and the other—"Since ye seek a proof of Christ speaking in me, which to you-ward is not weak, but is mighty in you" (2 Cor 13:3; KJV). Furthermore, we do not believe that any man or any group of men is endowed with the authority to set aside or countermand any declaration in the sacred text upon the basis of their interpretations of related passages. What Paul said, STANDS. Let people keep their hands off of it!
Paul is not giving a command in this short passage; he is only advising in the Spirit; but these two verses are just as much inspired as any other verse in the Bible.
Summary
Each person must ask himself or herself the following questions if marriage is being contemplated:
1. What is my gift from God?
2. Am I marrying a believer?
3. Are the circumstances such that marriage is right?
4. How will marriage affect my service for Christ?
5. Am I prepared to enter into this union for life?