Consequences of Bad Religion Part 2
by John Lowe
(Laurens SC, USA)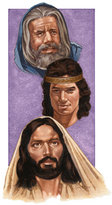 IN THE END, they cooperated with the evil one!

The Lord is in the business of putting things right: RELIGIOUS RULES ARE OF SECONDARY IMPORTANCE.
BAD RELIGION, ON THE OTHER HAND, IS CONCERNED WITH THE STATUS QUO.
THIS IS THE LAST POINT; THERE IS SOMETHING GREATER THAN RELIGION.
JESUS ONCE ANSWERED THE CRITICISM OF THE PHARISEES THIS WAY, "YET I SAY TO YOU THAT IN THIS PLACE THERE IS ONE GREATER THAN THE TEMPLE" (MATTHEW 12:6).
THE JEWS HAD AN EXTREME RESPECT FOR THE TEMPLE; but Christ, in a corn-field, was greater than the temple, for in him dwelt not the presence of God symbolically, but all the fullness of the Godhead bodily.
In Revelations we are told, "HEAVEN WILL HAVE NO TEMPLE IN IT, FOR THE LORD GOD ALMIGHTY AND THE LAMB ARE ITS TEMPLE" (REVELATION 21:22).
IN OLD TESTAMENT TIMES, the temple was viewed as the dwelling place of God.
AFTER CHRIST'S RESURRECTION, the people of God took over the function of the historic temple, for the Spirit of God came to dwell in them.
IT HAS BEEN SAID, "ONE MAN'S RELIGION IS ANOTHER MAN'S BURDEN."
Religion had become a BURDEN IN JESUS' DAY.
The religion of the Pharisees brought DESPAIR AND FUTILITY.
CHRIST OFFERED JOY, HOPE, LIFE.
HE OFFERED HIMSELF instead of a religion.
He asks us to accept him instead of a CREED OR DEAD RELIGION.
CAIAPHAS AND HIS RELIGIOUS CONSPIRATORS thought they had put an end to the Nazarene.
INSTEAD, HIS DEATH LET LIFE LOOSE for the entire world.
A German pastor, by the name of Martin Niemoller, wrote "the sermon of the gallows."
I want to read you what he wrote.
There was in front of my cell window in the Dachau concentration camp a gallows, and I often had to pray for those who were hanged on it, poor souls.
The gallows put a question to me: "What will happen when one day they put you to this test and lay the rope around your neck?"
Will you then with your last breath cry out, "You criminals, you think you are right in executing me as a criminal, but there is a living God in Heaven, and He will show you!"?
And then the second question followed: "What do you think would have happened if Jesus had died this way, cursing His enemies and murderers?"
You know the answer: Then you would be rid of Him; for then there would be no gospel, no good tidings of great joy, no salvation, no hope!
Not for anyone, not for you!
But--thank God--He, Jesus, died otherwise, differently, not cursing his murders, but praying on their behalf: "Father, forgive them; they know not what they do!"
They could not get rid of Him, for He held on and kept them in His forgiving love; and His Father heard His prayer and was well pleased with His Son.
So there was no escape.
This death worked too well—and there is no escape—this death marks His final victory: "I have overcome the world!"


Conclusion
LOOK AT THE CROSS.
RELIGIOUS PEOPLE killed Christ!
THE RIGHT LOST OUT TO RELIGIOUS RULES; SELF-INTEREST PREVAILED OVER SERVICE TO OTHERS; RELIGION TOOK THE PLACE OF A RELATIONSHIP WITH GOD.
EVIL WAS THE RESULT, BUT Jesus triumphed over
evil, and He lives.
TO ALL WHO RECEIVES Him comes faith that changes the world, faith that overcomes evil with good.
Friends, there's a lot of "bad religion" around today.
It's in the churches, on TV, on the radio, and in the literature that is being published.
Jesus spoke against those who spread bad religion in His day.
He said, "Woe to you experts in religion! For you hide the truth from the people. You won't accept it yourselves, and you prevent others from having a chance to believe it" (Luke 11:52).
These religious rulers occupied very much the same position that church leaders occupy today.
People looked to them for the truth.
But they placed the emphasis on material things rather than on the spiritual purpose for which those things were to be used.
And they themselves were not living according to the scriptures.
Unfortunately, the greatest hindrance to the cause of Christ today is the professed believer.
We need to examine our own lives in light of this scripture.
James described "good religion" in his epistle.
He wrote, "Pure religion and undefiled before God and the Father is this, to visit the fatherless and widows in their affliction, and to keep himself unspotted from the world." (James 1:27; KJV).
If you have the right kind of religion it will be both pure and undefiled—and Christianity certainly ought to produce this.
A Christian ought to "To visit the fatherless and widows in their affliction."
A child of God ought to be in contact with the people of the world who have problems.
They need to make personal contact.
So many churches today only have a religion of the sanctuary, but not a religion of the street.
We need a religion of the street also.
We should be in contact with people in a personal way, with tenderness, and kindness and helpfulness.
Finally, we are to keep ourselves unspotted from the world.
As believers we are to be in the world, but not of the world.
True religion is selfless and reaches out to those with needs.
I read about a little boy whose mother had died.
His father was poor, but he worked hard to raise the little fellow.
There was a wealthy couple, relatives, who were interested in the boy.
They said to the father, "You will never be able to give the boy much, but we are wealthy and we can give him everything he wants."
So the father went to the little boy to talk to him about living with these folks.
He said to the little fellow, "They'll give you a bicycle, new toys, and wonderful gifts at Christmas. And they will take you on trips. They will do things for you that I can't do."
The little boy said, "I don't want to go."
And the father said, "Why?"
The boy said, "They can't give me you."
That's all the little fellow wanted.
There are a lot of people today who want that personal contact.
Let's pray that God will lead us to make contact with people that we can help, even if it is only by showing them sweetness and love and consideration and kindness.
But let us remember to keep ourselves unspotted from the world.
Amen