Consolation - Part 2 (series: Lessons on 2nd Corinthians)
by John Lowe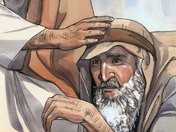 15 And his inward affection is more abundant toward you, whilst he remembereth the obedience of you all, how with fear and trembling ye received him.

And his inward affection is more abundant toward you
"His inward affection," literally, "bowels;" denoting the love, and deep tenderness of Titus' heart, and the strength of his affections, which inwardly and to a very great degree, he felt for the Corinthian Christians—"Ye are not straitened in us, but ye are straitened in your own bowels" (2 Corinthians 6:12-KJV). "We are not withholding our affection from you, but you are withholding yours from us" (2 Corinthians 6:12-NIV). He has become deeply and tenderly attached to you. His affectionate regard for you has been greatly increased by his visit. The recollection of what had transpired at Corinth had bound him with the disciples there by ties of love and sympathy.

Whilst he remembereth the obedience of you all
Titus remembered and informed me of how readily, obediently, cheerfully, and universally you complied with the advice and orders given by me to him, and later given to you by him when he gave you my letter. "So even though I wrote to you, it was neither on account of the one who did the wrong nor on account of the injured party, but rather that before God you could see for yourselves how devoted to us you are" (2 Corinthians 7:12). By your obedience to my admonitions (gentle and friendly reproof) and counsel, you have not only committed me to a debt of love for you but Titus also; who joyfully remembers your goodness and love for the Savior.

How with fear and trembling you received him
"How with fear and trembling you received him"—that is, with great humility, admiration, and respect for him as a minister of the Gospel, and as one sent by the apostle to them; they embraced him with great tributes of honor and esteem; for this is not to be understood of any inward slavish fear or dread of mind, or trembling of body at the sight of him, nor is it because he came to investigate the condition of their faith, and to present them with criticisms from the apostle. You received him "with fear and trembling," in case he should find out anything that would grieve and offend him. "See what this godly sorrow has produced in you: what earnestness, what eagerness to clear yourselves, what indignation, what alarm, what longing, what concern, what readiness to see justice done. At every point, you have proved yourselves to be innocent in this matter" (2 Corinthians 7:11). They had a deep apprehension of the consequences of the sin remaining. He saw what fear there was of doing wrong, and what evidence there was that they wanted to do right. The combination of "fear and trembling" is a favorite of the Apostle Paul. (Compare 1 Corinthians 2:3; Ephesians 6:5; Philippians 2:12.) What it means is that Titus had been received, not, as he feared, with ill-tempered resistance, but with respectful reverence, but not without an element of fear.


16 I rejoice therefore that I have confidence in you in all things.

"I rejoice therefore:"
1. That I can speak freely and boldly to you; criticize, scold, and advise you, since you take it all with a good spirit, which is how I intend for it to be received.
2. That I can confidently speak in your favor, boast of your love and obedience, which is found by experience to be true.
3. That I have confidence in you in all things
4. That I can promise myself every good thing from you, that is proper to ask of you, and lies in your power to perform; which he says partly to commend them for their past conduct, and partly to pave the way for what he had to say to them, concerning taking up a collection for the poor saints.
5. That you will listen and heed my scolding and counsel, and that I can confidently boast and glory in you.

"That I have confidence in you in all things. I have plenty of proof that you are willing to obey God and to set aside everything that is offensive to Him. This part of the Epistle is designed, evidently, not merely to commend them for what they had done, and to show them the deep attachment which he had for them, but in a special manner to prepare them for what he was about to say in the following chapter, with regard to the collection for the poor saints at Jerusalem. What he says here was well adapted to introduce that subject. So far, they showed the deepest regard for him. They had complied with all his instructions. All that he had said about them had proved to be true. Just as he had boasted of them to Titus, and expressed his entire confidence that they would comply with his requests, so had he also boasted of them to the churches of Macedonia and expressed the utmost confidence that they would be liberal in their giving for the poor in Jerusalem—"For I know your eagerness to help, and I have been boasting about it to the Macedonians, telling them that since last year you in Achaia were ready to give; and your enthusiasm has stirred most of them to action" (2 Corinthians 9:2). All that Paul says here in their favor, therefore, was highly adapted to excite them to liberality, and prepare them to comply with his wishes in regard to that contribution.

From this chapter, we learn the value of explanations. Had St Paul left the matter unsettled, or only half settled, there never could have been an ample understanding between him and the Corinthians. Whenever there is a misunderstanding between man and man, the best remedy is a direct and open request for an explanation. "Moreover if thy brother shall trespass against thee, go and tell him his fault between thee and him alone: if he shall hear thee, thou hast gained thy brother. But if he will not hear thee, then take with thee one or two more, that in the mouth of two or three witnesses every word may be established. And if he shall neglect to hear them, tell it unto the church: but if he neglects to hear the church, let him be unto thee as a heathen man and a publican" (Matthew 18:15-17).