Conversations in Revelation: The Sounding of the Trumpets - Part Two
by Dennis Michelson
(FaithBaptistOH.org)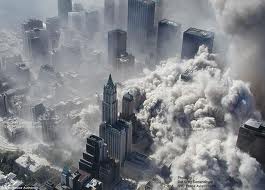 The Fifth Trumpet (First Woe) –


Rev 9:1 And the fifth angel sounded, and I saw a star fall from heaven unto the earth: and to him was given the key of the bottomless pit.
Rev 9:2 And he opened the bottomless pit; and there arose a smoke out of the pit, as the smoke of a great furnace; and the sun and the air were darkened by reason of the smoke of the pit.
Rev 9:3 And there came out of the smoke locusts upon the earth: and unto them was given power, as the scorpions of the earth have power.
Rev 9:4 And it was commanded them that they should not hurt the grass of the earth, neither any green thing, neither any tree; but only those men which have not the seal of God in their foreheads.
Rev 9:5 And to them it was given that they should not kill them, but that they should be tormented five months: and their torment was as the torment of a scorpion, when he striketh a man.
Rev 9:6 And in those days shall men seek death, and shall not find it; and shall desire to die, and death shall flee from them.
Rev 9:7 And the shapes of the locusts were like unto horses prepared unto battle; and on their heads were as it were crowns like gold, and their faces were as the faces of men.
Rev 9:8 And they had hair as the hair of women, and their teeth were as the teeth of lions.
Rev 9:9 And they had breastplates, as it were breastplates of iron; and the sound of their wings was as the sound of chariots of many horses running to battle.
Rev 9:10 And they had tails like unto scorpions, and there were stings in their tails: and their power was to hurt men five months.
Rev 9:11 And they had a king over them, which is the angel of the bottomless pit, whose name in the Hebrew tongue is Abaddon, but in the Greek tongue hath his name Apollyon.
Rev 9:12 One woe is past; and, behold, there come two woes more hereafter.

Thus far the trumpets have blown only the objects of a physical nature and their effects have brought disturbances to mankind. Now the doors of separation between the earth and the prison of evil spirits are opened. Hell has come to earth.

Because men receive not the truth then God sends them strong delusions and the change the truth of God into a lie. Men reject the Lordship of Christ for the lordship of Satan so God enlarges the powers of the lord of their preference that they may receive the full benefit of "his will."

As the saints of God are taken upward, the demons of Hell with their torments are released from the other direction. One writer said "the flames of perdition clamor after them beneath the pavements on which they walk but they have no sense of fear or apprehension."

The Sixth Trumpet (Second Woe)

Rev 9:13 And the sixth angel sounded, and I heard a voice from the four horns of the golden altar which is before God,
Rev 9:14 Saying to the sixth angel which had the trumpet, Loose the four angels which are bound in the great river Euphrates.
Rev 9:15 And the four angels were loosed, which were prepared for an hour, and a day, and a month, and a year, for to slay the third part of men.
Rev 9:16 And the number of the army of the horsemen were two hundred thousand thousand: and I heard the number of them.
Rev 9:17 And thus I saw the horses in the vision, and them that sat on them, having breastplates of fire, and of jacinth, and brimstone: and the heads of the horses were as the heads of lions; and out of their mouths issued fire and smoke and brimstone.
Rev 9:18 By these three was
the third part of men killed, by the fire, and by the smoke, and by the brimstone, which issued out of their mouths.
Rev 9:19 For their power is in their mouth, and in their tails: for their tails were like unto serpents, and had heads, and with them they do hurt.
Rev 9:20 And the rest of the men which were not killed by these plagues yet repented not of the works of their hands, that they should not worship devils, and idols of gold, and silver, and brass, and stone, and of wood: which neither can see, nor hear, nor walk:
Rev 9:21 Neither repented they of their murders, nor of their sorceries, nor of their fornication, nor of their thefts.
2Ti 3:12 Yea, and all that will live godly in Christ Jesus shall suffer persecution.
2Ti 3:13 But evil men and seducers shall wax worse and worse, deceiving, and being deceived.
2Ti 3:1 This know also, that in the last days perilous times shall come.
2Ti 3:2 For men shall be lovers of their own selves, covetous, boasters, proud, blasphemers, disobedient to parents, unthankful, unholy,
2Ti 3:3 Without natural affection, trucebreakers, false accusers, incontinent, fierce, despisers of those that are good,
2Ti 3:4 Traitors, heady, highminded, lovers of pleasures more than lovers of God;
2Ti 3:5 Having a form of godliness, but denying the power thereof: from such turn away.
Peter and Jude remind us of these things – The gigantic iniquities and sensualities of the days of Noah and of Lot will repeat themselves as the final end approaches.
*It will be a period of growing demon worship.
1Co 10:20 But I say, that the things which the Gentiles sacrifice, they sacrifice to devils, and not to God: and I would not that ye should have fellowship with devils.
1Co 10:21 Ye cannot drink the cup of the Lord, and the cup of devils: ye cannot be partakers of the Lord's table, and of the table of devils.
1Ti 4:1 Now the Spirit speaketh expressly, that in the latter times some shall depart from the faith, giving heed to seducing spirits, and doctrines of devils;
1Ti 4:2 Speaking lies in hypocrisy; having their conscience seared with a hot iron;
1Ti 4:3 Forbidding to marry, and commanding to abstain from meats, which God hath created to be received with thanksgiving of them which believe and know the truth.
*It will be a period of revived idolatry
Rev 13:14 And deceiveth them that dwell on the earth by the means of those miracles which he had power to do in the sight of the beast; saying to them that dwell on the earth, that they should make an image to the beast, which had the wound by a sword, and did live.
Rev 13:15 And he had power to give life unto the image of the beast, that the image of the beast should both speak, and cause that as many as would not worship the image of the beast should be killed.
Rev 13:16 And he causeth all, both small and great, rich and poor, free and bond, to receive a mark in their right hand, or in their foreheads:
Planchette – "has become a household god to many" (1865) A planchette from the French for a little plank, is a small, usually heart-shaped flat piece of wood equipped with two wheeled castors and a pencil-holding aperture, used to facilitate automatic writing.
*It will see a return to the morality of the heathen
Sorceries – impure practices with evil agencies and particularly drugs. "The word specially includes tampering with one's own or another's health, by means of drugs, potions, intoxications, and often with magical arts and incantations, the invocation of spiritual agencies, the putting under influences promotive of sins and impurity, both bodily and spiritual."
Fornication – The Apostle uses the word "fornication" alone, as embracing all forms of lewdness, but as if to intimate that marriage will then be hardly recognized anymore.