CONVERSION of SAUL part 4
by John Thomas Lowe
(Woodruff, S.C.)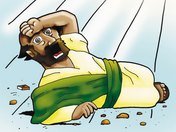 PART 4
Conclusion
The first question which must be asked about interpreting this text is this: "What is the meaning of this text in the context of the whole book?" Luke has included this account of Saul's conversion to contribute to the argument he is seeking to develop. The argument of the Book of Acts is essentially this: The expansion of the Gospel through the Church as the Holy Spirit empowers it. The expansion is three-fold:
(1) The expansion from Christ to His apostles, to His Church
(2) The geographical expansion from Jerusalem to Rome
(3) The racial expansion from the Jews to the Gentiles.
Saul's conversion was to play a crucial role in the expansion of the Gospel. Paul's opposition resulted in the scattering of the Christians from Jerusalem, thus taking the Gospel to Judea, Samaria, and beyond (Acts 8:1; 11:19-21). Saul's salvation resulted in the Gospel being preached to distant people and lands and in the extension of the Church to many key cities. In the process, Saul was to extend the Gospel's outreach significantly to the Gentiles. It was his preaching that resulted in the conversion of many Gentiles, and it was his writing (his epistles) to these saints which significantly strengthened them in their faith. Saul's conversion is a watershed event, catapulting the Gospel to the Gentiles and distant places.
The conversion of Saul is essential in another way. It is one of the few accounts of a conversion that is described with some detail (although this detail is much less than we would prefer). The question must be asked as to whether or not Saul's conversion has a more general application and relevance. In other words, "Is Saul's conversion typical and illustrative of the conversion of every saint, or is it unique, the exceptional case, which has little correspondence to most converts?"
The longer I study Saul's conversion, the more convinced I am that his conversion is typical. Granted, his experience is unique and dramatic. Few Christians will encounter the risen, glorified Lord as Saul did here. We would readily grant that every recorded conversion is unique, to some degree. That is because our Lord always confronts, convicts, and converts men and women individually in the light of their actions and beliefs. Jesus dealt with Nicodemus (John 3) very differently from the Samaritan woman (John 4). Nevertheless, conversion has vital elements that are to be present in any salvation experience. The common characteristics of conversion are those I would like to focus on in the conversion of Saul.
CHARACTERISTICS OF CONVERSION
(1) Saul's salvation was the salvation of a sinner. One of the most dramatic revelations of Saul's Damascus road experience was that he was not serving God but persecuting Him. The first words spoken to Saul were, "Saul, Saul, Why are you persecuting Me?" (Acts 9:4).
What a shock these words must have been to Saul, who, up to this point, seems to have prided himself on his faithfulness to Judaism! Until now, Jesus was the sinner, and Saul was the saint. Now that the Lord had identified Himself as Jesus, Saul recognized that he was the sinner. As Saul would later write, he realized that he was "chief of sinners" (1 Timothy 1:15).
Saul was also blinded, which identified him with the blindness of the nation Israel, which the Old Testament prophets wrote (see above). In Saul's account of his conversion to His Jewish brethren, he added that when Ananias arrived, he instructed him to "Arise and be baptized, and wash away your sins, calling on His name" (Acts 22:16). This expression, "calling on the name of the Lord" seems to be one used consistently in the Old Testament. It is the invitation for sinful Israelites to be saved by repenting and calling on the name of the Lord for salvation:
Seek the LORD while He may be found; Call upon Him while He is near. Let the wicked forsake his Way, And the unrighteous man his thoughts; And let him return to the LORD, And He will have compassion on him; And to our God, For He will abundantly pardon (Isaiah 55:6-7; cf. also Psalm 50:15; Joel 2:32; Jeremiah 29:12; 33:3-8).
Later, when Paul looked back on his past "devotion and deeds," all done in the name of Judaism, he came to view his apparent "righteous deeds" for what they were—dung:
1 Finally, my brothers, rejoice in the Lord! It is no trouble for me to write the same things to you again, and it is a safeguard for you. 2 Watch out for those dogs, those men who do evil, those mutilators of the flesh. 3 For it is we who are the circumcision, we who worship by the Spirit of God, who glory in Christ Jesus, and who put no confidence in the flesh—4 though I have reasons for such confidence. If anyone else thinks he has reasons to put confidence in the flesh, I have more: 5 circumcised on the eighth day, of the people of Israel, of the tribe of Benjamin, a Hebrew of Hebrews; regarding the Law, a Pharisee; 6 as for zeal, persecuting the Church; as for legalistic righteousness, faultless. 7 But whatever was to my consider loss for the sake of Christ. 8 What is more, I consider everything fit I now a loss compared to the surpassing greatness of knowing Christ Jesus my Lord, for whose sake I have lost all things. I consider them rubbish, that I may gain Christ 9 and be found in him, not having a righteousness of my own that comes from the Law, but that which is through faith in Christ—the righteousness that comes from God and is by faith (Philippians 3:1-9; cf. also Isaiah 64:6).
What Paul learned about himself on the road to Damascus, he came to understand and preach concerning all men. 151 Paul indeed believed that it was essential for men to begin with the understanding of their sin, for, in his Epistle to the Romans, he took the first two and one-half chapters to prove that "… all have sinned and fall short of the glory of God" (Romans 3:23). Theologically, we know this as the doctrine of man's total depravity.
There are no exceptions in this "all" of Romans 3:23, as Paul indicated in these Old Testament words, cited just before:
"THERE IS NONE RIGHTEOUS, NOT EVEN ONE; THERE IS NONE WHO UNDERSTANDS, ALL HAVE TURNED ASIDE, TOGETHER THEY HAVE BECOME USELESS; THERE IS NONE WHO DOES GOOD, THERE IS NOT EVEN ONE" (Romans 3:10b-12).
This is a terrible revelation—that all are sinners, even the "best," the most religious, and righteous! However, the Gospel is good news for sinners. It is also bad news for the self-righteous. This is why Jesus was so receptive to sinners and hard on the self-righteous. The good news of the Gospel is that Christ Jesus came to save sinners (1 Timothy 1:15). Those who think themselves worthy of God's blessings (as many Jews did on that day) are in trouble. Those who know themselves sinners and who call upon Jesus for salvation are saved:
For "WHOSOEVER WILL CALL UPON THE NAME OF THE LORD WILL BE SAVED" (Romans 10:13, citing Joel 2:32).
Lest anyone think they are "too sinful" to save, let me remind you that when Paul wrote that "Christ Jesus came into the world to save sinners," he quickly added, "among whom I am foremost of all."
12 I thank Christ Jesus for our Lord, who has given me strength, that he considered me faithful, appointing me to his service. 13 Even though I was once a blasphemer and a persecutor and a violent man, I was shown mercy because I acted in ignorance and unbelief. 14 The grace of our Lord was poured out on me abundantly, along with the faith and love in Christ Jesus. 15 Here is a trustworthy saying that deserves full acceptance: Christ Jesus came into the world to save sinners—of whom I am the worst. 16 But for that very reason, I was shown mercy so that in me, the worst of sinners, Christ Jesus might display his unlimited patience as an example for those who believe in him and receive eternal life (1 Timothy 1:12-16).
If the worst sinner (Saul) was not too sinful to save, then you are not too sinful for God to save. No sinner is beyond the grace and the grasp of God.
(2) Saul's salvation was exclusively the work of a sovereign God. Our text presents Saul as a man who was not only running from God but actively opposing Him. Saul was not "seeking God." Saul was saved despite himself. This Paul knew and testified to. God chose Saul and had his destiny planned before He saved him. When God spoke to Ananias commanding him to go to the house where Saul was staying, he was to receive him as a brother; and he was told that he was called to suffer as God's chosen vessel to proclaim the Gospel to the Gentiles, kings, and his fellow-Israelites. In Galatians 1, Saul wrote that God had called him "while he was still in his mother's womb" (Galatians 1:15).
Blessed be the God and Father of our Lord Jesus Christ, who has blessed us with every spiritual blessing in the heavenly places in Christ, just as He chose us in Him before the foundation of the world, that we should be holy and blameless before Him. In love, He predestined us to adoption as sons through Jesus Christ to Himself, according to the kind intention of His will, to the praise of the glory of His grace, which He freely bestowed on us in the Beloved (Ephesians 1:3-6).
Luke is emphatic in his representation of man's salvation as having been ordained and orchestrated by God, as a manifestation of His sovereign grace:
Moreover, when the Gentiles heard this, they began rejoicing and glorifying the word of the Lord; and as many as had been appointed to eternal life believed (Acts 13:48).


Special notes
1. 1Cf. compare with (used to refer a reader to another written work or another part of the same written work...