Cyprus and the Proconsul: Part 2 of 5
by John Lowe
(Laurens, SC)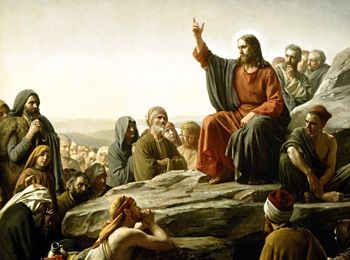 The word rendered here as "minister" denotes an inferior minister, as it does in Luke 4:20—"And he closed the book, and he gave it again to the minister, and sat down. And the eyes of all them that were in the synagogue were fastened on him." Here it is synonymous with a deacon. John was to Barnabas and Saul what Joshua was to Moses, Elisha to Elijah, etc. Peter, when he went to Caesarea, was accompanied by six brethren (Acts 11:12).


6 And when they had gone through the isle unto Paphos, they found a certain sorcerer, a false prophet, a Jew, whose name was Barjesus:

And when they had gone through the isle unto Paphos
Some versions read, 'the whole isle,' for they must go through the interior of the island, to go from Salarnis to Paphos, since Salamis was on the east, and Paphos on the west of the island. They were probably teaching in the synagogues along their route in the same way they had done in Salamis. The length of the island, according to Strabo, was 1,400 stadia, or nearly 170 miles. At this time, the island is supposed to have had one million inhabitants.

Some say Cinyras, a king of the Assyrians, built Paphos; but others say that Agapenor, who came there after the Trojan war, was the builder of this city, and also of the temple of Venus, for which it was famous; and it seems at this time to have been the seat of the Roman governor Paulus Sergius, and the capital of Cyprus. Paphos boasted of a strong, and almost impregnable tower, situated upon a hill in the middle of the city, supposed to be the habitation of Sergius Paulus. There is also, under a certain church, a prison divided into seven rooms, where they say Paul and Barnabas were imprisoned, for preaching the Gospel. It was famous for the sacred rites of Venus and the many poets who lived there. It was destroyed by frequent earthquakes, and now its ruins only show what it formerly was.

They found a certain sorcerer, a false prophet, a Jew, whose name was Barjesus:
"They found a certain sorcerer," or magician, one who practiced sorcery, and was dedicated to the magic arts, who falsely pretended to foretell future events. We are told in the following verses that the man was an impostor. We have already met Simon the sorcerer—"But there was a certain man, called Simon, which beforetime in the same city used sorcery, and bewitched the people of Samaria, giving out that himself was some great one" (Acts 8:9). There were many instances of real or pretended sorcery among the Jews in those days, which seems to have been devised by Satan and wicked men to bring the miracles of Christ and His apostles into disrepute. But by comparing the miracles, in several instances, the Christian cause was magnified even more than it would have been otherwise. Nevertheless, they succeeded many times, with those who were not wise and candid enough to closely examine them, to introduce a general contempt for all supernatural powers as false or inconclusive. It is reminiscent of the magicians and sorcerers of Egypt, who by their enchantments, for a while did seem to do similar wonders as Moses had produced by the finger of God—"Then Pharaoh also called the wise men and the sorcerers: now the magicians of Egypt, they also did in like manner with their enchantments" (Exodus 7:11).

"A false prophet"—this sorcerer is called "A false prophet;" one of those false prophets our Lord said would arise, and deceive many; he pretended to be endowed with the gift of prophecy; or a man, probably, who pretended to be inspired.

"A Jew"—his name shows him to be a Jew.

"Bar-jesus"—or the son of a man whose name is Jesus, or Joshua. In fact, he had two names, one, Bar-jesus, was his Jewish name and a patronymicii, and the other "Elymas," was an assumed name or title meaning "wise," (v. 8) (an Aramaic word, probably connected with the Arabic Ulema, or sage), a title describing his claims to have received wisdom and supernatural powers from God. The word "Bar" is Syriac, and means "son." Jesus (Joshua) was not an uncommon name among the Jews. The name was passed on from his father, so he was the son of Jesus, or Joshua; as Bar-Jonas was the son of Jonas.


7 Which was with the deputy of the country, Sergius Paulus, a prudent man; who called for Barnabas and Saul, and desired to hear the word of God.

Which was with the deputy of the country
The island of Cyprus was at this time in the hands of the Romans. Under Augustus the Roman provinces were divided into two classes, one class of which needed the presence of troops for their government, and since the Emperor was in control of the army, the province was under his jurisdiction, and was called imperatorialiii, while the others were called senatorial provinces. The former was governed by an officer named a proprætor (or, deputy), the latter by a proconsul. The Roman governor of the island, very likely dwelt at Paphos, since it was the principal city on the island. This is an instance of Luke's great accuracy. Cyprus had become a senatorial province during the reign of Claudius, but previously it had been one of the emperor's provinces governed by a propraetor, or legatus.

Sergius Paulus
Paulus was a common name among the Romans, but we know nothing about Serguis Paulus.

A prudent man
The word rendered here as "prudent" means intelligent, wise, and learned. It also may have the sense of candid, and may have been given to this man because he held large and liberal views of a philosophic and inquiring mind; and was willing to obtain knowledge from any source. Hence, he had a lot to do with the Jews; and was also willing to listen to Barnabas and Saul. It is not often that men of high rank are willing to listen to the advice and teaching of the professed ministers of God. This adjective describes what we call general intelligence and discernment, as in Matthew 11:25; Luke 10:21; 1Corinthians 1:19. In this instance, it shows that he immediately recognized the higher type of character possessed by the Apostles, and that he desired to know more of the "word" which they preached. The presence of Elymas among his staff, and his desire to hear Barnabas and Saul indicates that the proconsul was a man with an enquiring mind. He was "a prudent man," in the management of his affairs, as a governor; and might be very learned, ingenious, and an understanding man; a man of great wisdom and perception, who very likely saw through the vain pretensions, and deception of Bar-jesus, and desired to expose him publicly; or at least he would be exposed by those good apostles, who had come to his city.

Who called for Barnabas and Saul
Sergius Paulus, a man of knowledge, superior intelligence, and understanding, who thirsted for truth, sent for Barnabas and Saul, "earnestly desiring" to hear the Word of God. He sent messengers to them, to request that they come to him; Barnabas is mentioned first, though he was the inferior person, because he was a native of that country and might be best known. It is probable that they had preached in Paphos, and Sergius desired to hear directly from them the essence of their new doctrine.

And desired to hear the word of God
"And desired to hear the word of God"—this desire was extraordinary, and was created in his mind by God, in order to prepare him for the further mercy of his conversion and salvation. Where such a desire exists, it shall be granted: "Ask, and it shall be given you" (Luke 11:9).There is no evidence that he then wished to listen to this as divine truth, or that he was anxious about his own salvation, but it may have begun as a mere inquiry to satisfy his curiosity, and evolved into a true desire to know the way of life and salvation, which was produced in his soul by the Spirit of God; though the latter seems most likely, since it resulted in his conversion. It was a professed characteristic of many ancient philosophers that they were willing to receive instruction from any quarter. "And they took him, and brought him unto Areopagus, saying, May we know what this new doctrine, whereof thou speakest, is? For thou bringest certain strange things to our ears: we would know therefore what these things mean" (Acts 17:19-20).


8 But (for so is his name by interpretation) withstood them, seeking to turn away the deputy from the faith.

But Elymas the sorcerer, for so is his name by interpretation
"Elymas the sorcerer" was his name by interpretation—Elymas the magician. Elymas is the interpretation of his name "Bar-jesus;" which signifies the son of salvation, or of healing, and comes from the Arabic word which signifies "to mutter," as wizards and sorcerers and that sort of men used to do; and means the same as Magus—Magus the sorcerer. It is sometimes used in a good sense, for a wise man, by an Arabic word "Elim," as in Matthew 2:1 which signifies knowing—"Now when Jesus was born in Bethlehem of Judaea in the days of Herod the king, behold, there came wise men from the east to Jerusalem" (Matthew 2:1). It seems that he was better known by this foreign name than by his own. Bar-jesus, was not as unusual as Simon Bar-jona—"And Jesus answered and said unto him, Blessed art thou, Simon Barjona: for flesh and blood hath not revealed it unto thee, but my Father which is in heaven" (Matthew 16:17).

The charlatan feared the loss of the influence which he exercised over the mind of the proconsul. His victim was emancipating himself from his bondage and was passing from gullibility to faith, andBar-jesus wanted to check that progress.