Cyprus and the Proconsul: Part 4 of 5
by John Lowe
(Laurens, SC)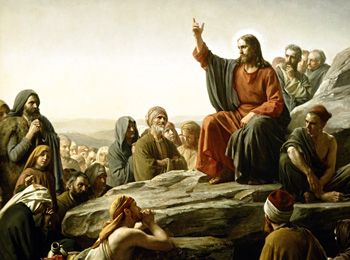 "And all mischief" signifies a talent or readiness to do mischief, and those who are committed to sorcery are easily drawn to commit any kind of sin whatsoever. It may have regard both to his general character as a sorcerer, and a false prophet, for he used much deceit and cunning among the people, and did a lot of harm to them in the process. The term mischief signifies there was a promptness and readiness in him to deceive and hurt; and also that he used mischief as he endeavored to turn the deputy from the faith. The minds of carnal men are vain and empty, and destitute of all that is good, and full of all that is evil. The talent of Elymas probably consisted of sleight of hand, trickery, and deception, aided by skill in the obscure sciences, by which the ignorant might be easily imposed on. (See Acts 8:9.)


Thou child of the devil
"Thou child of the devil" is perhaps alluding to his name, that instead of Bar-Jesus, the son of a Savior, he should have been called Bar-Satan, the son of Satan, or Ben-Belial, a son of Belial. "Thou son of the devil" (compare John 8:38, 44; 1 John 3:10). The Child of the devil is under his influence; practicing his arts; promoting his plans and tactics by deceit and impersonation, so that he may be called your father—"You are of your father the devil, and the lusts of your father you will do. He was a murderer from the beginning, and stayed not in the truth, because there is no truth in him. When he speaks a lie, he speaks of his own: for he is a liar, and the father of it." (John 8:44). Satan is represented here as the author of deceit and the father of lies.

The phrase, "the firstborn of Satan" is used by the Jews to indicate one that is severe, sarcastic, and subtle, and that promotes his doctrine, and does his work. A wicked man is an enemy to all righteousness: he is an enemy, yes, hatred itself against God the righteous being, and who is the fountain of all righteousness; he is an enemy to Jesus Christ the righteous, who is the Lord our righteousness; he is an enemy to that righteousness which He has worked out; he is an enemy to all righteous persons, and hates their holy and righteous conversation; he is an enemy to the law, and cannot be subject to it; and he is an enemy to the Gospel, which reveals the righteousness of God from faith to faith, and teaches men to live soberly, righteously, and godly; in short he is an enemy to all righteousness, moral and evangelical.

Elymas showed himself to be a child of the devil by his attempts to resist the truth of the Gospel, and substitute his own falsehoods and deception. Compare the severity of Peter's language in rebuking Simon Magas (Acts 8:20-23). He probably accused Paul and Barnabas, and vilified their motives before the proconsul, when he saw his own influence being undermined, and that his influence was likely to be stopped. Paul said to Elymus "Thou child of the devil;" because he did the destroyer's work by doing what he could to hinder the salvation of Sergius Paulus and his family.

Filled with all unrighteousness
An "Enemy of all righteousness" practices deceit and iniquity, and opposes righteousness and honesty. We may deduce from this expression that Paul recognized an earnest zeal for truth in the inquiries of the proconsul, and that his wrath against Elymas was not only for what he was doing at the present time, but for his continual leading astray of those who desired to know the ways of the Lord. A man who lives by wickedness will, of course, be the foe of every form of integrity. A man who lives by fraud will be opposed to the truth; a panderer to the vices of people will hate the rules of chastity and purity.

Many of them have a great deal of intelligence, but it is wicked intelligence, and they employ it in an evil and mischievous way, both to hurt themselves and others; they are like the old serpent, whose seed they are, who was more subtle than any beast of the field. They are wiser in their generation than the children of light; they are wise in the ways of doing evil, though they have no knowledge of what is spiritually good; they are able to create very cunning and deceitful schemes, to commit sin, and do mischief; for they use all their craft and subtlety to commit sin; they can't sleep, or rest easy in their minds, unless they are doing mischief—"They have become filled with every kind of wickedness, evil, greed, and depravity. They are full of envy, murder, strife, deceit, and malice. They are gossips" (Romans 1:29).

Wilt thou not cease to pervert the right ways of the Lord
"The right ways of the Lord" refers to the doctrines and ordinances of Christ, in which He has directed His people to walk; which this man, through his dishonesty and wickedness, in which he was industrious and untiring, did his best to make them seem intricate and obscure, when they were simple, and straightforward, and easy. "For the ways of the Lord
are right, and the just shall walk in them" (Hosea 14:9). They are right, and it is becoming of us to walk in them. They are simple to those that have a true knowledge of them, and even fools can understand and obey them. They are entirely consistent with the righteousness and holiness of God, and lead on to eternal glory and happiness. Christ himself is the true way to eternal life, which is pointed out, and clearly stated in the word of God, and by the ministers of the Gospel, who show men the way of salvation. The path of truth is fully described, and all are invited to walk in it. Good men cannot help but to choose and delight to walk in it, when led into it by the Spirit of truth. Wisdom's ways are always pleasant, and all her paths lead to peace, especially all the paths of duty and worship, the ways of righteousness and holiness; but wicked men seek to pervert these ways, to give a false account of them, to set them in a wrong light, and represent them not only as rough and troublesome, but as dangerous, and leading to ruin; and they do all they can to hinder persons from entering into them, and to cause those to stumble who are in them. They will never cease acting in this wicked manner; they are continually at work to make the ways of Christ loathsome, to turn people against them, to discourage them from walking in them by their opposition to them; they do it by the false impressions they give of them, and by their taunts and jeers directed at those that walk in them, and by their violent persecutions of them, when it is in their power to do so.
In what way Elymas had opposed Paul and Barnabas is not known. It may have been either by misrepresenting their doctrines, or by representing them as apostate Jews thus retarding or hindering the progress of the Gospel.
11 And now, behold, the hand of the Lord is upon thee, and thou shalt be blind, not seeing the sun for a season. And immediately there fell on him a mist and a darkness; and he went about seeking some to lead him by the hand.
And now, behold the hand of the Lord is upon thee
"The hand of the Lord" is used for any powerful action by God, whether in mercy or judgment: here it signifies the Divine power with which God strikes his enemies. God did in judgment exercise mercy, inflicting this blindness only for a season, so that it was more like a medicine than a punishment. The judgment was mercifully designed to lead him to repentance.
"The hand of the Lord is upon thee" means God shall punish thee. The phrase would convey to every Jew the thought of a chastisement which was the direct result of the will of God. (Compare: 1Kings 18:46; Ezekiel 1:3; Ezekiel 8:1.) By this sudden and miraculous punishment Elymas would be awed and humbled, and the proconsul and others would be convinced that he was an impostor, and that the Gospel was true. His wickedness deserved such punishment; and at the same time that the punishment was imposed, it was planned that the Gospel would be expanded by this method. In all this, there was the loftiest evidence that Paul was under the inspiration of God. He was full of the Holy Spirit; he detected the secret feelings and desires of the heart of Elymas; and he inflicted on him a punishment that could have proceeded from no one but God. It is apparent from various places in the New Testament that the apostles had the power of inflicting punishment. Compare:
• 1 Corinthians 5:5: "To deliver such a one to Satan for the destruction of the flesh, that the spirit may be saved in the day of the Lord Jesus."The object of this punishment was the destruction of the flesh, and the salvation of the man.
• 1 Timothy 1:20: "Of whom is Hymenaeus and Alexander; whom I have delivered to Satan, that they may learn not to blaspheme." This was an apostolic power Paul had to deliver the bodies of men into the hands of Satan, to be tortured and afflicted by him, in order to bring them to a sense of their sins, and as a chastisement and correction for them, and a token of God's displeasure with them
And thou shall be blind, not seeing the sun for a season
"Thou shall be blind," so blind that he would not be able to see the sun, even when it shined brightly. The form of the punishment may have been, in part, determined by the Apostle, which he made known to God in prayer. If so, it suggests that he had looked back at his own blindness; the exclusion of the outward light, he thought, had been the process by which he was led to the Sun of Righteousness and the Light that lighteth every man, and hoped that it might do that now for Elymas—"Saul got up from the ground, but when he opened his eyes he could see nothing. So they led him by the hand into Damascus. For three days he was blind, and did not eat or drink anything" (Acts 9:8-9).