Daniel; A man of Prayer: Part 2 of 3
by John Lowe
(Laurens, SC)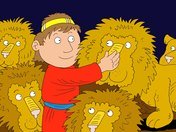 Folks, it is great when someone knows what he is praying for. However, many prayers go off at a tangent—the praying person evidently thinks he is doing well by using certain phrases, but the prayer that hits the target in the center is the best prayer to pray. God teach us to pray like Daniel, who prayed, "O Lord, forgive."


I want to point out something else; the prayer of Daniel was a prayer that expressed the nearness of God. You catch that thought in the expression, "O my God." Often we pray like God is a long way off: we pray like slaves and like we might be heard, but we're not sure of it. But when God helps us to pray like we should, we come right into His presence, and we say, "Hear me, O my God." He is God; therefore, we must be respectful. He is my God; therefore I can come close to him. A child of God—when his heart is right—can get very close to God; he can pour out his childlike requests in childlike language before his Heavenly Father.

Now the last thing I will call your attention to in this model prayer is this, that the prophet uses a line of reasoning. Praying should always be made up of "strong reasoning."

We should press matters with God, and give reasons for our requests—not because He wants reasons, but because He wants us to know why we want what we asked for. In this passage, Daniel has given a reason. He said, "If thou suffer this people of thine to perish, all the world will revile thy name; thine honour will be stained. This is thine own people, and because they are thy property, suffer not thine own estate to be endamaged, but save Jerusalem for thine own sake."

Next, Daniel gives another reason for God to respond positively to his prayer. He said, "For thy city and thy people"; he says that the people of Israel are not like other people. It is true that they had sinned, but still, there was a relationship between them and God that didn't exist between God and any other people. He brings up the covenant, between Abraham and Abraham's seed and the God of the whole earth.

And next he says, "For they are called by thy name." They were called Jehovah's people by the nations around them. Then Daniel prayed, "O God! let not a thing that bears thy name be trundled about like a common thing. Suffer it not to be trailed in the dust; come to the rescue of it. Thy stamp, thy seal is upon Israel. Israel belongs to thee; therefore, come and interpose." Now, from this I gather that if we want to succeed in having our prayers answered, we should provide the Lord with good reasons for it.

Often, Jesus gave His listeners reasons to obey Him. On one occasion He told a crowd, "If ye, being evil, know how to give good gifts unto your children, how much more shall your Heavenly Father give the Holy Spirit to them that ask him!" Get a promise from God's Word, and spread it before the Him, and say, "O Lord, thou hast said it; so please do it." God loves to be believed in. He loves you to think he means what he says. God, Himself is practical. His word has power in it, and he does not like us to treat his promises as some of us do, as if they were a waste of paper. Pray to God, and when you do, use reasoning, and don't leave a single argument unused that might help you to prevail with God to send what you want. That is as much as I want to say about this model prayer. Now I want to talk a little longer about:—

THE ENCOURAGEMENT TO PRAY THAT'S FOUND IN THIS PASSAGE.

Folks, it is always easier to do something when you see other people doing it. Many people have taken medicine only because they know another man or woman has taken it. I believe everyone here today makes it their practice to pray in times of suffering and grief. But, it would be
better if a person prayed about everything, and then trusted God for the blessings.
Allow me to tell you about a prayer meeting in the Bible. Peter was in prison, and Herod was so afraid that he would get out again that he had sixteen policemen watch his every move, and the believers knew they could not get Peter out in any other way except one; so they said, "We will hold a prayer meeting." That's the way it was with the Church at that time, when anything was wrong; they would say, "Where should we hold the prayer meeting?" So, one of the women said she had found a room that would be a good place for a prayer meeting. It was on a back street, so nobody would know about it, but they would have to be quiet. So they held the prayer meeting, and began to pray. I don't suppose they prayed for the Lord to knock the prison walls down, or to kill the policemen, or anything like that, but I do think they prayed that Peter would get out, and they left how he was to get out up to God.
While they were praying there was a knock at the door. "Oh, no!" they said, "That is probably a policeman who has come to get another one of us. But Rhoda went to the door to see who it was, and when she looked she was frightened and started back. The disciples wondered, "What did she see?" However, she returned to the door and looked again, and she became convinced that it was Peter, himself. So, she went back to the others, and said, "Peter is at the gate."
They were the Lord's men, and they had been praying that Peter would be set free, but they could not believe it, and they said, "Oh, it must be his spirit, or an angel." "No," the girl said, "I know Peter very well; he has been here dozens of times, and I know it is Peter"; and then Peter came in, and they couldn't believe what they saw. They had asked God to set Peter free, and there he was. It was the prayer meeting that did it.
And all of us should draw near to God in prayer whenever we have a need. I want to read a poem about prayer that may say it better than I can.
Prayer makes the darkest cloud withdraw,
Prayer mounts the ladder Jacob saw,
Gives exercise to faith and love,
Brings every blessing from above.
Restraining prayer, we cease to fight;
Prayer makes the Christian armour bright;
And Satan trembles when he sees
The weakest saint upon his knees.
It is prayer that does it, and this fact should push us to pray more often.
The success of Daniel's prayer is the next encouragement for us pray. He hadn't even got to the end of his prayer when he felt a soft hand touch him, and he looked up, and there stood Gabriel in the form of a man. That was certainly a quick response. It came much quicker than Daniel expected; as soon as he began to pray, the word went out for the angel to descend from heaven. The answer to prayer is the most rapid thing in the world. God tells us in His Word, "Before they call I will answer, and while they are yet speaking I will hear."
I believe electricity travels at the rate of 186,000 miles in a second; but prayer travels even faster than that, since it is, "Before they call I will answer." It takes no time at all. When it's God's will to answer, the answer may come as soon as the desire is made known. And if the answer is delayed, it is only because God has decided to wait until a better time.
Prayer cannot fail. It's as likely that heaven and earth will pass away, as it is that prayer will fail. It's more likely that God will stop the sun from rising, than for Him to cease to reply to the faithful, believing, spirit-lead prayers of His own people. Therefore, we should pray, because God wants to give us what we ask Him for.