Daniel; A man of Prayer: Part 3 of 3
by John Lowe
(Laurens, SC)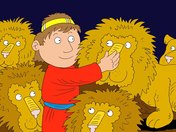 There's another reason we should be encouraged; it's that Daniel prayed for a very hard thing. Jerusalem was in ruins; the Jews were scattered; they had done many sinful things; but, nevertheless, Daniel prayed, and God heard him. We are not in as bad a shape as those people; we don't have to feel sad because God has left us; a child of God doesn't even have to worry about God withdrawing His hand. Folks, there's nothing about this life that's worth a cent, if God's Spirit is gone. If I lost His Spirit, which He gave me, words could not express the sorrow I would feel.

Why is it that so many Christians are backsliding today? It quenches the Spirit, and makes the heart grow cold, and then they even stop going to church for the silliest reasons: the building is too cold; the Pastor didn't shake my hand; I don't like the songbooks. If you are a child of God, pray daily for God to keep His hand on us, and continue to show us loving kindness, and to help us be faithful until He takes us from here to our new home.

One thing I would like you to take note of is that Daniel was only one man, nevertheless, he got what he asked God for; and that's something that I find encouraging. But, if two of you agree as touching any one thing, it shall be done. But how about three people praying or fifty, or every member of a church. If everyone prayed at once, for a blessing from God, oh! how wonderfully God might respond! I pray that would be the case!

Friends, how about your private prayers: are they what they should be? What about those morning prayers, and those evening prayers, and that midday prayer, are those prayers what they should be? There must be a lot praying if there is going to be a lot rejoicing in the Lord.

And then, what about your family prayers: do you keep them up? Sierra and I pray together often. We always pray before leaving the house, and before doing anything for God. Sometimes we pray together before bedtime, but we're not as faithful in this respect. I believe that one of the best things a mother and father can do for their children is to have a family prayer time. I am sure we cannot expect our children to grow up to be godly men and women, if there is no family prayer. So, are your family prayers, what they ought to be?

Next, let me say to each one of you, how about your prayers as members of Christ's Church? It really is great to see you here this morning, but I must confess that I am a little sad, because there are some people that I used to see, that don't see now. Please, do not get into the habit of neglecting to join with others for prayer.

"All our strength lies in prayer"! If you have been a Christian for even a little while you know God answers prayer. In times of need and trouble, we have cried to God, and he has heard us. So please, never stop praying. The problem is, we only pray a little and we just ask for a little, and God gives it. You are the salt of the earth; if you love Jesus don't let your salt lose its savor.

We can expect great things if we pray with the right motives and attitude. The blessings that come to you may be greater than you can imagine. Pray for those right here that are without Jesus. They will not pray for themselves, therefore let's pray for them, until at last, they do pray to God for themselves. Prayer can unlock God's mercy door, for others as well as for ourselves; therefore, let us, pray without ceasing, and may God send us blessings, for Jesus' sake.