David part 1
by John Thomas Lowe
(Woodruff, S.C.)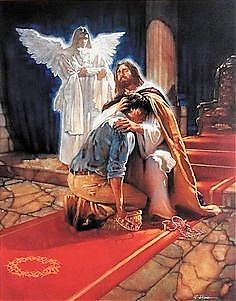 David part 1
This article provides an overview of David's remarkable life, from his beginnings as a shepherd to becoming King.

David King of Israel

Reign c. 1010–970 BCE
Predecessor Ish-bosheth

Successor Solomon

Born c. 1040 BCE
Bethlehem, United Kingdom of Israel

Died c. 970 BCE
Jerusalem, United Kingdom of Israel
Consort 8 wives:
Issue 18+ children
House
House of David

Father Jesse

Mother Nitzevet (Talmud)

Religion Yahwism

David is described in the Hebrew Bible as a king of the United Monarchy of Israel and Judah. In the Books of Samuel, David is a young shepherd and harpist who gains fame by slaying the giant Goliath, a champion of the Philistines in southern Canaan. David becomes a favorite of the first king of united Israel, Saul, and forges a close friendship with Jonathan, a son of Saul. Paranoid that David is seeking to usurp the throne, Saul attempts to kill David, forcing the latter to hide and operate as a fugitive for several years. After Saul and Jonathan are both killed in battle against the Philistines, a 30-year-old David is anointed King over all of Israel and Judah, following which he conquers the city of Jerusalem, establishes it as Israel's capital, and takes the Ark of the Covenant into the city to be the center-point of worship in the Israelite religion.
According to the biblical narrative, David commits adultery with Bathsheba, leading him to arrange the death of her husband, Uriah the Hittite. David's son Absalom later schemes to overthrow him and, during the ensuing rebellion, David flees Jerusalem but returns after Absalom's death to continue his reign over Israel and Judah. He desires to construct a temple to Yahweh to house the Ark, but Yahweh denies David the opportunity to do so. David rules as King of the Israelites until his death at age 70, prior to which he chooses Solomon, a son born to him and Bathsheba, to be his successor instead of Adonijah, his eldest surviving son. He is honored in prophetic literature as an ideal king and the forefather of the future Hebrew Messiah, and many psalms are ascribed to him.
Historians of the Ancient Near East agree that David probably lived around 1000 BCE, but little else is agreed on about him as a historical figure. The Tel Dan stele, a Canaanite-inscribed stone erected by a king of Aram-Damascus in the late-9th/early-8th centuries BCE to commemorate his victory over two enemy kings, contains the Hebrew-language phrase Beit David, which most scholars translate as "House of David." The Mesha stele, erected by King Mesha of Moab in the 9th century BCE, may also refer to the "House of David," but this is disputed. Apart from this, all that is known of David comes from biblical literature, the historicity of which is doubtful.
David is richly represented in post-biblical Jewish written and oral tradition and is discussed in the New Testament. The early Christians interpreted the life of Jesus in light of references to the Hebrew Messiah and to David; Jesus is described as being descended from David in the gospels of Matthew and Luke. The biblical character of David has inspired many interpretations in art and literature over the centuries. In the Quran and hadith, David is mentioned as a prophet-king of Allah.


DAVID RAISES THE HEAD OF GOLIATH
In 1 Samuel 17:25, King Saul had said that he would make whoever killed Goliath, a very wealthy man, give his daughter to him and declare his father's family exempt from taxes in Israel.
The First Book of Samuel and the First Book of Chronicles both identify David as the son of Jesse, the Bethlehemite, the youngest of eight sons. He also had at least two sisters, Zeruiah, whose sons all went on to serve in David's army, and Abigail, whose son Amasa served in Absalom's army, Absalom being one of David's younger sons. While the Bible does not name his mother, the Talmud identifies her as Nitzevet, a daughter of a man named Adael, and the Book of Ruth claims him as the great-grandson of Ruth.
David is described as cementing his relations with various political and national groups through marriage. In 1 Samuel 17:25, King Saul had said that he would make whoever killed Goliath, a very wealthy man, give his daughter to him and declare his father's family exempt from taxes in Israel. Saul offered David his oldest daughter, Merab, a marriage which David respectfully declined. Saul then gave Merab in marriage to Adriel the Meholathite. Having been told that his younger daughter Michal was in love with David, Saul gave her in marriage to David upon David's payment in Philistine foreskins (ancient Jewish historian Josephus lists the dowry as 100 Philistine heads). Saul became jealous of David and tried to have him killed. David escaped. Then Saul sent Michal to Galim to marry Palti, son of Laish. David then took wives in Hebron, according to 2 Samuel 3; they were Ahinoam the Yizre'elite; Abigail, the wife of Nabal the Carmelite; Maacah, the daughter of Talmay, King of Geshur; Haggith; Abital; and Eglah. Later, David wanted Michal back, and Abner, Ish-bosheth's army commander, delivered her to David, causing her husband (Palti) great grief.
The Book of Chronicles lists his sons with his various wives and concubines. In Hebron, David had six sons: Amnon, by Ahinoam; Daniel, by Abigail; Absalom, by Maachah; Adonijah, by Haggith; Shephatiah, by Abital; and Ithream, by Eglah. By Bathsheba, his sons were Shammua, Shobab, Nathan, and Solomon. David's sons born in Jerusalem to his other wives included Ibhar, Elishua, Eliphelet, Nogah, Nepheg, Japhia, Elishama, and Eliada. Jerimoth, who is not mentioned in any of the genealogies, is mentioned as another of his sons in 2 Chronicles 11:18. His daughter Tamar, by Maachah, is raped by her half-brother Amnon. David fails to bring Amnon to justice for his violation of Tamar because he is his firstborn, and he loves him, and so, Absalom (her full brother) murders Amnon to avenge Tamar. Although Absalom did avenge his sister's defilement, ironically, he showed himself not to be very much different from Amnon; as Amnon had sought the advice of Jonadab in order to rape Tamar, Absalom had sought the advice of Ahitophel, who advised Absalom to have incestuous relations with his father's concubines in order to show all Israel how detestable he was to his father 2 Samuel 16:20. Despite the great sins they had committed, David showed grief at the deaths of his sons, weeping twice for Amnon 2 Samuel 13:31–26 and weeping seven times for Absalom.