Delilah part 2
by John Thomas Lowe
(Woodruff, S.C.)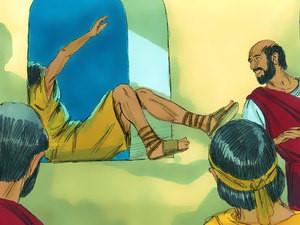 part 2
These are questions that have been asked;
Why Did Delilah Betray Samson
Why didn't Samson cut his hair?
If it is cut, he will lose his power.
He was also asked why the Nazarenes didn't comb their hair?
Be a Nazarene. Eliminate the alcohol obtained from grapes. (Traditional rabbinic authorities say that all other types of alcohol are allowed.) Avoid cutting your hair. Avoid corpses and graves, including those of relatives, and all structures that contain them.
What is Samson's hair good for besides the above?
In the Old Testament, Samson was an Israelite servant of God who, on many occasions, used his invincible strength and wisdom against the Philistines. Delilah cut Samson's hair in his sleep, then called the Philistines, who grabbed him and blinded him.
What does the Bible say about Samson's hair?
Samson's weakness for beautiful Philistine women soon brought him into Delilah's arms. Samson admitted that I would lose strength if my head were shaved (Judges 16: 15-17). In his sleep, the unfaithful Delilah welcomed a Philistine who cut Samson's hair and exhausted all his strength.
Who are the Nazis in the Bible?
Nazarene is a title that refers to Jesus who, according to the New Testament, grew up in Nazareth, a city of Galilee, which is now in northern Israel. The word translates two related terms found in the Greek New Testament: Nazarnos (Nazarenes) and Nazraios (Nazorean).
Who is Manoah in the Bible?
According to the Bible, Manoah belonged to the Dan tribe and lived in the city of Zorah. He married a barren woman. His name is not mentioned in the Bible, but according to tradition, he was called Hazelelponi or Z'llpunith. She was the daughter of Etam and the sister of Ishma.
Why did Dalila Samson fail?
In the Old Testament, Dalilah, also spelled Dalila, is the central figure in Samson's last love story (Judges 16). She was a Philistine who had been bribed to seduce and capture Samson.
What did Samson eat?
The solution to this riddle is honey from the lion carcass: honey is something to eat and something sweet, and the lion is something strong.
How old was Samson in the Bible?
Samson is a biblical character described in the 1316 Book of Judges. He was an Israelite who followed the requirements of NAZARITE life, which included not drinking or cutting his hair.
Was John the Nazarene?
According to the New Testament, John the Baptist and Jesus of Nazareth were related. John used baptism as the central symbol or sacrament of his movement. Some scholars claim that John belonged to the semi-ascetic Jewish sect that awaited a Jewish Messiah and performed ritual baptism.
What is the longest verse in the Bible?
Esther 8, 9 is the longest verse in the biblical text.
How does Samson die?
Suicide
How tall was Samson from the Bible?
Samson's power comes from God. According to Jewish legend, Samson's shoulders were sixty cubits wide. (However, many Talmudic commentaries state that this should not be taken literally for someone who could not normally live in society.
Who were the Philistines, and where did they come from?
They came in the 12th century BC when the cities and civilizations of the Middle East and Greece were collapsing.

Delilah's Identity
The biblical story, in which Samson falls in love with her and then the Philistines use her to learn the secret of his strength, leaves us with more questions than answers about Delilah. As biblical women typically are, she is not identified in terms of a man (husband, father, or brother). All we know is her name, a Hebrew name, and the place where she lives, the valley of Sorek, which lay between Israelite and Philistine territory. She and Samson are lovers but are not married.
What is her status in society? Is she a wealthy widow, like Judith? A harlot, as is commonly supposed? A sexually independent woman, like the woman in the Song of Solomon?
Delilah is not called a harlot. Samson is reckless, and it is perhaps because he visits a harlot in Judg 16:1–3 that some readers conclude that Delilah is also a harlot (the phrase "and after that, he fell in love with a woman …" Judg 16:4 also links the two women). Delilah is not even called a Philistine, though it is usually assumed that she is because (1) Samson is attracted to Philistine women, (2) she has dealings with the Philistine rulers, and it is unlikely that the Philistines would seek to enlist the aid of an Israelite woman, and (3) she betrays the Israelite hero to his enemies, and it is unlikely that a biblical author would portray one of his countrywomen doing such a scandalous thing without further comment. All are good reasons, but none is conclusive. Actually, only one of the three women Samson is involved with—his wife—is identified explicitly as a Philistine.
Delilah's Actions
Delilah accepts a bribe to reveal the source of Samson's strength to the Philistines. The bribe would make sense if the woman were Israelite—she would probably need enticement to betray a leader of her people. On the other hand, if Delilah is a Philistine, perhaps the bribe underscores her treacherous woman. Each of the Philistine rulers (probably five of them, representing the five important Philistine city-states) pays her eleven hundred pieces of silver.
The text reports that Samson loves Delilah (16:4), but not that she loves him—a hint, perhaps, that she does not love him and will have no qualms about betraying him.
Three times Delilah tries unsuccessfully to learn the secret of Samson's strength. The Philistines instruct her to "entice" (NRSV, "coax") Samson, which suggests something sexual, but the text reports only her persistent questioning and nagging. She makes no secret of her intention. By the fourth time, it is apparent that she will carry out whatever procedure Samson describes, but Samson tells her the secret, and she cuts his hair, enabling the Philistines to capture him. The Hebrew text has Delilah cut Samson's hair, just as she did the binding (twice) and weaving of his hair. However, the text is rather tricky, and some versions introduce a "man" or a "barber" and have him cut Samson's hair.