Demonstrated by Paul's Conversion, Part 2 of 3 (series: Lessons on Galatians)
by John Lowe
(Woodruff, S.C.)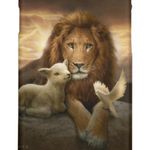 15But when it pleased God, who separated me from my mother's womb, and called me by his grace,

But when it pleased God,
"But when it pleased God," begins his account of his conversion, and call to the ministry; all of which he attributes entirely to the sovereign good pleasure, and free grace of God, in order to prevent the notion of his having known the gospel prior to that hour. The main thought of verses 15-17, and continuing to the end of the chapter, is that, after he had received from God himself the knowledge of the gospel, he had had no motivation to turn to any mortal man or apostle, for the purpose of further instruction in it.

who separated me from my mother's womb,
"From my mother's womb" means "from the time before I was born Note: Luke 1.15 has the same sense.," not "ever since my birth," which is how it is used in Judges 16:17; Matthew 19:12; Acts 3:2; Acts 14:8. These words are designed to indicate the purely arbitrary character of this predestination.

Predestination is also the theme of Romans 9:11, "The children being not yet born, neither having done anything good or bad, that the purpose of God according to election might stand." When viewed in this light, the clause appears to be an expression of adoring humility on the part of the apostle, combined, however, with the strongest possible declaration of the Divine origin of his mission. A similar statement of God's arbitrary selection of a particular human being for a particular function is found in Isaiah 49:1—"The Lord hath called me from the womb; from the bowels of my mother hath he made mention of my name;" and Isaiah 49.5—"That formed me from the womb to be his servant;" and again in Jeremiah 1:5—"Before I formed thee in the belly I knew thee; and before thou camest forth out of the womb I sanctified thee, and I ordained thee a prophet unto the nations." It is difficult not to believe that this conviction of the apostle concerning himself as an object of God's predestinating purpose, is what is meant in the verse before us.

"Who separated me from my mother's womb" is none other than Him whom I acknowledge as the God of nature and the God of grace; who preserved me by his providence when I was a helpless infant, and saved me by his grace when I was an adult and persecutor of His Church. The language that follows implies that, like Moses, John the Baptist (Lu 1:15-17), Isaiah (Isa 49:1), and Jeremiah (Jer 1:5), Paul was destined to his work as a preacher and an apostle from birth. The meaning is, that God, as part of His secret plans, had set him apart to be an apostle. It does not mean that he had actually called him in his infancy to the work, because this was not the case, but that he created him to be an important instrument in His hands for spreading the true religion. Jeremiah was set apart in the same way, and John the Baptist was designated to announce the coming of the Messiah while still in his mother's womb; both of them performed the work they were called to do with great success. It follows from this:
1) That God often, if not always, has purposes for people from before their birth. He designs them for some important field of labor, and endows them at their creation with talents adapted to accomplish those purposes.
2) It does not follow that because a young man has gone far astray; and has even become a blasphemer and a persecutor, that God has not predestined him for some important and holy work in his service. How many people have been called, like Paul, and Newton, and Bunyan, and Augustine, (and me) from a life of sin to the service of God?
3) God is often training up people in a remarkable manner for future usefulness. His eye is upon them, and He watches over them, until the time comes for their conversion. His providence was concerned in the education and training of Paul. It was by God's will with reference to his future work that he had so many opportunities for education, and was so well acquainted with the "traditions" of that religion which he was yet to demonstrate to be unfounded and false. He gave him the opportunity to cultivate his mind, and prepare to grapple with the Jew in arguments, and show him how unfounded his hopes were. God's eye is always upon them and they are often allowed to wander far off, as Paul did; until the time comes for their conversion, and then, in accordance with the purpose which set them apart from the world, God converts them, and consecrates all their talents and acquired knowledge to His service.
4) We should never anguish over a young man who has wandered far from God, even if he has become an infidel. It is still possible that God "separated" that person to his service from his very birth, and that God still means to call him to His service. How easy it was to convert Saul of Tarsus when the proper time arrived. It is just as true today for the unconverted and unconsecrated among the young men of our land. That apparently wasted talent that may still be used by God; and so, let us fervently pray that they may be "called" by the grace of God and actually devote themselves to His service.

and called me by his grace,
The "setting apart" mentioned in the previous clause was unquestionably a "setting apart" for the apostolic office, and therefore it might seem to follow that "called me" is also the calling to be an apostle. Likewise, we are probably to understand the words in Romans 1:1 to mean "called to be an apostle;" and in Hebrews 5:4 the verb "called" is used for one called to be a priest. But the prevailing sense of "being called," throughout Paul's writings, refers to the bringing of the soul to Christ and into his kingdom. "And called me by his grace" refers to what happened to Paul on the way to Damascus. It was special grace that called Paul, because at that time he was engaged in bitterly opposing Him and His cause.

16To reveal his Son in me, that I might preach him among the heathen; immediately I conferred not with flesh and blood:

To reveal his Son in me,
"To reveal his Son in me" is to be connected with the first part of Galatians 1:15, so that it now reads "When it pleased God to reveal his Son in me," which speaks of the grand event on the way to Damascus. The phrase evidently means, to make me acquainted with the Lord Jesus, or to reveal his Son to me. The grand event which occurred on the way to Damascus was the miraculous appearance of the Lord Jesus Christ to Paul on his way to Damascus; "For it is the God who commanded light to shine out of darkness, who has shone in our hearts to give the light of the knowledge of the glory of God in the face of Jesus Christ" (2 Corinthians 4:6). That revelation was for the purpose of convincing him that Jesus was the Messiah; to make him aware of Christ; His nature, rank, and claims; and to qualify him to be a preacher to the Gentiles.

Paul wanted people to see Christ in him; for God "to reveal his Son in me"—within me, in my inmost soul, by the Holy Spirit—"I have been crucified with Christ; it is no longer I who live, but Christ lives in me; and the life which I now live in the flesh I live by faith in the Son of God, who loved me and gave Himself for me" (Ga 2:20). Christ was not only the author and maintainer of his spiritual life, but the life itself; he was formed in his soul, dwelt in his heart, was united to him, and was one with him. It was the Christ in Paul from which all his vital principles and vital actions sprung, and all the empathy, joy, and peace of his spiritual life flowed. In 2 Corinthians 4.6, he speaks of the light that "shined in our hearts."—"For it is the God who commanded light to shine out of darkness, who has shone in our hearts to give the light of the knowledge of the glory of God in the face of Jesus Christ." The revealing of His Son by me (Paul) to the Gentiles was impossible, unless He had first revealed His Son in me; at first on my conversion, but especially at the subsequent revelation from Jesus Christ (Ga 1:12), whereby I learned the Gospel's independence from the Mosaic law.

that I might preach him among the heathen;
"That I might preach him," that is, in order that I might afterward preach him; or with a view to my being appointed to the work of an apostle. This was the chief purpose for which Paul was converted, which is confirmed by scripture:
• "But the Lord said to him, "Go, for he is a chosen vessel of Mine to bear My name before Gentiles, kings, and the children of Israel" (Acts 9:15). The Lord appeared to him, "for this purpose to make him a minister and a witness."
• "Then He said to me, 'Depart, for I will send you far from here to the Gentiles.'" (Acts 22:21). And so, by a divine mission and commission, he became the apostle of the Gentiles, and preached the Gospel among them with great success, converting many thousands of them, and planting many churches in their midst.