Divisions and Wisdom (Part 3 of 8) (series: Lessons on 1 Cor.)
by John Lowe
(Woodruff, S.C.)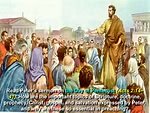 Though division is ungodly, it is not wrong to make distinctions between churches and ministers. God has made different churches and different ministries with different callings and characters, because the job of preaching the gospel is too big for any one group.

i. I thank God that there are so many denominations. If there were not men who differed a little in their creeds, we would never get as much gospel as we do. God has sent different men to defend different kinds of truth, but Christ defended and preached all the truth. Christ's testimony was perfect.
ii. It is one thing to prefer one minister to another, but we cannot divide into cliques behind one minister or another. One minister of Christ may be rightly preferred to another. We ought to honor those the most whom God honors the most, either through giving him more of His Spirit, or by blessing his labors with success; but we should take care not to place our ministers on a pedestal and give them too much honor, because they are likely to fall off that pedestal, since they are mere men. We are not bound to think of every minister as our pastor, but we are bound to respect every minister, who by his doctrine and holy life lives up to his profession and holy calling.

Jesus does not belong to anyone "party." These cliques that form in our churches ignore the truth of unity overall diversity in the church, even if they were all in the name of spirituality. Spiritual elitism is repulsive, no matter whose name it is practiced in. There was an old, contentious Quaker who went from one church to another, never finding the "true" church. Someone once said to him, "Well, what church are you in now?" He said, "I am in the true church at last." "How many belong to it?" "Just my wife and I, and I am not sure about her sometimes."

Even more foolish than "dividing Jesus" is to center parties in the church around men: Was Paul crucified for you? Or were you baptized in the name of Paul? When Paul puts it like this, it shows how foolish it is to focus on anyone but Jesus.

Contentions— Altercations; produced by the divisions. Once they are divided, they must necessarily have contended (challenged the other party and competed against them), in order to support their respective parties.

12 Now this I say, that every one of you saith, I am of Paul; and I of Apollos; and I of Cephas; and I of Christ.

Now this I say, that everyone of you saith,
The apostle did not come to know about this church's problems from his own personal knowledge, but from the report he received from the house of Chloe; and he doesn't include every individual member of this church, but many of them, and probably most of them, were split into the following factions, some being for one minister, and some for another. There appears to have been four rival parties. Those who professed to follow Paul; who was perhaps the most inspirational teacher. Then there were those who professed to follow Apollos, the gifted orator from Alexandria. Others claimed to follow Peter, or Cephas as he is called in the text. These may have been Judaists or, more likely, they were those who preferred Peter because he represented more authority, since he was with Christ in His earthly ministry. Then there were those who renounced all the others, and claimed only Christ. What special advantage this last party claimed is not certain. But they were as much bigoted and clannish as the others since they degraded the Lord to the level of a party leader. They acted like Christ died for only them, and that is wrong: "And that he died for all, that they which live should not henceforth live unto themselves, but unto him which died for them, and rose again" (2 Cor 5:15; KJV). The problem in this church was that they were not following this edict of the Holy Spirit or these words of Paul; "That, according as it is written, He that glorieth, let him glory in the Lord" (1 Cor 1:31; KJV). They were glorifying men; one saying, I am of Paul; another, I am of Apollos. It is not that they formed definite parties, but they individually betrayed the spirit of unity by causing controversy in the name of their favorite teachers. Paul will not allow himself to be flattered even by those who made him their favorite. These probably were converted under his ministry. Those claiming to follow Apollos, Paul's successor at Corinth, were persons attracted by his metaphorical style (probably acquired in Alexandria), as contrasted with the "weak bodily presence" and "contemptible speech" of the apostle. Apollos, I assume, did not willingly foster this spirit of undue preference: "And these things, brethren, I have in a figure transferred
to myself and to Apollos for your sakes; that ye might learn in us not to think of men above that which is written, that no one of you be puffed up for one against another" (1 Cor 4:6; KJV); and, to discourage it, he would not repeat his visit just then: "As touching our brother Apollos, I greatly desired him to come unto you with the brethren: but his will was not at all to come at this time; but he will come when he shall have convenient time" (1 Cor 16:12;KJV).
I will stop at this point in this rather wordy explanation to give you three reasons for why divisions within a church body are wrong and hurt the cause of Christ:
1. The first reason why divisions ought to be avoided is that Christ seems by that means to be divided and torn into pieces. How can one person be the head of two different and disagreeing bodies?
2. Another reason is that they cannot without doing great injury to God; depend on men like they can on Christ. They applaud when their favorite speaks the Gospel, but when another speaks the same Gospel, they loathe it. So these factions were called by the names of their teachers. Now Paul will instruct them not to show partiality to his name, not simply to keep from upsetting someone, but to show that he does not plead his own cause.
3. The third reason is taken from the act of baptism, in which we make a promise to Christ, calling also on the name of the Father, and the Holy Spirit. Therefore, although a man does not fall from the doctrine of Christ, yet if he depends upon certain teachers, and despises others, he forsakes Christ: but if he clings to Christ as his only master, he will hear him, no matter whom the word of Christ is taught by.
I am of Paul;
It has been questioned whether Paul meant to affirm that the different factions had actually taken the names which he identifies here, or whether he uses these names as examples, or to show the absurdity of their placing themselves under different leaders. Many of the ancient interpreters thought that Paul was unwilling to specify the real names of the false teachers and leaders of the parties, and that he used these names simply for illustration. This opinion was based chiefly on what he says in 1 Corinthians 4:6: "And these things, brethren, I have in a figure transferred to myself and to Apollos for your sakes," etc. However, that may not be correct, because in this place Paul is not referring principally to the factions or parties existing in the church, as he is to the necessity of modesty and humility; and in order to enforce this, he refers to himself and Apollos to show that even those whom God has highly favored should have a low estimate of their importance, since all their success depends on Him; (See 1 Corinthians 3:4-6
13
).
Without a doubt, what Paul meant to say here is that there were factions within the church at Corinth, who were called by his name as well as that of Apollos, of Cephas, and of Christ. This is taking the sentence literally; and this was evidently the information which he had received from those who were of the family of Chloe. As to why the parties were formed under these leaders, can be only a matter of conjecture. Lightfoot suggests that the church at Corinth was composed partly of Jews and partly of Gentiles (See Acts 18). The Gentile converts, he presumes, would place themselves under Paul and Apollos as their leaders, and the Jewish converts would position themselves under Peter and Christ. Paul was the apostle to the Gentiles, and Peter was primarily the apostle to the Jews (see Galatians 2:7
14
); and this circumstance might give rise to the divisions. Apollos succeeded Paul in Achaia, and had a successful ministry there: "And when he was disposed to pass into Achaia, the brethren wrote, exhorting the disciples to receive him: who, when he was come, helped them much which had believed through grace: For he mightily convinced the Jews, and that publicly, shewing by the scriptures that Jesus was Christ" (Acts 18:27-28; KJV). Verse 18.24 identifies this man as "a certain Jew named Apollos…" These two original parties might be subdivided. A part of those who were loyal to Paul and Apollos might regard Paul with reverence, since he was the founder of the church, an apostle of Jesus Christ, he had a hand in their conversion, and his doctrine and conduct were extraordinarily pure. Another part might regard Apollos as the instrument of their conversion: he baptized some of them and was a preacher celebrated for his eloquence; was a solid, brave, and bold preacher of the Gospel, and they would look upon him as the head of their party.