DO PETS GO TO HEAVEN
by CharlesRobey
(Trussville, AL USA)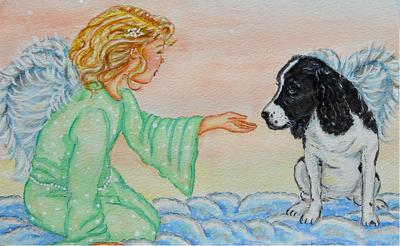 MY DOG AND I WALK HAND N HAND
"Your righteousness is like the highest mountains, your justice like the great deep. You, Lord, preserve both people and animals". (Psalm 36:6)


My dog and I walk hand "n" hand together
As this world comes alive
My dog and I walk hand "n" hand together
While compassion does survive
My dog and I walk hand "n" hand together
As time and space erodes
My dog and I walk hand "n" hand together
Amidst life's roughest roads
My dog and I walk hand "n" hand together
Up and down eternity's path
My dog and I walk hand "n" hand together
In the sunlight for a bath
My dog and I walk hand "n" hand together
With a taste of Heaven's bliss
My dog and I walk hand "n" hand together
Nothing forward to remiss
My dog and I walk hand "n" hand together
At rest in God's sweet arms
My dog and I walk hand "n" hand together.

Probably each of us, at some point in life, have experienced the loss of a pet. And yes, it is all right, and perfectly human, to grieve over those lost pets. So we have the age-old question, "Is my pet waiting for me in heaven?"

This age-old question has been debated forever by some of the most renowned theologians. According to the blog "Do Pets Go To Heaven, Moira Anderson Allan, M.E.D, gives the following personal opinion:

"My own personal view on this question is that, just as humans are redeemed through the love of God, pets may possibly be "redeemed" through our love. (1 Cor. 7:12-14) speaks of the sanctification of a household through an individual; while it may be stretching a point to suppose that this household might include pets, it's not a completely illogical stretch.

More to the point, I believe that God uses pets to help humans learn about love. From pets, we learn mercy, compassion, patience, and understanding -- and we also learn what it means to receive unconditional love. If pets are a means by which we are taught about love, must we assume that once we have learned the lesson, we must then be forced to lose that love forever? Shall we assume that God, the author of love, has so little compassion for us that He first gives us pets to love, and then tells us, "Yes, well, I know that you really loved that little dog or precious cat I sent your way, but rules are rules".

In (Genesis 1:24-25) not only do we see God creating the various breeds of animals, He saw that they were good. Then God instructed Adam to name all the animals. (Genesis 2:19-20) So, if God thought the animals were good, who are we to dispute?

Also in (Genesis 6:19-20), (Genesis 8:17, 19) and (Genesis 9:9-12, 15-16) we see that God protected the animals in the ark by His everlasting covenant. So why would He not continue to protect His creatures?

Back to "man's best friend," our pet dogs, I can surely attest to the love for dogs. Growing up from childhood to adulthood, I have had many pet dogs, some purebred and some not so pure. As you can see, all our family are avid dog lovers.

Our daughter and her husband often bring their little golden doodle when visiting. Reggie is a quite loveable little pet. He is very active and likes to explore the unknown areas around our home. However, when he gets ready for his good behavior dog biscuit award, from his adopted Pa-Paw (me), he will sit patiently waving his paw in trust. Yes, I sometimes sneak him two treats.

Our other daughter's little four-pound toy poodle, Bear is a real cuddly dog. He too likes to explore at times. When given his treats, he will run around the house, crying, holding the treat in his mouth in search of a good hiding place in which to hide the treat. Oftentimes, he will go back and eat the treat, but sometimes he forgets where he hides them. Yes, Bear is just a big baby when it comes to cuddling with
the family.
Our grandson and his wife also have two loyal pets. An affectionate lovable cat "Javy" (taken from an ex-Alabama football star player, Javier Arenas) and a dog of the same distinct playful uniqueness and character named "Luke". Both of these lovable animals endeavor to bid for their individual play time, every minute my grandson and wife are home.
All of these little defenseless animals have all the unconditional love afforded them. So, I also agree with M.A. Allen that we oftentimes do learn about the love of God from our pets. You see, our dogs don't care what our day was like or what may have gone wrong. They are always ready just to jump into our laps, and give us that big slobbery kiss. Their sheer joy will always make us forget that bad day.
So, will I see my pet dog in heaven? Another way to ask this question is, "Will there be animals in heaven?" And the answer is "Yes" to the latter. You see, God's original creation was polluted through sin. However, God will at some point restore creation to its original sinless intent, which includes animals. (Romans 8:20-21).
Just as animals were a part of God's sinless beginning creation, so shall it be with His new heaven and earth, an earth without corruption, sin and death, and yes, with animals too. (Isaiah 11:6) (Isaiah 11:7-9) (Isaiah 65:25)
So, what about our pets, will they be included in the population of Heaven's animals? We must be very careful not seek a definitive answer here, because there is none. The rule of thumb, when the Bible is silent on a particular issue, we have the right to choose an answer that comforts us. We don't have to accept someone else's viewpoint. When God is silent, the issue is left up to us to decide in our own hearts and minds. So I choose to enjoy life with my pet dogs as long as possible. Then when I get to heaven, if my pets aren't there, I'll just adopt one of God's animals.
Author's Postscript
In her excellent book, Holiness in Hidden Places, Joni Eareckson Tada says, "If God brings our pets back to life, it wouldn't surprise me. It would be just like Him. It would be totally in keeping with his generous character … Exorbitant. Excessive. Extravagant in grace after grace. Of all the dazzling discoveries and ecstatic pleasures Heaven will hold for us, the potential of seeing Scrappy would be pure whimsy—utterly, joyfully, surprisingly superfluous. … Heaven is going to be a place that will refract and reflect in as many ways as possible the goodness of joy of our great God, who delights in lavishing love on his children."
So, we needn't be embarrassed to want to be with our pets in Heaven, as God is the creator of all living beings and God loves us all. We know that it's God's eternal plan to restore us from the bondage of sin. Then we have Biblical grounds for not only wanting but also expecting that our pets may be with us again on the New Earth.
In a poem about the world to come, theologian John Piper writes:
And as I knelt beside the brook
To drink eternal life, I took
A glance across the golden grass,
And saw my dog, old Blackie, fast
As she could come. She leaped the stream—
Almost—and what a happy gleam
Was in her eye. I knelt to drink
And knew that I was on the brink
Of endless joy. And everywhere
I turned I saw a wonder there.
Well, are you now convinced that your four-legged family member may be waiting for you in Heaven? So be it. Just relax and relish those many enjoyable memories.
The most important question, however, is "Will you be in heaven?" It would be pointless to ponder the issue of your pets if you yourself are not there. So, won't you make certain of that today? You see, as for your pets being in Heaven or not, the only way to find out is to be there yourself.