Do You Love Me? Part 2
by John Lowe
(Laurens SC, USA)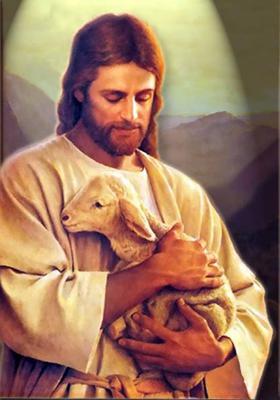 Surely, when we remember our worldliness, we must say to ourselves, "Dear Lord, You might as well ask, "Do you love Me?"

Now think about this, "How cold were your prayers last week?"
I know you have prayed since you can't live without it, because you're a Christian, and prayer is as necessary to you as your breath.
But how little you breathed last week.
Do you remember how you hurried through your prayers on Monday morning, and how obsessed you were on Tuesday night?

Last week there was little time for prayer, so ask yourself, "Do my prayers make me doubt?"
I can honestly say that there are times that my prayers make me doubt.
Those are the times when I struggle to pray.
It seems at those times that there are a hundred thoughts racing through my mind and there are distractions all around me.

And there are times when I desire to come close to God, and to cry my eyes out and to seek His forgiveness, but instead, there is little faith and little repentance.
It is sad, but I think that prayer can make me more unbelieving than anything else because I can believe over the top of my sins, but I can just barely believe over the top of my prayers.
Prayer is so cold when we are cold.
Of all things that are bad when cold, I think prayer is the worst because it becomes a mockery, and instead of warming the heart it makes it colder than before, and it dampens the spirit and fills it full of doubts as to whether I am accepted by Christ.

Look at your prayers and if they appear cold, ask yourself this question, "Isn't your Savior right to ask, "Do you love Me?"
Now, I have asked all of these questions, because I have been asking them of myself, and I think that if you're honest with yourself you would have to admit that you need to ask yourself the same questions.
I don't approve of people who say, "I know that I love Christ and I never have a doubt about it," because we often have reasons to doubt ourselves.
A believer's strong faith is not a strong faith in his love for Christ-it is a strong faith in Christ's love for him.
There is no faith that always believes that it loves Christ.
Strong faith has its conflicts and a true believer will often wrestle with his feelings.

The Christian can believe when he feels no love; because he can believe that Christ loves his soul, and he can come to Him with naked faith.
And even if we have no evidence of our love, we can come without evidence, just as we are, and lay hold of Him with faith alone.
Even though there are no signs of our love we can trust in the Lord, but to be certain at all times that we love the Lord is another matter, about which we should continually question ourselves.

Now we come to the second thing, which is A DISCREET ANSWER.
"Simon, son of Jonah, do you love Me?"
Simon gave a very good answer.
Jesus asked him in the first place whether he loved him better than the others did.
At one time, Simon was more than a little proud, and he did think he was better than the other disciples, but not now, so he evaded the question.
He would not say that he loved better than the others.
And I am sure that no one here would think that they love better than any other child of God.

I believe that the more grace that a person receives the lower he will be in his own esteem and the less likely he will be to claim superiority in love for Jesus.
But note that when Simon answered, he did not speak of the quantity of his love, but of the quality of it.
He would assert that he loved Christ, but not that he loved Christ better than the others.
His answer was like this, "I cannot say how much I love you, but You know all things; You know that I do love You. That's all I can claim: as to the quantity of my love I can't say much about that."

Peter answered very well, but some of us, if we would have answered, would have answered foolishly.
We would have said, "Lord, I have been humble, faithful, and honest; I have mentioned your name to others, and I have helped
them when there was a need; so Lord, I think I can say I love You?"
We would tell Jesus about our good works and make that evidence of our love.
But what we should say is; "Lord, You have seen me during this week; You have seen My good works. I am thankful because I know they are Your gifts, but I think they are proofs of my love."
That would have been a very good answer.
You do not always love your Lord, so it would be foolish to tell Him that.
You know what the Master might have said to Peter if he had appealed to his works?
He could have said, "You may preach, even though you don't love Me; you may pray and still not love me; you can do all these works, and not love Me. I don't want the evidence of your love; I want the fact of it."
Most likely, everyone here would not have answered like this, you would say, "I love You, Lord; my heart is on fire for You; I would die for You."
But that would be a foolish answer because these are feelings and these are the types of things which Peter said many times.
He trusted his feelings and would have sunk into the sea if Christ had not caught his hand.
If it had not been for the grace of God, his soul would have been damned when cursing and swearing he denied Christ.
But Peter was wise, and he left it to Christ, who knew that he loved Him.
Now, could we today give the answer Peter gave?
If Christ walked into our meeting, could we appeal to His knowledge of our hearts, that we all love Him?
The hypocrite might say, "Lord my friends know I love You, because they see me pray and read my Bible, and I talk to them about You," but he couldn't say, "Lord You know that I love You."
You know in your heart that you have been lazy in Bible study, in prayer, and in witnessing.
The question that was asked of Peter was never put to Judas.
The Lord loved Peter so much that He had to have Him back, or He would never have appealed to his love.
Do not brag, but if you can sincerely say that God has given you a sincere love for the Savior, ask Him to increase your love from a grain to a mountain, then you can say, "Lord, You know all things, You know I love You."
And now, here is A DEMONSTRATION REQUIRED-"Feed My lambs: feed My sheep."
That was Peter's demonstration.
It may not be our way of showing our love.
There are different ways for different disciples.
Let me list some of the ways you can show your love for the Savior:
1. Pray for others.
Some people never pray, because they are lost, so they need to be prayed for.
Others have troubles that need prayer.
Pray about everything.
2. Encourage your brothers and sisters in Christ.
Tell them that you love them.
Listen to what they have to say, and when you speak let it be nothing but good.
3. Help those who have needs, as much as you possess the ability to help.
I will let you fill in the rest because I know you know how to do good works.
Just remember, don't say you love Christ and never do anything for Him.
We must let our good works be evidence of our sincere love for Christ.
Do all you can to the best of your ability, and if you ever do too much for Christ come and tell me, and tell the angels-but you never will do that.
He gave himself for you; give yourself to Him.
I have been asking you to search your own hearts because our love for Christ must be nourished where it was first kindled.
Look to the heart of Jesus for help to remove any hindrances to your love.
Ask the Holy Spirit to show you the things of Jesus, and to awaken your strong desire to serve Him.
Yield yourself to Christ, and from now on let the proofs of your love for Him be your good works.
And if you have never given yourself to Christ, I can only pray for you, that God the Savior would reveal himself to your heart; that you would be brought to give yourself to Him.
May our Heavenly Father bless all of you, for Christ's sake!
Amen.