DO YOU PRAISE AND WORSHIP?
by Charles Robey
(Trussville AL-USA)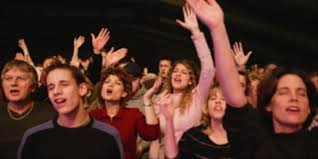 I Worship You My Lord
Praise the Lord! Praise God in his sanctuary; praise him in his mighty heavens! Praise him for his mighty deeds; praise him according to his excellent greatness! Praise him with trumpet sound; praise him with lute and harp! Praise him with tambourine and dance; praise him with strings and pipe! Praise him with sounding cymbals; praise him with loud clashing cymbals! (Psalm 150:1-6)


In today's church atmosphere, a lot is being said about the new "Praise and Worship" music. Not to discount the old hymns of the faith, as all spiritual messages have a place in God's heart, as well as ours. Holders of the faith, however, appear to have now given way to "Praise and Worship", as this new worship experience has most recently come to the forefront.

Just having an understanding between praise and worship can bring a new depth to the way we honor the Lord. The scripture gives us numerous dictates to praise the Lord (Psalm 89:5) (Psalm 103:20) (Psalm 148:2). In fact, all inhabitants of the earth are instructed to praise the Lord (Psalm 138:4) (Romans 15:11). We can praise Him with singing (Isaiah 12:5) (Psalm 9:11), with shouting (Psalm 33:1) (Psalm98:4), with the dance (Psalm 150:4), and with musical instruments (1 Chronicles 13:8)(Psalm 108:2).

PRAISE- is simply the joyful recounting of all God has done for us, as believers. Praise is universal. Then again, praise often times has secular relationships as well as spiritual. You see, we may praise our family, friends, boss, or paperboy. Praise does not require anything of us. Praise is purely an honest recognition of one's virtuous acts or deeds. Since God has done many wonderful deeds, He alone is worthy of praise (Psalm 18:3).

WORSHIP-comes from a different place within our spirit being. Worship should be reserved for God alone (Luke 4:8). Worship is the art of losing one's self in the adoration of our Heavenly Father. So, even though praise
can be a part of worship, worship reaches far beyond praise. Praise is easy; worship is not. Worship gets to the heart of who we are. To truly worship God, we must let go of our self-worship, and be willing to humble ourselves before our Father God, by yielding every part of our lives to His perfect will. However, both our 'Praise and Worship" is truly an everyday lifestyle for followers of Christ.(Philippians 1:21) (John 4:23).
The Bible presents praise as boisterous, joyful, and uninhibited. God invites praise of all kinds from His creation (Luke 19:40). Conversely, when the Bible speaks of, worship, the atmosphere changes to that of holiness (Psalm 96:9). (Psalm 9:6), as worship is coupled with the act of bowing or kneeling, and the lifting of hands which shows humility and contrition (2 Chronicles 29:28) (Hebrews 11:21) (Revelation 19:10). It is in this mood of worship that we invite the Holy Spirit to speak to us, convict us, and comfort us.
Praise and Worship can be any type of music that glorifies God regardless of the style. Lyrically speaking, "Praise and Worship" music generally is short and easy to sing by repeating its themes several times. This is part of what makes the "Praise and Worship" style perfect for corporate worship because even people who aren't familiar with a particular song can sing along with ease after hearing one or two repeats of the chorus.
Like many of the "old time religion" enthusiast, I too cut my Christian teeth on the old hymns of the faith. Maybe, just maybe, we should just give this new "Praise and Worship vortex an undertaking (1Cor 10:31).
Recently, with the help of a Christian artist friend based in the United Kingdom, God has lead me to turn my "Praise and Worship" experience into song. I trust that you will share the spiritual encounter of these songs of ours. God Bless.
youtube.com/watch?v=40ULBv0nNls
youtube.com/watch?v=Vss2aoxFp1o
youtube.com/watch?v=IEk_-BrUH3c
youtube.com/watch?v=9WsEZDMv3MA