DON'T CRY MOMMY
by CharlesRobey
(Trussville, AL USA)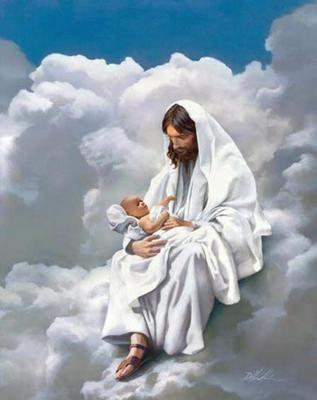 Don't cry Mommy, Don't you cry
We will all be together by and by
Little ones are crying from up above
Not from sorrow but for their love
Love for the Mommies here on earth
Who never got to see them from birth
Now with the Father up in glory land
Forever to worship and hold His hand
Not for us to worry down here below
For their love will now forever show
Show in the hearts of all here behind
As bad memories are forgiven in time
Just call on His loving, forgiving name
Asking forgiveness for the past shame
His mercy will now show through it all
He will surely come answer the call
Don't cry Mommy, I'm now in His care
His loving kindness to you He'll share
Don't cry Mommy, Don't you cry
We will all be together by and by

"There are six things the LORD hates, seven that are detestable to him: haughty eyes, a lying tongue, hands that shed innocent blood, a heart that devises wicked schemes, feet that are quick to rush into evil, a false witness who pours out lies and a person who stirs up conflict in the community." (Proverbs 6:16-19)

Abortion, what a touchy subject! It's more than a bumper sticker or a slogan. You see, this issue of abortion appears to be far more than a mere political or medical issue. It strikes at the heart of every society, as this poem iterates.

In searching the internet on the subject, I was totally surprised at the various opinions. What was more surprising were the opinions or attitudes coming from a number of religious leaders of the spectrum.

Having held fast to God's principles, I guess I have always simply assumed that all Christians were pro-life.

I must admit, I tend to hold to the "Old Time Religion" precepts on many topics, though I really can't recall many religious leaders addressing this rather controversial subject. Nonetheless, our churches are made up of people, wounded people who must be helped on many Biblical issues. (II Timothy 3:16-17)

You see, according to the Holy Scripture, killing is contrary to God's principles. (Genesis 9:5-6) So is not all killing contrary to God's Word? Is not every human being fearfully and wonderfully made in God's image? (Genesis 1:26-27) So what's your opinion?