DON'T CRY MOMMY
by CHARLES ROBEY
(TRUSSVILLE AL)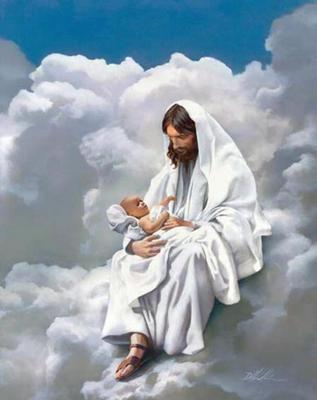 PROLOGUE

Recently, I have been overwhelmed by the way of the church with respect to abortion. I've been taken aback in particular by the broad opinions of many in the Christian world especially, since the Scriptures give direct reference to the sanctity of life. The internet didn't give much added encouragement.

You may label me an Old Time Religion advocate, but that's all right as I've gotten immune to such a label. You see, the Scripture is very frank on the dictates of the divine principles. humans are the image bearers of God (Genesis 1:26-27), and as such should affirm the value of developing human life. (Genesis 1:28)

History confirms that when mankind sinned in the garden of Eden (Genesis 3:1-7), the moral likeness of God was lost, which was the sinlessness, but the natural likeness of intellect, emotions, mankind were still retained. (James 3:9) Could the precept of abortion be a progressive by-product of such sinful acts? (Exodus 20:5)

I firmly believe the Scripture rebukes the arbitrary destruction of life at any stage of development from conception to death. (Exodus 20:13) You see, the law differentiated accidental killing from deliberate murder and required capital punishment for the latter (Exodus 21:12-14) as well as for numerous other offences, (Exodus 21:15-17,29) So where does abortion fit in, with respect to Scripture?

According to statistical facts, there have been approximately fifty million plus American abortions, since the US Supreme Court abortion decision of Roe versus Wade. This too, causes my mind to wonder. What if just half of these such cases grew into godly human completion? How many Billy Grahams might we have seen, broadcasting the gospel? How many Florence Nightingales might we have seen, caring for the sick? How many scientists, how many physics inventors? How many proficient authors? Just how many, and the list goes on and on? Not to mention the millions who would have paid their fair share of taxes. (Romans 13:6)

Enough commentary for now. (Romans 2:6-8) I trust you will enjoy this parable entitled "Don't Cry Mommy."

"For you created my inmost being; you knit me together in my mother's womb. I praise you because I am fearfully and wonderfully made; your works are wonderful; I know that full well. My frame was not hidden from you when I was made in the secret place, when I was woven together in the depths of the earth. Your eyes saw my unformed body; all the days ordained for me were written in your book before one of them came to be." (Psalm 139:13-16)

I had just finished dinner and had settled in my favorite recliner to watch the nightly news, second cup of coffee in hand, when it happened. Wow, its surely getting harder to live at the foot of the cross these days! (Philippians 1:21) It's especially hard when such controversial subjects such as abortion are able to scoop the nightly news headings. What has happened to the "G" rated family TV programming? Will we have to send our children to bed this early?

At least my conscience is clear. I can now resort to my nightly warm milk, cover up in bed, and sleep tight, not having to dream about this world's ungodly life style.

That's when it happened, another of my realistic visions. All of a sudden, I was suddenly suspended in mid-air, surrounded by pure white clouds, hovering over hills and valleys.

There was Heaven's celestial glory, a golden city peeking upward through the clouds. Drifting within the clouds of this heavenly cosmic space were living souls, too many to number. There must have been millions of them. What was unique about these souls is that they were all babies. Nonetheless, as if by divine action, they all appeared to be fully maturing in their ongoing physical development.

They talked intelligently, they maneuvered well, and interacted with each other. They really had all the traits of a grown-up, but they were still baby bodies. This scenario was so real that it actually scared me, even in my vision.

Strangely, as these babies were floating around, they appeared to be praying in groups. As I got closer to these groups, I overheard them praying. They were all praying the same poetic prayer over and over, as if attempting to have their prayers reach down to earth. "Don't cry Mommy, I'm OK. Please don't cry. We will be together again by and by." How sad this moment was, but yet how excited I was to see this display of concern.

Suddenly, out of nowhere appeared what seemed like an angel floating on a big, dark cloud, and following after him were continuous lightning strikes followed by bursts of loud roaring thunder. As he swiftly moved through space, he continuously read from a big sign he was carrying, looking down towards earth as he read.

"The King will answer and say to them, 'Truly I say to you, to the extent that you did it to one of these brothers of Mine, even the least of them, you did it to Me." (Matthew 25:40)

"Wow, what a
convicting message, he was giving out for the occasion! I'd sure hate to be one of those who he is talking about," I thought to myself.
Suddenly, in the twinkle of an eye, I was carried away in the clouds by a strong puff of wind. As I traveled in and out of the clouds, behold that same angel which I saw before came hurrying by carrying another sign quoting certain related backup Scriptures, (Genesis 1:26-27) and (Genesis 2:24). It was as if he was giving a second chance to those on Earth. I wanted very much to talk with this angel, but the angel swiftly passed on by, as if I was not there.
Then it happened as it started, my journey swiftly came to an end. I was once more carried through the clouds, but as I passed through, I saw a large choir of angels singing the following song over and over again.
"Grace to you and peace from Him who is and who was and who is to come." (Revelation 1:4)
Unexpectedly, I woke up. My bed clothing appeared to be wet from sweat. As if by divine direction I rose from my bed and went over to where my Bible was lying on a table. As I came closer, the Bible was already open to two highlighted Scripture passages (Hebrews 12:2) and (Matthew 6:10), that seemed to be fixed together. Immediately, the tears started flowing uncontrollably as I fell to my knees in prayer. I couldn't get those little grown-up babies off my mind.
My prayer to God that night wasn't "God give me what I want" or "Please make my life on this Earth better." It was, "Lord what do You want? How can I serve You? What do You want me to do for You and Your kingdom today?"
Suddenly, again as if by divine action, my understanding of the vision became very clear. I realized what those two passages meant. You see, when we treasure Heaven, we're one step closer to the One who makes it heavenly. As we give ourselves to God, He has a way of helping us understand that the story He started long ago in our lives will end well, come what may. (Philippians 1:6)
What was the lasting effect of this, the most remarkable vision of my long life? I got the message. I will no longer take on a complacent attitude with respect to God's divine commandments. No longer will I sit idle while the whole world slips further and further into the darkness of evil. (Ephesians 6:12) I cannot remain silent any more.
Oh, did I not tell you, I am the church pastor. Amen!
EPILOGUE
"There are six things the LORD hates, seven that are detestable to him: haughty eyes, a lying tongue, hands that shed innocent blood, a heart that devises wicked schemes, feet that are quick to rush into evil, a false witness who pours out lies and a person who stirs up conflict in the community." (Proverbs 6:16-19)
I trust you enjoyed reading this little fiction blog as much as I did in its writing. What a touchy subject is that of abortion. Its devilish power has probably caused more family destruction than any other law of the land.
It's more than a bumper sticker or a slogan. You see, this issue of abortion appears to be far more than a mere political or medical issue. It strikes at the heart of every society, as this poem iterates.
In searching the internet on the subject, I was totally surprised at the various opinions. What was more surprising were the opinions or attitudes coming from a number of religious leaders of the spectrum.
Having held fast to God's principles, I guess I have always simply assumed that all Christians were pro-life. I must admit, I tend to hold to the Old Time Religion precepts on many topics, though I really can't recall many religious leaders addressing this rather controversial subject. Nonetheless, our churches are made up of people, wounded people who must be helped on many Biblical issues. (II Timothy 3:16-17)
This little poem tends to tie it all together. I trust you also will like its content. Amen!
Don't Cry Mommy, Don't you cry
We will all be together by and by
Little ones are crying from up above
Not from sorrow but for their love
Love for the Mommies here on earth
Who never got to see them from birth
Now with the Father up in glory land
Forever to worship and hold His hand
Not for us to worry down here below
For their love will now forever show
In all the hearts of all here behind
As bad memories are forgiven in time
Just call on His loving, forgiving name
Asking forgiveness for the past shame
His mercy will now show through it all
He will surely come answer the call
Don't cry Mommy, I'm now in His care
His loving kindness to you He'll share
Don't cry Mommy, Don't you cry
We will all be together by and by