Don't Miss Your Oportunity Today
by Pastor Naboth Machadu
(South Africa)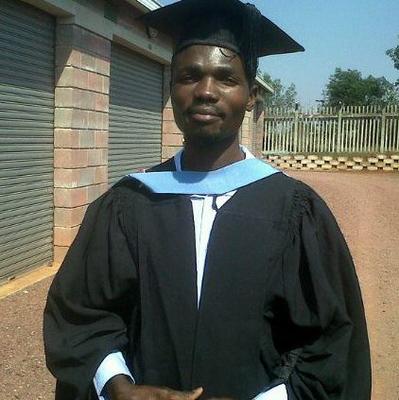 I am a born again Christian, an Accountant by Profession, qualification and Experience. A Pastor by Calling.


Genesis 9:
Vs 1… "And God blessed Noah and his sons, and said unto them, be fruitful, and multiply, and replenish the earth…. Vs 18….And the sons of Noah, which went forth of the ark, were Shem, and Ham, and Japheth: and Ham is the father of
Canaan….vs. 20 - 27…And Noah began to be a husbandman, and he planted a vineyard: And he drank of the wine, and was drunken; and he was uncovered within his tent. And Ham, the father of Canaan, saw the nakedness of his father, and told his two brethren without. And Shem and Japheth took a garment, and laid it upon both their shoulders, and went backward, and covered the nakedness of their father; and their faces were backward, and they saw not their fathers' nakedness. And Noah awoke from his wine, and knew what his younger son had done unto him. And he said, Cursed be Canaan; a servant of servants shall he be unto his brethren. And he said, blessed be the LORD God of Shem; and Canaan shall be his servant. God shall enlarge Japheth, and he shall dwell in the tents of Shem; and Canaan shall be his servant."

After the flood, Noah came out of the ark together with his three sons. God blessed them. One day Noah was drunk with wine, he went to sleep in his tent naked. In our day he would have slept in his bed room. He had a son by the name Ham. Ham went into his fathers' bedroom/tent and he saw his fathers' nakedness.

Ham laughed at his father and decided to call his brothers' so that they would also laugh with him. I wonder what he saw that made him laugh that way. Some brethren are like Ham, when they see their Pastors' nakedness or their colleagues' nakedness they want to preach the gossip to everyone yet Jesus told us to preach the gospel not the gossip!

What do you do when you see your beloved ones lacking or suffering? Ham called his brothers; they found it difficult to laugh: instead they took a garment and went into their fathers' tent walking backward. They could not look at their fathers' nakedness; they went into the tent facing the opposite direction.

This was a good attitude, we have such people in life, when they see a need, be it at home, at church or at work, they are so responsible, they will cover up that need, they are problem solvers. Join this chariot! The bible says when Noah woke up from the sleep, he knew what his son had done to him.

Parents are so wise, they know the character of their children but what surprises me here is that Noah was not only asleep, he was drunk, how would he have known that Ham laughed at his nakedness and Shem covered him? See, this story needs revelation knowledge because what happened here was not just an event, it is a spiritual story. Noah said, "Cursed be (the son of Ham) Cannan, he shall be a servant of servants!"

Cannan was not the one who laughed; it was Ham, his father, why would Noah curse Cannan? Remember the bible in Genesis 9:1 (the scripture above) said, "…And God blessed Noah and his sons..." Noah knew that Ham was already blessed, you cannot curse what God has already blessed.

He cursed Cannan who was not covered with that blessing. Some people are suffering in life because of what their forefathers have said. Cannan suffered in life because his
grandfather cursed him – thank God for Jesus because you can now change that!

Noah realized that his sons were blessed and he wanted his grand children to be blessed also. Cannan was not covered with that blessing, so Noah decided to sleep naked – just like Cannan was naked (not covered with the blessing). Ham
was supposed to cover his father's nakedness, meaning that the physical garment represented the spiritual covering with a blessing.

When Ham thought he was laughing at his father he was actually laughing at his son. He failed to recognize his opportunity to cover his son with a blessing. This has happened to many Christians. A need arose in church, at home, at work but they ignored it, they disregarded it.

You miss your
opportunities that way. When God wants to fulfill a human need (Your prayer) he opens a divine need (spiritual responsibility). You maybe suffering today because your parents did not do what they were supposed to do, now that you are here, don't let your children
suffer because you cannot pay attention to what the spirit says.
Let's say in the calendar of God you were supposed to have a car in five years time and you pray to him so that he gives it to you now. The Bible says "ask and it shall be given unto you..." this is God's declaration, so by virtue of right when you ask you should receive, now why is it when you asked for the car it did not
come?
I may not be able to give you all the answers but it might be one of the reasons I'm showing you now. Earlier I said when God wants to meet a human need he creates a divine need. Do you remember that widow who met Elijah when she was looking for firewood? Elijah asked her to bake some bread for him but she said that was all she had, after eating the remaining flour and oil, she would then die.
The man of God ordered her to feed him first. This was a burden to her, it was a divine need and she had to feed someone whilst she was hungry. Are you able to give or help someone before looking at your needs? Sometimes when God wants to bless us he takes away the few that we have so that he would multiply it.
She obeyed the instruction, at the end she had a supernatural supply of what she gave. You may have missed your car this way, maybe you had a bicycle and someone asked for it but you had a programme to attend, you could not let that person disturb your programme.
Maybe you budgeted some money and a need rose in your family or a friend needed some financial help or at church but you would not let these people disturb your budget. It was God's plan to give you that car in five years time, if you could not let anyone change your programme, why would God change his programme and give you the car you needed today?
The future belongs to those who prepare for it, plant a seed today; open your eyes because
blessings move in cycles. There are daily blessings, weekly blessings or monthly blessings…: so it means if you miss this months' blessing, you have to wait for the next month.
There are also lifetime blessings if you miss them once, you will never get the opportunity again. From today onwards, when a need arises,
don't laugh – maybe your Pastor is facing some problems, maybe a brethren is facing challenges, cover them up, don't forget to do so even to your relatives and to strangers.
Some have entertained angels unaware. Some people have dreams to change lives but when we ask them to subscribe for more people, they won't do it, you are missing your opportunity; God might have wanted to start it through this media.
This happened to my colleagues at school, when we were praying, declaring the future we wanted, they thought we were wasting time, they would rather spend much time in discos and films, now look at us, the so called fools of yesteryears are influencing the world for Jesus!
Our foolishness has made us popular, so use your opportunities wisely. You have prayed for that thing for a long time, check your records because God is faithful, maybe you missed your opportunity, if you have missed it: redeem the time for the days are evil. God may visit you with an answer through people that are not worth looking at; remember some have entertained angels unaware.
JOEL 2:25-27 "… And I will restore to you the years that the locust hath eaten, the cankerworm, and the caterpillar, and the palmer worm, my great army which I sent among you. And ye shall eat in plenty, and be satisfied, and praise the name of the LORD your God that hath dealt wondrously with you: and my people shall never be ashamed. And ye shall know that I am in the midst of you and that I am the LORD your God, and none else: and my people shall never be ashamed."