Elijah's Appeal to the Undecided Part 1 of 3
by John Lowe
(Laurens SC, USA)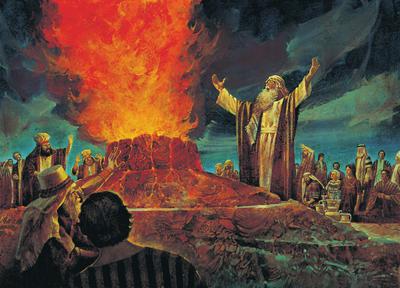 Then the fire of the Lord fell and consumed the burnt sacrifice.
3-21-04
Title: Elijah's Appeal to the Undecided

Text: "How long halt ye between two opinions? If the Lord be God, follow him; if Baal, then follow him."—1 Kings 18:21.


IT WAS A DAY to be remembered, when the multitudes of Israel were assembled at the foot of Mount Carmel, and when the lone prophet of the Lord came forward to defy the four hundred and fifty priests of the false god. If we could look at that scene with our mind's eye, we would find it very interesting. But instead of doing that, let's consider whether or not we can learn a lesson that will help us to improve ourselves. What we have upon Mount Carmel and the plains surrounding it are three kinds of people.

First of all, there is the devoted servant of God, one single prophet. On the other hand, there are the determined servants of Satan, the four hundred and fifty prophets of Baal. But, the vast majority belonged to a third group. They were those who had not fully decided whether to worship Jehovah, the God of their fathers, or Baal, the god of Jezebel. On one hand, their ancient traditions led them to fear God, and on the other hand, their desire to appease their queen, led them to bow before Baal. Many of them, therefore, were secret and half-hearted followers of God, while they were the public worshipers of Baal. All of them, at this juncture, were hesitating between two opinions. Elijah does not address his sermon to the priests of Baal; he will have something to say to them after a while. Neither does he have anything to say to those who are the servants of God, since they are not there; but his speech is only for those who are hesitating between two opinions.

I believe that we may have these three classes here this morning. We have, I hope, a majority who are on God's side; who love God and serve him. It's possible that there are a few who are on the side of the devil, who don't follow any religion, who hate God and those that are His witnesses; because they are both inwardly and outwardly the servants of the devil. But, the greatest number of people here, belong to the third class—the hesitators. Like empty clouds they are driven here and there by the wind; they lack convictions, and they are dead spiritually.

Procrastinators, wishy-washy men and women, undecided persons, it's to you I am speaking this morning—"How long halt ye between two opinions?" I pray that the question will be answered by God's Spirit in your hearts, and that you will be led to say, "No longer, Lord, will I hesitate; today I have decided to follow you, and I am your servant forever!"

Our text for today is 1 Kings 18:22-38.
22 Then Elijah said to the people, "I alone am left a prophet of the Lord; but Baal's prophets are four hundred and fifty men.
23 Therefore let them give us two bulls; and let them choose one bull for themselves, cut it in pieces, and lay it on the wood, but put no fire under it; and I will prepare the other bull, and lay it on the wood, but put no fire under it.
24 Then you call on the name of your gods, and I will call on the name of the Lord; and the God who answers by fire, He is God." So all the people answered and said, "It is well spoken."
25 Now Elijah said to the prophets of Baal, "Choose one bull for yourselves and prepare it first, for you are many; and call on the name of your god, but put no fire under it."
26 So they took the bull which was given them, and they prepared it, and called on the name of Baal from morning even till noon, saying, "O Baal, hear us!" But there was no voice; no one answered. Then they leaped about the altar which they had made.
27 And so it was, at noon, that Elijah mocked them and said, "Cry aloud, for he is a god; either he is meditating, or he is busy, or he is on a journey, or perhaps he is sleeping and must be awakened."
28 So they cried aloud, and cut themselves, as was their custom, with knives and lances, until the blood gushed out on them.
29 And when midday was past, they prophesied until the time of the offering of the evening sacrifice. But there was no voice; no one answered, no one paid attention.
30 Then Elijah said to all the people, "Come near to me." So all the people came near to him. And he repaired the altar of the Lord that was broken down.
31 And Elijah took twelve stones, according to the number of the tribes of the sons of Jacob, to whom the word of the Lord had come, saying, "Israel shall be your name."
32 Then with the stones he built an altar in the name of the Lord; and he made a trench around the altar large enough to hold two seahs of seed [My bible noted that this was about 13 quarts.).
33 And he put the wood in order, cut the bull in pieces, and laid it on the wood, and said, "Fill four waterpots with water, and pour it on the burnt sacrifice and on the wood."
34 Then he said, "Do it a second time," and they did it a second time; and he said, "Do it a third time," and they did it a third time.
35 So the water ran all around the altar; and he also filled the trench with water.
36 And it came to pass, at the time of the offering of the evening sacrifice, that Elijah the prophet came near and said, "Lord God of Abraham, Isaac, and Israel, let it be known this day that You are God in Israel and I am Your servant, and that I have done all these things at Your word.
37 Hear me, O Lord, hear me, that this people may know that You are the Lord God, and that You have turned their hearts back to You again."
38 Then the fire of the Lord fell and consumed the burnt sacrifice, and the wood and the stones and the dust, and it licked up the water that was in the trench.

-PRAY-

The first thing you will notice is that the prophet insisted upon making a distinction between the worship of Baal and the worship of Jehovah. Most of the people who were there that day, thought that Jehovah was God, and that Baal was also God; and that's the reason they believed that the worship of both was alright. Most of them did not reject the God of their fathers entirely, neither did they bow before Baal entirely; but as polytheists, believing in many gods, they thought both Gods could be worshiped, and that each of them could have a place in their hearts. But the prophet said, "No", and he made an argument against this way of thinking. He said, "You can't do that, these are two different beliefs; you can never make them into one, they are two contradictory things which can not be combined. I'll tell you this; instead of combining the two, which is impossible, you are hesitating between the two, which makes a huge difference." One of them said to Elijah, "I will build an alter for Jehovah in my house, and I will also build there an alter for Baal. It's my opinion that both of them are God." "No, no," said Elijah, "it can't be that way, because they are different. They are not one belief, but two beliefs, and you cannot unite them."

There are many people today who think they can be worldly and religious at the same time. They say, "I can go to the lake on Sunday and worship God while I fish."
OR
"I went to the car races a couple of Sundays back, and I worshipped God, and no one could tell that I was praying."
OR they might say
"I can go to the bars and drink socially with my friends, and while I am doing it I will witness to them about Jesus."
OR they might say
"I can go to any of these places and satisfy my hunger for having fun; and yet at the same time, I say my prayers very piously. I can be a good church-goer and a man of the world too? Can't I love God and serve the devil too—take what I want from each, and give my heart to neither one?" I believe you would answer the same as me—"No! They are two different ways of life; you can not do it, they are distinct and separate."

I read about a man who once yoked two lions to his chariot; but there are two lions that no one has ever yoked together yet—the Lion of the tribe of Judah and the lion of the pit; Jesus and the devil. These two can never go together.
There are places where you can hold two opinions, such as politics, but If God is God, serve him, and do it completely; but if this world is God, serve it, and don't pretend to have religion.

If you are a man of the world, and you think that the things of the world are the best, serve them; devote yourself to them, don't be kept back by your conscience; instead, don't pay any attention to it, go ahead and sin. But remember, if the Lord is your God, you cannot have Baal too; you must have one or the other.

"No man can serve two masters." If you serve God, He will be your master; and if you serve the devil, it will not be long before he will be your master. The man or woman, who tries to serve both masters, will be more miserable than any outright sinner. They try to serve both masters; but it doesn't work; the two things cannot be brought together. God and Mammon, Christ and Satan, never can meet; there never can be any agreement between them, they never can be brought into unity, and why would you want to do it? The prophet said these are "Two opinions." He would not allow any of them to confess to worshiping both. "No," he said, "these are two opinions, and you are halting between the two."