Enjoy Christian Relationships Part 1
by John Lowe
(Laurens SC, USA)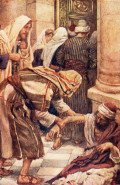 Introduction


Do you ever feel closer to members of our church than to members of your biological family? (Talk about Mike.)

When you are saved, you not only entered into a personal relationship with Christ, but you also entered into a new relationship with others who have accepted Jesus as their Savior.

We are children of God and now we relate to one another as brothers and sisters in Christ.

We have a lot in common.

Let's list some of those things that we have in common: the indwelling Holy Spirit, love for Jesus, reverence for God, desire to worship and hear God's word preached, desire for fellowship with God's people, giving of offerings to God.

Paul begins our lesson today by talking about the Law.

Has anyone ever been saved by keeping the Law? It cannot give life and it was never intended to.

Paul emphasized this point as he continued his attack on the Judaizers.

Who were the Judaizers? (Christian Jews, who came to the Galatian church and told them that if they wanted to be saved, they needed to keep the Law and observe certain ceremonies in addition to having Faith in Jesus.)

This was contrary to what Paul had taught them earlier.

Paul supported his argument by referring to Abraham, the father of the Jewish people, and to Abraham's relationship to the Law.

God made a covenant with Abraham 430 years before the Law was given.

What was God going to do and what was Abraham obligated to do in this covenant?

God's Part:
1. Promised that Abraham would be the father of a great nation.
2. Promised that He would bless him.
3. Promised that the Savior would come from his line.

Abraham's Part
Leave his home and go to a new country.

Abraham never saw the fulfillment of these promises.

They were fulfilled in the future.

The "Promised Land" was not controlled by Israel until it was conquered by David hundreds of years later.

Abraham's grandsons would become the heads of the twelve tribes that made up the nation, and of course he never saw Jesus.

God's promise to Abraham was not fulfilled when the Ten Commandments were given; it was fulfilled by the birth of Christ.

The Mosaic Law did not invalidate the earlier promise that God made to Abraham, but the promise did take precedence over the Law.

The importance of the Promise can be seen in the manner in which it was given.

The promise was given to Abraham directly from God, but the law was given to the people through a mediator—Moses.

Is anyone in heaven today because they kept the Law?

If the Law doesn't save you, what is its purpose? (The Law convicts people of their sin and shows them their need for Salvation.)


Appreciate the Past

21 Is the law then against the promises of God? God forbid: for if there had been a law given which could have given life, verily righteousness should have been by the law.
22 But the scripture hath concluded all under sin, that the promise by faith of Jesus Christ might be given to them that believe.
23 But before faith came, we were kept under the law, shut up unto the faith which should afterwards be revealed.
24 Wherefore the law was our schoolmaster to bring us unto Christ, that we might be justified by faith.
25 But after that faith is come, we are no longer under a schoolmaster.

Paul asks, "Is the law then against the promises of God?"

His answer was an emphatic, "God forbid!"

The Law is still fulfilling the same purpose it always has.

It is still good, good for us, and we should try to meet the standard that it sets.

Why is the world so against the Ten Commandments? Why do people
want to take "under God" out of the Pledge of Allegiance." (I believe that this is the work of Satan)
How could anyone think that the Law could compete with the promise since the promise would bring life to those who would believe in the Son of God?
The Mosaic Law is good, pure, and true.
But even this Law, as good as it is, has no capacity to give life.
The problem is not with the Law itself, but with our sinful disobedience that the Law reveals.
The Law shows the hopelessness of our situation apart from God's grace.
Through the Law the scripture declares that every person is a sinner—we are a prisoner of sin with no hope of escape.
We are on death row, for the wages of sin is death.
For many of us, it is only when we reach this point that we see we need a Savior.
Those who are held prisoner by the Law see no way of escape except through obeying the Law.
The Law is an instrument of imprisonment and condemnation.
However, it condemns only so that sinners might seek deliverance.
By the Law, our own wickedness is revealed and we don't see any avenue of escape, so we are drawn to the only source of redemption—Jesus Christ.
The Law does not lead us to Christ by drawing us away from our sins but rather by revealing them so clearly to us that we see ourselves standing before God without any hope of self-justification.
The Law is a teacher or a guide that heightens the awareness of our sins to the point where we see ourselves as helpless and hopeless apart from Christ.
So the Law makes us see more clearly our need for a Savior.
What helped you recognize your need for a Savior? (For me it was a realization of how terrible my sin was in the eyes of God and how much God loved me in spite of my sin. It broke my heart)
Now that we have faith through Jesus Christ we no longer need the supervision of the Law.
Paul said, "But after that faith is come, we are no longer under a schoolmaster."
Because of what Christ has done, those who accept Him by faith are set free from the bondage of sin and death that the Law imposed because of our rebellion and unbelief.
That bondage has been replaced by freedom under Jesus Christ.
The burdensome rituals are no longer needed.
And the Law can no longer condemn us.
When you break one of the commandments, you have sinned, but we are no longer condemned by sin.
Christ has delivered us with a love that accepts us completely on the basis of His perfect sacrifice.
When the child of God confesses his sins, Jesus said that He will be faithful to forgive us.
Acknowledging Your New Family
26 For ye are all the children of God by faith in Christ Jesus.
27 For as many of you as have been baptized into Christ have put on Christ.
28 There is neither Jew nor Greek, there is neither bond nor free, there is neither male nor female: for ye are all one in Christ Jesus.
29 And if ye be Christ's, then are ye Abraham's seed, and heirs according to the promise.
Verse 26 is the key to understanding this passage.
Paul countered the teachings of the Judaizers by declaring that all the Galatian believers, Jews, and Gentiles alike, had a relationship with God, through Christ.
That relationship didn't come through keeping the Law but through faith in Jesus Christ.
Therefore, they were sons of God.
They could enjoy all the privileges and freedom of their sonship.
If we were to take verse 27 by itself, it would appear that baptism was necessary for salvation.