FACELESS DESIRES
by CharlesRobey
(Trussville, AL USA)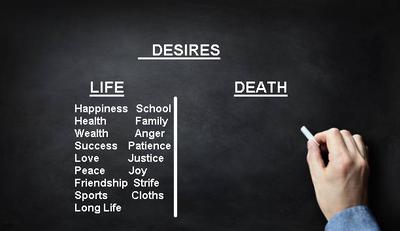 "For God does speak — now one way, now another — though no one perceives it. In a dream, in a vision of the night, when deep sleep falls on people as they slumber in their beds, He may speak in their ears and terrify them with warnings, Or someone may be chastened on a bed of pain with constant distress in their bones, God does all these things to a person — twice, even three times …" (Job 33: 14-16, 19, 29)


I am so tired. And I thought this Christian school teaching assignment would be a piece of cake. Wow! Was I ever wrong! These students challenge me at all ends, even in how to signify having to take a restroom break. Good thing it's the weekend. Aside from my church activity, I think I'll just chill out, for I need the rest. I'll just sit a minute and watch the nice scenery.

Suddenly I found myself engulfed in the most profound and weirdest dream of my entire dream world career. Yet, what I felt was a peaceful, restful dream, not only of encouragement but of instruction, divinely given.

I guess oftentimes it just takes a shaking dream for me to realize that in real life it can be hard for me to wrap my mind around the fact that I have an all-powerful, all-knowing God, who wants to talk with me. What can I tell Him that He doesn't already know about me? (Psalm 127:2) So here's my dream.

As my dream started, I was sitting in a classroom filled with students. What was so weird is that they were all well dressed but had no faces.

Being as they were all faceless, they showed no emotion, neither did they have any individual human characteristics.

Then, as if by design, the teacher rose from his desk and approached the chalkboard. Taking a piece of chalk, he wrote the strangest assignment. Under the main heading of "Desires," he wrote two parallel headings of "Life" and "Death.

Giving out the first heading of "Life", he asked the students to give their desires. All hands went up, giving such desires as happiness, health, wealth, longevity, success, security, love, peace, companionship, friendship, and the list went on and on, until all the students were given an opportunity to respond.

Next came the subheading of "Death." To my surprise, no hands responded to this appeal.

"What's going on here?" I pondered silently. "This is the most important subcategory of them all," as I continued to deliberate in my mind.

The teacher surely must have read my mind, as he suddenly dropped the chalk and walking over to me, and with a somewhat depressing facial expression, he began to speak.

In apparently questioning my somewhat bewildered expression, the teacher then spoke, "My son, you seem to be a bit bewildered that my students failed to react to the "Death" category."

"Well, now that you mentioned it, yes, I was somewhat surprised, for these young people all seem to be exceptionally bright students. Why no response?" I asked.

"You see, my son, they have no concept of death or its aftermath. Death to them is simply returning to the old saying "dust to dust and ashes to ashes." They have never been taught the principles of God, not at home, not at school, and certainly not in a church, for they know not what church is all about. In other words, they have a faceless gospel," he replied.

Responding to the teacher's remarks, all I could conclude was, "How sad."

Then with obviously teary eyes, the teacher affirmed he too believed the Scriptural principles of God, as did I.

"So what's the answer to this spiritual dilemma?" I ask.

"My son, it's so simple. Spiritual training starts at home, then reaches out to the surrounding social environment," the teacher responded.

Continuing, the teacher added his confidence that there was still hope for his
students, as well as our country. Our country's motto of "In God We Trust" is still alive and well, and God has not yet taken His blessing off America. We just need to get the Gospel message out.
Then, as if by divine direction, I found myself asking the teacher if I could talk with his students, at which he gave a big smile and affirmed with a big yes nod, as if he knew what I was about to say.
"Hi, students! I have a proposition for you all, depending on an OK from your parents. By the show of hands, how many of you like picnics?"
The response was unanimous.
"And how many of you like to play yard games?" To this, they all also agreed.
"OK then, our church will be having a special picnic for all the kids next Saturday afternoon, would you all like to attend?"
Then the miracle happened, again as if by divine direction. All the students' faces suddenly turned from being faceless to the happiest faces that I have ever seen. Their smiles seemingly stretched from ear to ear, as they not only raised their hands but all hands were waving frantically in the air.
Looking around, I found this old seasoned teacher not only in tears but was shouting hallelujah to the top of his voice.
To top off this entire sensational scenario, I happened to glance at the chalkboard and what I saw was again a miracle phenomenon, for the board had been wiped clean of all the students' secular desires. Replacing this assignment was a single Bible verse.
"For I know the plans I have for you," declares the Lord "plans to prosper you and not to harm you, plans to give you hope and a future." (Jeremiah 29:11)
I guess my assignment that day had concluded, as I awoke rather abruptly, realizing I had work to do. I had a picnic to plan. I had to make sure all my Sunday School students would be joining these students in attendance.
And yes, the picnic was an overwhelming success. Not only did all this nice teacher's students attend the event, but they were all in church the following Sunday, including their parents.
You see, miracles never cease.
"Jesus looked at them and said, "With man this is impossible, but with God all things are possible." "(Matthew 19:26)
Author's Postscript
If you follow my writings you probably will notice a trend in my written communications of presenting God's principles through modern-day parables and Christian fiction (earthly stories with a heavenly meaning), as it is my desire to offer these eye-catching doctrinal statements to demonstrate the true Gospel.
You see, God wants more of us, as He wants to personally talk with us. (Psalm 27:8) Oftentimes, He may intercede through prayer, comfort, and protection, at other times through the caution of dreams and visions. The list is endless - God always tells us exactly what He means. There is no confusion about what He is trying to reveal to us, be it in a dream or vision or His inspired written word. (II Timothy 3:16-17) (II Peter 1:20-21) .
So how does God speak to us in dreams and visions? God did and probably still does communicate with His people in visions and dreams, just to confirm a spiritual need in our lives.
However, God's holy Word should continue to be the primary source of divine guidance. It is clear, however, from the New Testament example that Christians are to seek God's Word from the inspired Scriptures and sound biblical teaching, not private interpretations (II Timothy 3:16-17) (II Timothy 4:2-4; (II Peter 1:20-21). What do you think?
"Finally, brethren, whatever things are true, whatever things are noble, whatever things are just, whatever things are pure, whatever things are lovely, whatever things are of good report, if there is any virtue and if there is anything praiseworthy—meditate on these things." (Philippians 4:8)