Faith Alone Part 2
by John Lowe
(Laurens SC, USA)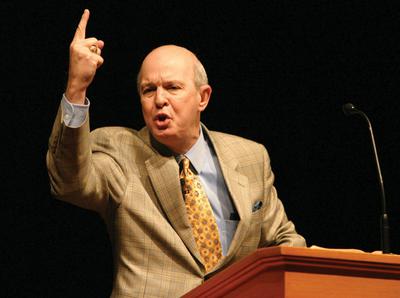 I love to tell the story, for those who know it best, Seem hungering and thirsting, to hear it like the rest.
Jesus said there are two pathways. One is wide and bright and crooked, and it leads to destruction. The other is straight and narrow, but it leads to life. The picture that is given to us here is not that of a choice between a broad white way with lots of fun, and a narrow, dark, uninviting alley. Actually, Matthew is giving the picture of a funnel. If you enter the funnel at the broad end, it keeps narrowing down until you come to death, destruction, and hell. But you can enter the funnel at the narrow part.
That's where Christ is--He is the way, the truth, and the life. He says, "…I am come that they might have life, and that they might have it more abundantly." And the longer you walk with Him, the wider it gets. That pictures the life of a child of God; it gets better every day.

Verse 2, also says that we follow the ways of the ruler of the kingdom of the air. This is a clear reference to Satan. Very few people will admit to following Satan, or would even want to; but the truth is, he is the one who corrupts the minds and spirit of millions of men and women. He is hard to recognize; the Bible tells us that he often appears as an angel of light. People follow him because he is a liar and a deceiver.

We read in verse 2 that we follow the spirit who works in those who are disobedient. This is another reference to Satan, who is prominently mentioned in this verse in Ephesians. Verse 2 says, "Wherein in time past ye walked according to the course of this world, according to the prince of the power of the air, the spirit that now worketh in the children of disobedience." Satan plants himself effectively into the society of lost men and women. And the proof is that the conduct of lost men and lost women mark them as children of disobedience.

Verse 3, said that we gratify the craving of our sinful nature. We satisfy the lusts of our flesh, and we are dominated by the desires of our fallen nature. Lost sinners are in bondage to the world, the flesh, and the devil and cannot free themselves. But in Christ, you have true freedom

Finally, we are by nature children of wrath (v.3).Every human being, apart from a saving relationship with Christ, is subject to divine wrath. The only hope for men in this condition is to experience the grace of God in Christ.

Next, Paul speaks of Divine Motivation (v.4). He said, "But God, who is rich in mercy, for his great love wherewith he loved us." According to this verse, God has two great motivations for wanting to save us from judgment.

The first is His great love. John wrote, "For God so loved the world, that he gave his only begotten Son, that whosoever believeth in him should not perish, but have everlasting life." We are all familiar with this verse; John 3:16. It is the gospel in a nutshell:
(1) There is the source of love—God.
(2) There is the extent of love—the world.
(3) There is the sacrifice of love—He gave his only begotten Son.
(4) There is the result of love—whosoever believeth in him should not perish.

God's second motivation for wanting to save us is His rich mercy. Mercy is a feeling of compassion that makes one person want to save or rescue someone else. And God's great love and His rich mercy combined to send Him to this earth for the express purpose of being nailed hand-and-foot to a rugged wooden cross, the blood flowing from His forehead where the thorns had been, the blood flowing from His back where the scourge fell, the blood flowing from His hands and feet where the nails were, the blood flowing from His wounded side, pierced by the soldier's lance. And the Bible says that there is something about the blood of Jesus Christ that satisfies the wrath of God. In Romans we read, "Since, therefore, we are now justified by his blood, much more shall we be saved by him from the wrath of God" (Romans 5:9). It is comforting for the believer to know that "God hath not appointed us to wrath, but to obtain salvation by our Lord Jesus Christ" (I Thessalonians 5:9).
That's according to 1 Thessalonians.

One of the future benefits of the fact that we have been justified is that we shall be preserved from the day of God's fierce wrath. In verses 5-9, Paul speaks about Eternal Salvation. God does three things for us.

In verse 5, we are told that He makes us alive in Christ. At one time, we were all spiritually dead and needing new life in Christ, but He made us alive spiritually by imparting the life of Christ in us. This is what is meant by the new birth.

Jesus received life at His resurrection; physical life in His case, and it was spiritual life in our case.
What God did for Christ, He will do for anyone will who put their trust in Him. Notice that it was God that did it. When we were born from above, it was instant and it was once for all people and for all time. In your case, God may have used a powerful preacher, a praying parent, or a tearful teacher; but He did it. He did it when we trusted Christ, not because we prayed so sincerely, or repented so bitterly.
Salvation is by grace plus nothing.

In verse 6, it says that He seats us with Christ in the heavenly realms. God set us down alongside of Christ in the heavenly realms. God has already accomplished this because He dealt with us in Christ and sees us in Christ.

And in verse 7 He promises to one day show us plainly the full riches of his incomparable grace. Someday I am going to be on exhibit. Angels will go by and say, "See that fellow, Tom Lowe. He was lost and wasn't worth saving, but he is here in heaven today. It is only through the grace and kindness of God that He was saved and brought here." I am not going to get any credit at all, but I'm going to be there, and that's good enough for me. I'm going to join that angelic host in singing praises to God because He saved me. He saved me by His grace. It is the "amazing grace," as the hymn writer John Newton put it, "that saved a wretch like me."


Conclusion:

This passage ends by giving us the main principles for God's plan of salvation—it is by grace through faith according to verses 8 and 9. Listen again to these beautiful words. For by grace are ye saved through faith; and that not of yourselves: it is the gift of God: Not of works, lest any man should boast." In other words, we can't do anything good enough to earn heaven. We are forgiven of our sins, reconciled to God, and given eternal life, in spite of ourselves, and because of His love and grace which we receive by trusting Him, by faith alone.

Charles Haddon Spurgeon, who preached and pastored in London 100 years ago, is called the "Prince of Preachers." There are many stories about him, but one of the best has to do with an experience he had when he was just learning to preach. Almost from the beginning, he possessed unusual power and eloquence in the pulpit. As a "young preacher," he had been invited to speak one evening in a local church, but he was late in arriving. His grandfather, who was also a preacher, finally began the service by reading Ephesians 2. He began preaching on the theme, "For by grace are ye saved through faith...." He had gotten quite a ways into his sermon when there was a little commotion at the back door and in walked his grandson, arriving very late. "Here comes my grandson," exclaimed the old man. "He can preach the gospel better than I can, but you cannot preach a better gospel, can you, Charles?" Charles, walking up the aisle, said, "You can preach better than I can. Please go on." The grandfather refused, but he told him his text and explained that he had already shown the people the source of salvation—which is grace--and was now speaking about the means of salvation—which is faith. The younger preacher stepped into the pulpit and took over just where his grandfather had left off. After a few minutes, the grandfather interrupted, because he wanted to preach a little more of the sermon. Then he sat down, and Charles resumed preaching, with the grandfather sitting behind him, saying, "Good! Good! Tell them that again, Charles. Tell them that again." After that evening, Charles Spurgeon said that whenever he preached from Ephesians 2, he could hear his old grandfather saying, "Tell them that again, Charles. Tell them that again." Spurgeon did tell thousands of people the story of Jesus. It's the greatest story ever told. The old hymn says:

I love to tell the story, for those who know it best,
Seem hungering and thirsting, to hear it like the rest.

Charles Spurgeon was a great preacher of the Gospel. If he were here today, I believe he would end like this. Perhaps today you need to be rescued; you need to be saved. Perhaps today you are dead in your sins, following the ways of the world, following the ruler of the kingdom of the air, following the spirit that now works in those who are disobedient, gratifying the cravings of your sinful nature, an object of wrath. But God in His great love and rich mercy loves you. He wants to raise you from the dead, seat you with Himself in the heavenly realms, and show you the incomparable riches of His grace in Christ Jesus. And by grace you can be saved through faith, not of yourself--it is the gift of God. Will you come to Him today?
Amen.