Faith or Foolishness
by Loy Clements
(Springhill, LA. U.S.A.)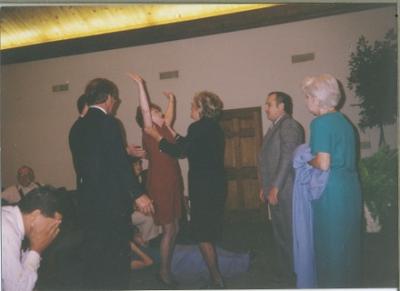 Let the power fall
Text: Romans 12:3

Introduction: As a minister of helps I have seen so much foolishness in ministry. People calling themselves Pastor, when they don't have a clue about pastoring a fold of God's sheep. Why did I use the word sheep? Jesus did in John 10.

One reason God refers to His children as sheep is because like sheep they need a caretaker to protect them from their own foolish actions. Let me give you an example from my own life.I have been in world prayer and outreach ministry since I was six years old.

I have made a lot of mistakes in 55 years of ministry; but the biggest one was when I decided to pulpit it. That is very important; because there are ministries that never stand behind a pulpit! I Corinthians 12:28 names just two: helps, and governments.

Helps have the gift of grace to bring relief, while governments have the grace to deal with the business side of a church or ministry. When someone that is not called to a pulpit ministry, tries to place themselves in that position, there is just one word for them, FOOL! Without the gift of grace that goes with a pulpit ministry, you are going to destroy lives, and send people to hell!

I. Non-tithers are fools

In Malachi 3:8-12 the Lord uses some very strong language against people that steal His tithe. He calls them thieves. The foolishness is that they are not only robbing from God; they are stealing from themselves, and this country.

Look with me at verse 9 where the Lord says that robbing His tithes and offerings is carried over to robbing our nation. Financial failure in a nation can always be traced back to the church. If God's people are stealing from Him, then the blessing window of Heaven has been shut down in that nation.

The President is not going to fix this recession the United States is in. Well Loy, who is going to fix it you may be asking. Christians that wake up and obey God!

The word wicked in the Bible is not referring to bad people; just foolish people. People that are foolish for listening to Satan about tithes and offerings. The word wicked means to be twisted. Nontither's minds are twisted, and their thinking processes are backward to God's thoughts.

God has said, "My thoughts are higher than your thoughts, and My ways are higher than your ways." But, He never said we couldn't know His thoughts and ways. Just what is a fool? A fool is someone that don't know, and thus cannot make quality decisions based on thinking like God.

I suggest that you run references of God's thought and ways found in your Bible. Meditate on the verses day and night; and watch your life decisions change from foolish decisions to decisions of wisdom.

II. Wisdom is the principle thing

The word wisdom is referring to the most important information anyone can get from God and His Word. Where does it come from?

James 1:5-8 "If any man like wisdom, let him ask God, that giveth all men liberally, and upbraideth not; and it shall be given him. But let him ask in faith, nothing wavering. For he that wavereth is like a wave of the sea driven with the wind and tossed. For let not that man think that he shall receive anything of the Lord. A double minded man is unstable in all of his ways."

These verse explain themselves. I need not comment! A man that cannot make a quality decision based on God's Word is a fool. "Wisdom is crying in the streets, hey fool how long are you going to stay foolish?"

III. Willing and obedient eat good

Isaiah 1:19-20 "If you be willing and obedient, ye shall eat the good of the land: But if ye refuse and rebel, ye shall be devoured with the sword: for the mouth of the Lord hath spoken it." If we will be wise with the wisdom God's Word contains; it will produce the good that our land contains.

But if we are fools and rebel, then we will continue to be devoured by the Sword of the Spirit. God's Word has already pronounced against the fools!

Conclusion: Deuteronomy 28:1-15 "And it shall come to pass, if thou shalt hearken unto the voice of the Lord thy God, to observe and to do all the commandments which I command thee this day, that the Lord thy God will set thee on high above all nations of the earth: and all these blessings shall come upon thee, and overtake thee, if thou shalt hearken unto the voice of the Lord thy God.

Blessed shalt thou be in city, and blessed shalt thou be in the field. Blessed shalt be the fruit of thy body, and the fruit of thy ground, and the fruit of thy cattle, the increase of thy kine, and the flock of thy sheep. Blessed shall be thy basket and thy store. Blessed shall thou be when thou comest in, and blessed shalt thou be when thou goest out.

The Lord shall cause thine enemies that rise up against thee to be smitten before thy face: they shall come out against thee one way, and flee before thee seven ways. The Lord shall command the blessing upon thee in thy storehouses, and in all that thou settest thine hands unto; and He shall bless thee in the land which the Lord thy God giveth thee.

The Lord shall establish thee an holy people unto Himself, as He hath sworn unto thee, if thou shalt keep the commandments of the Lord thy God, and walk in His ways. And all people of the earth shall see thou art called by the name of the Lord; and they shall be afraid of thee. And the Lord shall make thee plenteous in goods, in the fruits of thy body, and in the fruit of thy cattle, and in the fruit of thy ground, in the land which the Lord sware unto thy fathers to give thee.

The Lord shall open unto thee His good treasure, the heaven to give rain unto thy land in His season, and to bless all the work of thine hand: and thou shalt lend unto many nations, and thou shalt not borrow. And the Lord shall make thee the head, and not the tail; and thou shalt be above only, and thou shalt not be beneath; if that thou hearken unto the commandments of the Lord thy God, which I command thee this day, to observe and to do them;

And if thou shalt not go aside from any of the words which I command thee this day, to the right hand, or to the left, to go after other gods to serve them. But it shall come to pass, if thou wilt not hearken unto the voice of the Lord thy God, to observe to do all His commandments and His statutes which I command this day; that all these curses shall come upon thee, and overtake thee,"

Deuteronomy 30:19-20 "I call Heaven and earth to record this day against you, that I have set before you life and death, blessing and cursing: thereefore choose life, that both thou and thy seed may live: that thou mayest love the Lord thy God, and that thou mayest cleave unto Him: for He is thy life, and the length of thy days: that thou mayest dwell in the land which the Lord sware unto thy fathers, to Abraham, to Isaac, and to Jacob, to give them."

Come out of foolishness into wisdom; by choosing life! We choose life by making God's Word first place and final authority in our lives. To choose life is to choose God's Word, and become a Word person! In Jesus Name Amen.