Fifth Seal: The Martyrs Under the Altar: Part 3 of 3 (series: Lessons on Revelations)
by John Lowe
(Woodruff, S.C.)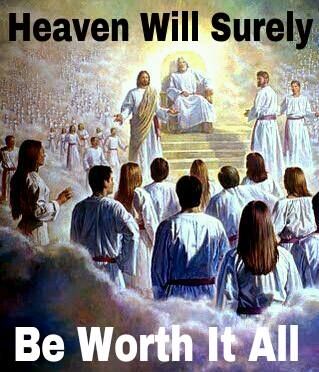 John did not see these martyrs in life. He did not witness the brutality of their persecution and martyrdom. It is all over when he sees them "underneath the altar." He hears them cry with a loud voice, "How long?" (until when?). This cry is well known among the suffering Jews, and will be better known during the coming hour of unparalleled sorrow and persecution upon the Jews. Read carefully Psalm 74:9-10; Psalm 79:5; Psalm 89:46; Psalm 94:3-4. The appeal of these martyrs is to God. They are crying to the sovereign ruler of all creation—the One who has the right and the power to avenge the blood shed by the enemies of Jehovah God. These martyrs are crying out to God to pour out vengeance "upon them that dwell upon the earth," that is to say, "unbelievers who look upon the earth as their home," as distinguished from the Church, whose home and heart are even now in heavenly places. God does not answer by pouring out vengeance at that moment. Their cry for vengeance is heard, but the answer is delayed. The thing to remember is that when the saints of God uttered this cry, they were bewildered by God's seeming inactivity but they never doubted his ultimate action, and the ultimate vindication of the righteous.


We have created a picture here which is easy to criticize. The saints actually wished to see the punishment of their persecutors. It is hard for us to understand the idea that part of the joy of heaven was to see the punishment of the sinners in Hell. It is easy to stand aghast at the spirit of vengeance which could write like that. But we must remember what these men went through, the agony of the flames, of the arena and the wild beasts, of the sadistic torture which they suffered. We have the right to criticize only when we have gone through the same agony.

The great question, however, was not whether their enemies would be judged, but when. "How long, O Lord?" has been the cry of God's suffering people throughout the ages (see Psalms 74:9-10; 79:5; 94:3-4; also Habakkuk 1:2). The saints in heaven know that God will eventually judge sin and establish righteousness in the earth, but they do not know God's exact schedule. It is not personal revenge that they seek, but vindication of God's holiness and the establishment of God's justice. Every believer today who sincerely prays, "Thy kingdom come!" is echoing their petition. The title "Lord" implies that He has them and their foes and His creatures absolutely at His disposal, as a master has his slaves.

Christians pray for those who despitefully use them. They do not pray for God to destroy their enemies. Today, we are to return good for evil. This is the age of Grace. God declares, "My grace is sufficient for thee." And He promises no temptation beyond that which we can bear. But those who had been martyred as these Jews had been, under Law, had a perfect right to cry out that vengeance be poured out upon their enemies.


11 And white robes were given unto every one of them; and it was said unto them, that they should rest yet for a little season, until their fellowservants also and their brethren, that should be killed as they were, should be fulfilled.

The answer to their prayers comes in two parts. The first part comes when God rewards them with a long white robe3, which probably represents victory as it does in the vision of the white horse of that first seal (6:1-2). The other part of their reward is rest. Once dead they are allowed to enjoy the peace of Heaven.

When the Lord gives to each of these martyrs a "white robe," he stamps
his approval upon their request. He did not rebuke them when they begged that vengeance be poured out upon the inhabitants of the earth. He did not shame them. He gave to each of them a "white robe," indicative of light, joy, and triumphant victory over their foes. There is something here that we don't want to miss; it is that spirits without any substance could not wear robes. The fact that they will be given robes supports the concept that when believers die they are given temporary bodies in heaven which are later replaced by resurrection bodies at the time of resurrection (compare 20:4).
In this day of Grace, if we return evil for evil, if we do good only to those who do good to us, we do not receive a reward, but rather a rebuke. Grace is over. This is another dispensation. These martyrs are instructed to "rest yet for a little season," until another company of "fellow servants and brethren" should be killed as they were killed. And when this second company has been martyred, then vengeance from Almighty God will be poured out upon the inhabitants of the earth. We must bear in mind that neither the Old Testament martyrs, from Abel, nor the Christian martyrs, from Stephen, are referred to here. But these two companies of martyrs are killed after the Rapture—they sealed their testimony with their blood after the saints have been taken out of this earth into heaven.
The Jews had the conviction that the drama of history had to be played out in full before the end could come. God would not stir until the measure appointed had been fulfilled. The number of the righteous first has to be offered. The Messiah would not come until all the souls which were to be born had been born. The perception, however, is different today; most believe God is not waiting until a certain number are killed
4
; rather, he is waiting for the appointed time to arrive. He promises, however, that those who suffer and die for their faith will not be forgotten. In fact, they will be rewarded and honored by God. Today, oppressed people may wish for justice immediately, as these martyrs did, but they must be patient. God works according to his own timetable, and he promises to act. No suffering for the sake of God's kingdom, however, is wasted. God will vindicate his people, but he will do it in His time not ours.
God made clear to the martyrs' that their sacrifice was an appointment, not an accident; and that others would join them. Even in the death of His people, God is in control (psalm 116:15); so there is nothing to fear.
Many others would be slain for their faith before the Lord would return and establish His kingdom (see Revelation 11:7; 12:11; 14:13; and 20:4-5). Then as today, it appears that the enemy is winning; but God will have the last word. Even in our "enlightened" 20th century, multiplied thousands of true believers have laid down their lives for Christ; certainly they will receive the crown of life— "Don't be afraid of what will happen to you. I tell you, the devil will put some of you in prison. He will do this to test you. You will suffer for ten days, but be faithful, even if you have to die. If you continue to be faithful, I will give you the reward of life" (Revelation 2:10). However, it is not their own death, but the sacrifice of Christ, that gives them entrance into heaven.
What was shown here, under the breaking of the fifth seal, is elaborated further in chapter seven, where the great tribulation is introduced. Here only a preview is given of the terrible persecutions which will engulf the globe in a coming day.