Follow Me and I Will Make You Fishers of Men Part 2
by John Lowe
(Laurens SC, USA)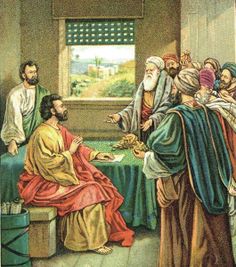 How did they fish at night?
They used a very powerful and effective method, "light."
Fish were attracted to light.

3. How are we to compare fishing to reaching people for Jesus?

Jesus uses this same effective method to draw people to Him.
John tells us that Jesus said (8:12), "I am the light of the world, He who follows Me shall not walk in darkness but have the light of life."
Just like fish are attracted to the disciples light, God wants people to be drawn to His light shining through His people.
The light of every believer is the presence of the Lord Jesus Christ in our lives.
Paul stated in his second letter to the Corinthians (4:6-7): "For it is God who commanded light to shine out of darkness who has shone in our hearts to give the light of the knowledge of the glory of God in the face of Jesus Christ, But we have this treasure in earthen vessels, that the excellence of the power of God may be of God and not of us."
We are not the light we merely reflect the light of Jesus.

4. What does it require to follow Jesus?

It was a call that required complete and immediate attachment to Jesus, and giving Him first place in the disciple's lives, over everyone and everything else.
Peter and Andrew "left their nets" suggesting that they left their present occupation.
James and John "left their father" suggesting that following Christ takes precedence over even maintaining close proximity to our family.
The requirement for following Jesus is not the same for everyone.
For some, it means leaving their present occupations to follow him.
For others, it means being willing to leave family and friends.
But for everyone, it is a willingness to exchange their affections, goals, and priorities for His.
Listen carefully to the statement I am about to make because I do not want you to misunderstand me.
The worse thing in life may not be that we fail.
The greatest failures occur when we succeed in areas that are not God's will for our lives and are not true to the clear teaching of scripture, a success that keeps us from pursuing God's real plan for our lives.
The worse thing in life is not failing, but succeeding in a worldly pursuit having left Christ out of our lives.

5. What is the single most important thing we can do as Christians?

When we learn that someone is dying what is the single most important topic on our minds.
"Are they saved?"
"Death" is a process that never ceases to function, but when we're young we don't believe it will happen to us.

Lance Foster certainly wasn't thinking about it when he left his dormitory desk to get a soft drink in March of 1988.
The twenty-three-year-old student at the University of Kansas encountered a vending machine that took his money but didn't deliver his drink.
Foster aggressively shook the machine and it ended up tipping over on top of him.
He died of internal injuries shortly thereafter.

Ali-Asghar Ahani never dreamed he would die by a gun-firing snake, but that's exactly how he met death in 1989.
When he came across a snake in Iran, he attempted to capture it rather than shooting it.
He pressed the butt of his shotgun behind the snake's head.
The snake immediately coiled around the gun and its tail activated the trigger.
Ahani died of a single shot to the head.

William Curry believed life was just beginning in 1990 when he won $3.6 million in the lottery.
But just two weeks after striking it rich, the thirty-seven-year-old Curry died of a heart attack.
His sister-in-law told reporters the stress of winning is what killed him.

Death doesn't always call the way we believe it should, so we need to be prepared for its inevitable arrival.
What this should remind us of is that what really matters in life is what we are most concerned about at death – whether or not people know Jesus Christ.

When someone is dying nothing else really matters, does it?
There have been times in the life of every Christian when he or she recognized that the greatest thing he could do with his life was to get someone else to Christ.
It may be that Christ wants you to recommit yourself to reaching someone for Christ.
Perhaps it is someone that you have given up with?
Have you ever really stopped to realize that Jesus wants you to be someone whose heart is moved to reach out to the lost people around you?
In order to accomplish this goal in life would you be willing to:

Lay aside your personal ambition and plans in order to fully follow Christ.
Purpose in your life to better reflect the light of Christ to those around you.

Look for and take opportunities to share with others what Jesus has done for you.

Jesus said, "Follow me and I will make you Fishers of Men."
"All of us" can do the job of an evangelist, if we have the ability to speak.
We sometimes forget that an evangelist is literally "a messenger of good news."

Bob LeVitus writes a syndicated column called "Dr. Mac."
In his weekly article, LeVitus shares tips for getting the most from a Macintosh computer.
He provides information about software, hardware, system manipulation, shortcuts, and various other pieces of "good news" for Mac computer users.
Ironically, his official job description is defined as "director of evangelism for Power Computing Corporation" in Austin, Texas.
Thanks to this computer expert, we've been reminded that evangelism involves "good news."

Let's proclaim the gospel with renewed enthusiasm and "do the work of an evangelist" (2 Tim. 4:5).