FOR THE HELL OF IT 2 OF 2
by Jeff Hagan
(Tacoma, WA, USA)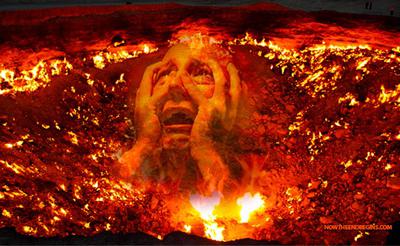 Hades & Hell:I think it important at this point to simply note straightforward that hell and hades are not the same things. Christians have not always been aware of the distinction made between the two in God's Word. To quote Richard Bauckham on the issue, "The Greek word Hades...is sometimes, but misleadingly, translated 'hell' in English versions of the New Testament."* Hades is what can be called a "transitional" hell and it is depicted by Jesus in Luke 16. What we commonly identify as hell, more accurately "eternal" hell, is described by John in Revelation 20. As horrific as it is, hades is only an intermediate experience and differs from hell is several ways.


First, as was just stated above, Scripture shows us that Hades is temporary and hell is eternal. In Luke 16:27-28 the rich man pleads with Abraham to "send Lazarus to my father's house, for I have five brothers. Let him warn them, so that they will not also come to this place of torment" (NIV). What this shows is that the rich man is clearly in a place of temporary torture but a place existing before the final judgment (hades).

In addition, while pain and punishment are experienced in hades, it is done so to the spirit and not the body. Resurrected bodies are not given until the Second Coming of Christ, at that point bodies are reunited with their souls. Jesus tells us in John 5:28-29, "Do not be amazed at this, for a time is coming when all who are in their graves will hear his voice and come out – those who have done good will rise to live, and those who have done evil will rise to be condemned" (NIV). Due to passages like this, and others (see Daniel 12:2), we can conclude with confidence that those who are now experiencing temporary punishment while in a disembodied state in hades will one day be resurrected with their body and suffer ultimately for their unbelief in an eternal state.

One more point to make this clear, we see a prominent distinction between hades and hell in the fact that when Christ returns the dead are going to be judged for what they have done. And then, Hades is thrown into hell (Gehenna). This makes it pretty clear hades is a temporary state of hell where sinners go at death, and then it is even thrown into the eternal hell. The final place of punishment for those opposed to God. Revelation 20:13-14 helps clarify this for us, "The sea gave up the dead that were in it, and death and Hades gave up their dead that were in them, and each person was judged according to what he had done. Then death and Hades were thrown into the lake of fire. The lake of fire is the second death" (NIV).

In summary, Hades is a place of temporary punishment while in a disembodied state of being, and hell is torture and separation from the love and grace of God after the body has been resurrected and it lasts for eternity. Not making the proper distinction between hades and hell has rendered confusion for many in the process of Biblical interpretation. Some final words from Timothy Phillips as found in the Evangelical Dictionary of Biblical Theology, "Hades has only a limited existence; Gehenna or hell is the final place of judgment for the wicked. Many English versions foster confusion by translating both terms as hell."**

Limbo:
When referring to limbo we are not talking about a dance or that state when you're waiting for a decision to be made or some action to be taken. Limbo is a man-made, hand me down, unbiblical teaching of the Roman Catholic Church. To them, limbo is considered to be the boundary, or outer
edge, of hell. They adhere to the "limbo of the patriarchs, prebaptized infants and the limbo of Pope John Paul II and Benedict XVI."***
The limbo of the patriarchs – this is supposedly where those like Abraham, Isaac, and Jacob, who died before Christ's mission and work on the cross go. Catholics see it as a temporary place for the souls of those who have died in relationship with God and await a time when the crucified Christ preached to spirits in some area of the dead. This action supposedly freed the patriarchs (and those such as the thief on the cross) from the very edge of hell and brought them into heaven.
The limbo of prebaptized infants – this is for those who die too young to be held accountable for their sins, and have not yet been absolved of original sin through the act of baptism. They are said not to be in God's supernatural presence, but to be in a perpetual state of ultimate, natural happiness.
The limbo of Pope John Paul II and Benedict XVI – these individuals attested to limbo as a viable theological position and possibility hopefully and prayerfully considering that infants were indeed allowed into the presence of God, or heaven, although not yet baptized.
To sum up, what do we see? We see beliefs nowhere found in Scripture and we see beliefs that bend and progress. In fact, today Catholics are free to believe their pre-baptized infants are with God in heaven. Changing doctrine is not biblical doctrine.
Purgatory:
Roman Catholicism believes in a place where some go for purification. There are some sins that must first be "purged" or purified before entry is allowed into heaven. Once again, an unbiblical, man-made doctrine merely passed on by nothing more than tradition.
To start, this doctrine of post-death punishment to make penance for committed acts of sin degrades the sufficiency of Christ's atonement. The root of the belief says Christ's atonement was not enough, more has to be done. However, Scripture states otherwise. Hebrews 10:14 makes it clear that through Christ's single sacrifice all who are called have eternally been made perfect and holy. So we can, in thankfulness and gratitude to God, know without a doubt that all the punishment we deserve was poured out on Christ completely satisfying God's justice as it relates to His chosen ones (Romans 3:25-26; 2 Corinthians 5:19, 21; 1 Peter 3:18; 1 John 2:2). Jesus even said as much from the cross. He cried out, "It is finished!" (John 19:30). To put another way, "The debt has been paid in full!" So, there is no more debt to pay in our physical life or life eternal.
The Bible is clear that all our sins, every act of defiance, are sins against a completely righteous, absolutely holy, eternal God (Psalm 51:4). And because of this, they bring with them an eternal debt. Not a debt that we can pay in some purging action, or in any way for that matter. The debt had to be, and was, paid once and for all by the only perfect and unblemished sacrifice, Jesus Christ (John 1:29; Romans 6:23).
Lastly, although purgatory was officially defined by the Council of Florence (1439) and officially defended by the Council of Trent in the late sixteenth century, nowhere in all of Scripture do we find it officially depicted in any manner at all. Even The New Catholic Encyclopedia is forced to admit, "the doctrine of Purgatory is not explicitly stated in the Bible."**** So, Roman Catholicism is then forced to point to the traditions of man, to the traditions of the Fathers, instead of to the revealed Word of our Heavenly Father.
God has graciously provided us with salvation by grace alone, through faith alone, because of Christ alone (Ephesians 2:8-9).