FOR THE LOVE OF MONEY
by Charles (Chuck) Robey
(Trussville, AL USA)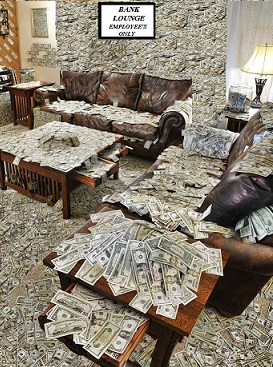 "For the love of money is a root of all kinds of evil. Some people, eager for money, have wandered from the faith and pierced themselves with many griefs. But you, man of God, flee from all this, and pursue righteousness, godliness, faith, love, endurance and gentleness." (I Timothy 6:10-11)

All my monthly obligations seem to be falling on me all at once. What am I to do? Guess I needs make a special trip to the bank, and juggle a few funds around.

I simply hate the spectacle of that uneasy trip to the bank. Is it just my sin nature coming through as I envy all that money? Or do they really stare at me, as if I were some sort of a criminal? That older bank manager, Mr. Money, should know better, for he's been serving my family for many years.

Oh well, I'll just make a quick trip through the drive-thru. I surely hope the money tube is not out of order again. I really don't feel like wrestling that old money tube that somehow always seems to be malfunctioning just as I arrive. No need dreading this habitual routine, for it has to be done. Oops, that old money tube pressure seems a bit strong. I can barely open the lid.

When I grabbed the pneumatic tube, to put my request in the capsule pipeline, I was suddenly, as if by divine direction, pulled straight into the tube, resulting in the ride of my life.

Then suddenly I was shot out of the tube, landing in the most bizarre, fantastically-decorated room. Paper money was everywhere, the entire room decorated with paper banknotes. Money wallpaper, money window drapes, money carpeting and even money-draped furniture. I couldn't help but just stand there and stare. Wow, what I couldn't do with all this money! My worries would surely be over.

All of a sudden, my meditative silence was broken by the curious sound of footsteps whispering across the money-laden carpet. Appearing out of the glare from the window light was the outline of a man. Not your ordinarily dressed man, but one who was also draped in money from head to toe.

"Who is it?" I wondered. And in response to my inquiry, the image sharpened.

"Why Mr. Money, is it really you, draped in all that money?" I exclaimed. "Yes it's me, my son, your friendly bank manager. Nice to see you! You see, I've been following you and your family for years and I not only consider you all my most trusted customers, but also my good and true friends," he replied.

"I remember you growing up, coming through the bank drive-in with your Mom and always asking for a sucker. Your favorite flavor was root beer. I also remember you'd bring your trusting little dog, and always asked for his treat. So, how are you doing now?" he asked.

"Well, health-wise we are all OK, but kind of struggling money-wise," I responded rather hesitantly.

"I understand, my son, it's tough on young families these days. If I can help you in any way with your financials, don't hesitate to come see me."

Then, as if by divine direction, he pulled a small Bible from underneath his money-laden clothing and began reading.

"For I know the plans I have for you," declares the LORD, "plans to prosper you and not to harm you, plans to give you hope and a future." (Jeremiah 29:11).

"Now remember, my son, God surely knows the plans He has for you and your family, for He knows all. And He will someday give you a glorious future. But first, we all, including bank managers, will have to continue through this crazy mixed-up world. (I Timothy 6:11-12) You see, it's all about the future. But He has promised His hope in getting us to such future. So never give up," he continued.

"And it's not the money per se, but the love of such money, which brings on evil intent. (I Timothy 6:9-10) You see, the Christian faith finds its gain of the non-financial nature such as godliness, contentment, and self-sufficiency which results from an inner satisfaction with which God blesses us." (I Timothy 6:6)

"Ok, Mr. Money, how may I thank you, for giving me such good encouraging advice? Mr. Money, Mr. Money, where did you go?" I exclaimed.

Just as fast as I had arrived in that most unusual money room, it had all disappeared. Mr. Money, the mysterious room and all the fixtures instantly disappeared, and in its place was my trusted home environment.

You see, as quickly as this scene disappeared, I awoke from another of my troublesome dreams. I found myself sitting in my man cave, slumped over in my old trusty recliner.

But the miracles hadn't stopped. For sitting on my chair side table was an old well-worn Bible. Just where had I seen this book before, I wondered to myself.

Oh, I remember now, it's Grandma's old trusted Bible, the one she read nightly before retiring to bed. But what's it doing here? I thought it had long been discarded or lost.

Nonetheless, as if by some divine pull, my inquisitive instinct got the better of me for I picked up her Bible and started reading. Again, as if by divine direction, I happened to turn to two well-marked verses.

"It has given me great joy to find some of your children walking in the truth, just as the Father commanded us." (II John 1:4)

'I have no greater joy than these things, that I should hear of my children walking in the truth." (III John 1:4)

Along with this highlighted scripture was a simple, short hand-written note in Grandma's personal hand. "Praying for my family every night."

Well, miracles never cease. You see, my life magically changed that troublesome night, due to Grandms's perfectly-placed Scriptural help.

That was some ten years ago. Now my family and I are proudly and actively serving our community in our little Old Time Religion preaching country church, much like the first church did. (Acts 2:41-47) And oh yes, I was privileged to give the eulogy at Brother Money's home-going memorial service. Amen and Hallelujah!

Author's Postscript

Do dreams have a lasting effect on one's spirituality? Well, yes and no, according to the experts. The Bible clearly states that we are to gain our spiritual growth through the Scriptures. (II Timothy 3:16-17)

However, the Bible also states that in the last days, we will dream dreams and see visions, depending on our age. (Joel 2:28) (Acts 2:17) Are we now in the last days?

As for me, I have mixed emotions on the subject. Some of my dreams are rather scary, some quite crazy, some historic and some just may be of the future. However, some of my dreams are soon forgotten, even while I sleep, while others linger on.

So, you be the judge. Dreams should never take the place of Scripture reading, however. Our church is collectively involved in reading the Bible.

Our church pastor has set up a program wherein he will announce a certain Bible book to read monthly. We have read the books of John and Romans. And now we are reading Proverbs, one chapter a day, during the month. It not only helps spiritually (Psalm 119:11) but it also makes the months go by quickly. Thanks to our pastor. Amen!