Four Anchors Part 2
by John Lowe
(Laurens SC, USA)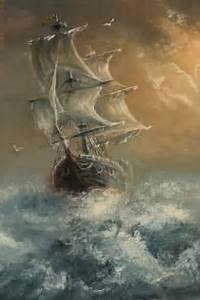 Paul said to the centurion and the soldiers, "Unless these men stay in the ship, you cannot be saved."
ANCHOR NO. 4: HE WAS DEDICATED TO HIS FAITH IN GOD.


Paul was totally committed to following God's guidance. He didn't have to understand what God was doing before he would follow Him. Instead, he accepted that God works in mysterious ways. That is apparent in what he said to the passengers and crew when they were preparing to abandon the ship. We're told…

30 And as the sailors were seeking to escape from the ship, when they had let down the skiff into the sea, under pretense of putting out anchors from the prow,
31 Paul said to the centurion and the soldiers, "Unless these men stay in the ship, you cannot be saved."
32 Then the soldiers cut away the ropes of the skiff and let it fall off.

The crew was trying to abandon the ship, you see. They acted as if they were dropping anchor, but actually, they were going overboard. It could have been a case of every man for himself. They were leaving a sinking ship: you could say, "They were like rats leaving a sinking ship." But according to Paul, they were doing something they should never have done. Paul tells the centurion that the only assurance of safety is for everyone to remain with the ship. Paul has put his faith in God. What a wonderful thing it is to trust the word of God.

The angel of God had told Paul that he and the others would be saved. But they couldn't be saved their way. They must be saved God's way.
God's way was for them to stay with the ship. It was a matter of believing that God would save them or not believing and taking matters into their own hands. Paul had told them that he believed God. And he tells them that if they want to be saved, all of them will have to stay on the ship.

We must come to the place where we don't have to have all the answers. We must be willing to do what we're told in God's word, without calculating what it's going to cost us. In other words, we must trust God. This shifts the responsibility back to God. It's His responsibility to see that we are equipped to do whatever task He has called us to do. But if we hold back, and we are not obedient to Him, then the responsibility
will be ours.Now, what's the fourth anchor? It is surrendering ourselves to God. Being totally committed to Him is a great anchor.
Conclusion:
Let me briefly give you the rest of the story. They had been fasting for fourteen days, and that would weaken even the hardiest men. The pagan unbelievers fasted because they were scared to death. Paul and the Christians may have fasted, because they were doing it unto the Lord. Now, they are near land, and they all need their strength to make it to shore. So, Paul tells them to eat, in order to get their strength back. Paul is using good common sense in this service for the Lord.
Next, Paul gave thanks to God in plain sight of them all. This is a wonderful testimony by Paul. There were 276 people onboard this ship, so it was a large ship for that time. They had already thrown all the cargo overboard, and now they threw all their food overboard. Then they took up the four anchors, and allowed the wind to drive them to shore. But the ship never made it to shore, since it ran aground and began to break apart. The soldiers were immediately told to kill the prisoners to prevent any of them swimming to shore and escaping. But the centurion stopped them, because he wanted to save Paul. He commanded everyone that could swim to cast themselves into the sea and swim to shore. Those who couldn't swim made it to shore on boards and broken pieces of the ship. Their making it to shore could be considered miraculous. However, God certainly fulfilled His promise that Paul and all 276 people on the ship would get to land safely. God always keeps His promises, and you can take that to the bank.
So, let's review: What are our four anchors?
1. FAITH IN GOD.
2. FAITH IN GOD'S WORD.
3. A PERSONAL RELATIONSHIP WITH GOD.
4. TOTAL COMMITMENT TO OBEY GOD.
Although Paul started the voyage as a prisoner and passenger, he ended it as the captain of the ship. The ship was lost; but by the grace of God, Paul's presence saved all the passengers. Can the Lord depend on you to sail by faith when you face the storms? He can, if you make use of the four anchors.Can others depend on you? They can, if you make use of the four anchors.
Amen.