FROM NOBODY TO SOMEBODY
by CharlesRobey
(Trussville AL USA)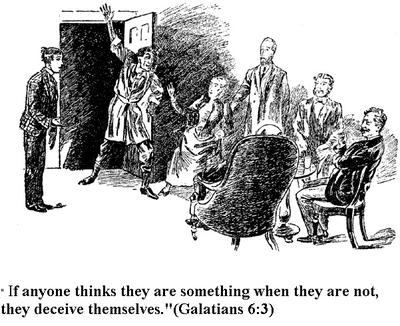 At the cross, At the cross

When I first saw the light
I was nothing, I was nothing
Then my sins were taken away
Now I'm with Him to stay
Now I am something, I am something

At the cross, At the cross
When I first saw the light
I was nothing, I was nothing
My sins were not known
By His scars they were shown
Now I am something, I am something

At the cross, At the cross
When I first saw the light
I was nothing, I was nothing
It is finished He cried
Now in Him I will always abide
Now I am something, I am something

At the cross, At the cross
When I first saw the light
I was nothing, I was nothing
My flesh was forever weak
When His laws I learned to keep
Now I am something, I am something

CHORUS

I am something
Because of Your free grace
I am something
On the cross You took my place
I am something
Because of nothing I have done
I am something
For the victory has been won

"Better to be a nobody and yet have a servant than pretend to be somebody and have no food."(Proverbs 12:9)

What is a "nobody" ? And are you a "nobody" According to one definition, "a "nobody" is a person of no importance, influence, or power (James 3:2).

So then, would you rather be a somebody or a nobody? Most of us at some time in our life has either felt like
nobody needed or wanted us. From a secular, or human standpoint, I think most people really have a desire to be a somebody, and a somebody that is liked and admired by others. The question is, do you really know how to be a somebody, according to God's standards (1 Samuel 16:7)?
The scripture is very plain, with respect to this change from a "nobody" to a "somebody". Please read (1 Peter 2:1-25). In this chapter, the apostle Peter gives us a multitude of instructions, how one may change from being a "nobody" to a "somebody".
Of course, the first step of change from a "nobody" to a "somebody" is a changed life. The acceptance of God, through His Son Christ Jesus (John 3:16-17). This is simply accomplished by accepting God's free grace. Plus nothing, minus nothing (Ephesians 2:8-9).
You see, God wants us to know that He thinks we are something. For we all are made in His likeness and image (Genesis 1:27). Is that not awesome ? Is that not worthy of our praise (Psalm 9:1-2)? He wants us and He desires a true relationship with us. Through our prayers we talk to Him (Psalm 5:1-3), and through our Bible reading He talks to us (2 Timothy 3:16).
Let me just leave you with this parting scripture thought (Philippians 2:3-4). So, have you changed from a "nobody to a "somebody" in Christ Jesus (Philippians 1:21) ?
Some additional scriptures for meditation. (Matthew 16:23) (Romans 8:28) John 16:33) Luke 9:56) (Philippians 4:13) (Galatians 5:16-17, 24-25)