Getting Guidance from God Part 2
by John Lowe
(Laurens SC, USA)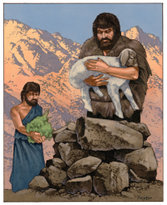 The first thing that we must do is to "determine to follow God's will."

Isaac was confident that God wanted a wife for him.
And he believed that she would share his faith and that they would be in agreement in their determination to follow God.
He knew the marriage would work best if she was from a similar family background.
Therefore, Abraham sent a servant back to his home in Mesopotamia to find a woman who fit the profile.
If we want to receive God's guidance, we must be willing to do His will.

We can know His will through His word, and through the Holy Spirit, and through prayer.
Then, when we act to do His will and pray, "Thy will be done," He will bless us and the Holy Spirit will help us.
We cannot follow God's will when we have determined within ourselves to do what we please.
If we refuse to yield our will to the will of God, we cannot find the guidance we are seeking.
But Isaac was willing to do God's will.
The second thing we must do to obtain God's guidance is to "Use our rational powers."
The servant used his rational powers to find the right woman.

But how did he decide who to pick?
Well, he is a man, and he is going to pick the best looking woman who comes out.
And you can be sure of one thing-Rebekah was a good looking woman.
Remember, God is Creator; He creates beautiful flowers and beautiful sunsets, and He makes women beautiful too, and there is nothing wrong with that.
When he picked Rebekah, it was not a matter of chance, for he asked God to help.
And with God's help, he made use of his rational powers.
With Abraham's instructions, the servant took ten camels and all kinds of choice gifts and set out.
He reached the city of Nahor late in the afternoon when the women came to the well for water.

The servant then reasoned, "Behold, I stand here by the well of water, and the daughters of the men of the city come out to draw water. And let it come to pass, that the damsel to whom I shall say, Let down thy pitcher, I pray thee, that I may drink; and she shall say, Drink and I will give thy camels drink also: let the same be she that thou hast appointed for thy servant Isaac; and thereby shall I know that thou hast showed kindness unto my master" (Gen. 24:13-14).
The servant understood that Isaac needed a self-sufficient and friendly woman for his wife.
He used his reasoning to determine the best place to find the women of the city, and he used it to formulate a plan for picking the right woman.
God has created us to be rational beings, and He wants us to use our minds, and as much as possible, to keep them tuned to the things of God.

The third thing to do when seeking God's guidance is to "pray about the matter."
Isaac's servant prayed for the right woman for his master.
"And he said, O Lord God of my master Abraham, I pray thee, send me good speed this day, and show kindness unto my master Abraham" (Gen. 24:12).
The servant believed in the power of prayer.
If he wanted light from the Lord, he had to look in that direction.
Prayer is one of the best means of receiving God's guidance.
And we know from the gospels that Jesus continually searched for God's will through prayer.

One example is Jesus' prayer in the
Garden of Gethsemane.
He was honest with God and he told Him He wanted to follow some way other than crucifixion.
Three times He asked God to remove the cup, yet He was reaching the place of submission.
Finally, he said, "My Father, if this cup may not pass unless I drink it, thy will be done."
We know, therefore, that Jesus used prayer to arrive at the right decisions.
We can use prayer to reach out to God, and so often He will reveal his will to us when we are praying with the right attitude and the proper motives.
The fourth and final thing to do when seeking God's guidance is to "wait on the Lord."
The servant of Abraham waited on the Lord.
"And the man wondering at her held his peace, to wit whether the Lord had made his journey prosperous or not" (Gen. 24:21).
Rebekah came to the well to draw water.
After she had done so, she offered the servant some water.
"And she said, 'Drink my lord': and she hasted, and let down her pitcher upon her hand. And gave him drink. And when she had done giving him drink, she said, 'I will draw water for thy camels also, until they have done drinking'" (Gen. 24:18-19).
Rebekah offered both the servant and his camel's water.
Remember, that there were ten camels, and I do not know how long it had been since they had filled their tanks.
It was just like filling the radiator of a car to fill up those camels.
Without a doubt, this action was an immediate answer to the servant's prayer.
Yet he did not want to act hastily.
Instead, he stands there in amazement, wondering whether this is it, whether God is leading or not-but he believes He is.
While Rebekah went for more water, he waited for the feeling of certainty.
If God can lead in the life of these folks, he can lead in our lives as well.
In getting guidance from God we must respond to His leadership with good sense.
God guides deliberately.
He does not lead recklessly.
Therefore, we need to be careful not to make quick decisions.
"They that wait upon the Lord shall renew their strength; they shall mount up with wings as eagles; they shall run, and not be weary; they shall walk, and not faint" (Isa. 40:31).
Are you trying to go through life directing yourself?
This path will lead to frustration and ultimately to disaster because you don't know where you are going.
You need to follow God's guidance.
Make up your mind to follow His will, use your rational powers, pray about the matter, and wait on the Lord.
There is something else here that we don't want to miss, and that is that Rebekah had a decision to make.
Her family would not force her to go with the servant.
She could stay, or she could choose a new life, and that required faith because she didn't know anything about her new home or new life.
Everyone must make a similar decision.
We must choose between a life without God and a new life with God.
It's a decision made by faith alone.
Rebekah followed the servant to her new home.
But we must follow Jesus.
We can follow our Savior all the way to our heavenly home.
If you have never made the decision to make Jesus your Savior, I hope that you would pray to Him.
Tell Him that you are sorry for your sins; ask for forgiveness, and ask Him to save you.
He will not turn you away.
Amen.