Getting to Heaven is Not That Hard. . . Or is It?: Part 2 of 2 (series: Lessons on Revelation)
by John Lowe
(Woodruff, S.C.)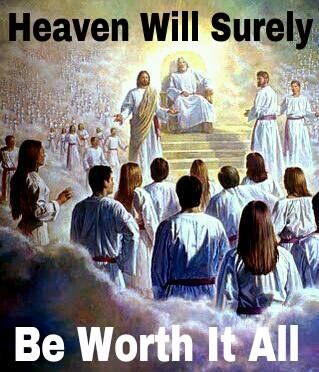 THE FOURTH POINT IS: THERE IS ONLY ONE WAY TO HEAVEN.

Jesus said, "Do not let your hearts be troubled. Trust in God; trust also in me. In my Father's house are many rooms; if it were not so, I would have told you. I am going there to prepare a place for you. And if I go and prepare a place for you, I will come back and take you to be with me that you also may be where I am. You know the way to the place where I am going. . . . I am the way and the truth and the life. No one comes to the Father except through me" (John 14:1-6). Your way is not the way. Jesus is the way to heaven. To know him is to know eternal life. He said, "Ask and it will be given to you; seek and you will find; knock and the door will be opened to you. For everyone who asks receives; he who seeks finds; and to him who knocks, the door will be opened" (Matthew 7:7-8).

How do you get to heaven? Ask, seek and knock. You will not be refused. But be sure you understand that this is not a matter of a little prayer shot up to heaven. This is true seeking. It is a seeking that involves the complete surrender of you. It means that you will give up demanding your rights and your way, and you will begin seeking God's way. It is a giving up of yourself that you might find God. God's will now becomes your will. This is necessary, for this is the way it is in heaven. You give up seeking your own selfish pleasure and seek eternal life.

It means that you put God before your own self-centered needs. Paul described it like this: "I have been crucified with Christ and I no longer live, but Christ lives in me. The life I live in the body, I live by faith in the Son of God, who loved me and gave himself for me" (Galatians 2:20).

If you want to go to heaven, you have to act like you want to go. You have to live like a kingdom person to inherit the kingdom. People who inherit the kingdom of heaven obey. They love. They forgive. They trust. They live for things eternal and invest in them. Jesus said, "Store up for yourselves treasures in heaven, where moth and rust do not destroy, and where thieves do not break in and steal. For where your treasure is, there your heart will be also" (Matthew 6:20-21).

You can't live in darkness and expect to inherit the kingdom of light. You have to desire the things of God more than the things of the world. If you really don't want heaven you won't find it. You get to heaven by coming to Christ; asking for his forgiveness; wanting him to change you, and cooperating with his effort to transform your heart.

This is the hope that causes us to burst into praise with Peter who wrote: "Praise be to the God and Father of our Lord Jesus Christ In his great mercy he has given us new birth into a living hope through the resurrection of Jesus Christ from the dead, and into an inheritance that can never perish, spoil or fade — kept in heaven for you, who through faith are shielded by God's power until the coming of the salvation that is ready to be revealed in the last time. In this you greatly rejoice, though now for a little while you may have had to suffer grief in all kinds of trials" (1 Peter 1:3-6). This is the hope that keeps us going even though we have suffered through grief and trials. Vance Havner used to say, "The hope of dying is the only thing that keeps me alive."

Gordon Zwicky won top honors in this year's Burlington Liars Club. Zwicky, who is 72, beat out 299 other people from 31 states and Canada. Zwicky claimed him and his wife, Dorothy, won the lottery and decided to drive to Florida. They had never been anywhere before, but their neighbor told them they would be fine as long as they paid attention to the road signs. Thirty miles from home they saw a sign stating, "Clean Restrooms Ahead." Two months later they arrived in Florida. By that time, they had cleaned 450 restrooms using 267 rolls of paper towels, three cases of bowl cleaner and 86 bottles of Windex. They were so tired, they immediately left for home.

THANKFULLY, GETTING TO HEAVEN IS NOT THAT HARD. . .OR IS IT?

Actually, trying hard to pay attention to all the signs and obey all the rules would be easy compared to giving up your life to experience the life of God. Jesus said, "If anyone would come after me, he must deny himself and take up his cross and follow me" (Matthew 16:24).