Gideon; From Despondency to Defiance Part 1
by John Lowe
(Laurens SC, USA)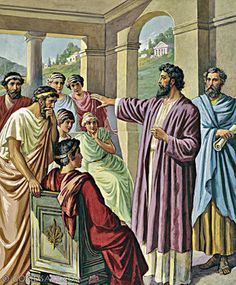 Judges 6:1-7:23


Hebrews 11 is often called God's "HALL OF FAME."
In this chapter, we find a character with whom we can identify.
His name is GIDEON.
Gideon's name is found in verse 32.
A phrase in verse 34 especially describes Gideon: "OUT OF WEAKNESS WERE MADE STRONG."
Gideon was weak, but God made him strong.
Sermon Text: Judges 6 & 7
Judges 6 begins by telling us that for seven years the Midianites had been tormenting and terrorizing the Israelites.
During every harvest season, the Midianites would rush in like swarms of locusts covering the land and devouring everything in their path.
This oppression became so severe that it caused the Israelites to hide in mountains and caves.
God's people became beaten down and filled with depression.
The enemy tries to do the same with us today.
Today's message will focus on three aspects of Gideon's character: GIDEON'S DESPONDENCY, GIDEON'S DEPENDENCY, and GIDEON'S DEFIANCE
First, there is GIDEON'S DESPONDENCY (6:11-13)
Gideon is a good example of despondency.
He was so terrorized by the Midianites that he threshed wheat in a winepress—the worst place for that task.
In the Middle East to this day, you will see them threshing wheat by harvesting it, then taking it out on a big flat slab or rock where they beat the wheat and throw it in the air so that the chaff is blown away and the wheat falls to the ground.
The last place you would do this would be in a winepress for the rather obvious reason that a winepress is exactly the opposite of an open threshing floor.
A winepress is a carved-out stone, in which you put the grapes, and the maidens come and dance around on them, and the juice comes out.
Within the confines of a wine press, only a small amount of wheat could be threshed at a time.
Gideon was trying to thresh his wheat in a winepress because he had lost heart and was in despair.
He was afraid that the Midianites might see him threshing wheat and steal it from him, so he hid in a winepress.
So in this opening scene, we find Gideon AFRAID and HIDING from the enemy.
Verse 11 says—"there came an angel of the Lord" to Gideon.
The phrase "an angel of the Lord" should have been translated "THE angel of the Lord."
The angel of the Lord in the Old Testament is Christ Himself.
We call this a theophany, a pre-incarnate appearance of God in human form.
Verse 14 tells us—"And THE LORD looked upon him. . . ."
This proves to us that the angel of the Lord who spoke to him was the Lord Himself!
The angel of the Lord said to Gideon, "The Lord is with thee, thou mighty man of valour" (v. 11).
The truth was, though, that Gideon wasn't a mighty warrior at all, but a SCARED FARMER.
He must have looked around and asked, "Are you talking to me? Mighty man of valor? This is me, Gideon, hiding in a winepress! You've got the wrong guy. The mighty man of valor lives down the road."
Gideon took issue with the Angel's statement, "The Lord is with thee."
He replied, "IF," One of Gideon's favorite words was "if" if the Lord be with us, why then is all this befallen us? and where be all his miracles which our fathers told us of. . . ."
In other words, Gideon was QUESTIONING GOD'S PRESENCE WITH HIS PEOPLE.
The power of Israel's enemies seemed to show that God was not with His people.
Jewish theology taught that God lived among His people, but Gideon's people had begun to LOOK AT THEIR CIRCUMSTANCES INSTEAD OF THEIR THEOLOGY.
When you begin looking at your theology through your circumstances, you soon find your theology shifting.
Gideon needed to be reminded that whatever his circumstance, the Lord was with him.
Some of you may live in very difficult circumstances, but you must see your circumstances in the light of your theology, not vice versa.
THE LORD HAD NOT REALLY FORSAKEN THEM; THEY HAD FORSAKEN THE LORD.
We have seen Gideon's despondency, and now let's take a look at GIDEON'S DEPENDENCY (6:14-24)
The PROMISE of God's PRESENCE IS GIVEN IN VERSES 14-16.
6:14-16—"And the Lord looked upon him, and said, Go in this thy might, and thou shalt save Israel from the hand of the Midianites: have not I sent thee? And he said unto him, Oh my Lord, wherewith shall I save Israel? behold, my family is poor in Manasseh, and I am the least in my father's house. And the Lord said unto him, SURELY I WILL BE WITH THEE, and thou shalt smite the Midianites as one man."
The Angel said, "Go in this thy might, and thou shalt save Israel from the hand of the Midianites: have I not sent thee?"
However, Gideon immediately began to make EXCUSES for himself.
He gives three excuses in verse 15:
1. HIS FAMILY WAS POOR.
2. HE BELONGED TO THE TRIBE OF MANASSEH—a tribe not known for its military strength.
3. HE WAS THE LEAST IN HIS FATHER'S HOUSE, meaning that he was the youngest son of his family.
When the angel said to Gideon, "Go in this thy might," Gideon must have been thinking, "WHAT MIGHT?"
He said, "I'm the youngest son of an insignificant family from a militarily impoverished tribe."
In essence, he was saying that he was NOT QUALIFIED for this task, neither was his family, and neither was his tribe.
He was telling God, "You've got the wrong guy."
Friends, GOD KNOWS OUR WEAKNESSES BEFORE HE CALLS US; THEREFORE, OUR EXCUSES HAVE NO EFFECT ON HIM.
When Gideon gave the excuse, "I am the least in my Father's house," God didn't say, "Oh, is that right? Maybe I'll get in touch with your older brother."
He used the phrase, "Wherewith shall I?" which to us means "HOW CAN I?"
MOSES asked, "Who am I, that I should go unto Pharaoh, and that I should bring forth the children of Israel out of Egypt?" (Exodus 3:11).
JEREMIAH said, "Ah, Lord God! behold, I cannot speak: for I am a child" (Jeremiah 1:6).
Notice their emphasis on "I."
Gideon wondered, "HOW CAN I?"
Moses asked, "WHO AM I?"
Jeremiah responded, "I CANNOT SPEAK."
And they were right.
ON THEIR OWN they could not do the will of God.
But what did God say?
God gave Moses and Jeremiah a special promise—the same promise He gave to Gideon: "SURELY I WILL BE WITH THEE."
To Moses God said, "CERTAINLY I WILL BE WITH THEE"(Exodus 3:12).
To Jeremiah God said, "Say not, I am a child: for thou shalt go to all that I shall send thee, and whatsoever I command thee thou shalt speak. Be not afraid of their faces: for I AM WITH THEE TO DELIVER THEE" (Jeremiah 1:7-8).
This promise to believers is repeated over and over again in the Bible?
To JACOB God said: "Behold, I AM WITH THEE, and will keep thee in all places whither thou goest, and will bring thee again into the land; for I WILL NOT LEAVE THEE, until I have done that which I have spoken to thee of" (Genesis 28:15).
To JOSEPH God said: "And the Lord was with Joseph, and he was a prosperous man, and he was in the house of his master the Egyptian.... But THE LORD WAS WITH JOSEPH, and shewed him mercy, and gave him favour in the sight of the keeper of the prison" (Genesis 39:2, 21).
To ISRAEL God said: "Be strong and of a good courage, fear not, nor be afraid of them: for the Lord thy God, HE IT IS THAT DOTH GO WITH THEE; he will not fail thee, nor forsake thee. . . . then my anger shall be kindled in that day when the people will turn to false gods, and I will forsake them, and I will hide my face from them, and they shall be devoured, and many evils and troubles shall befall them; so that they will say in that day, Are not these evils come upon us, because our God is not among us? Doesn't that sound like Gideon's complaint?" (Deuteronomy 31:6, 17).
To JOSHUA God said: "Be strong and of a good courage; be not afraid, neither be thou dismayed: for THE LORD THY GOD IS WITH THEE WITHERSOEVER THOU GOEST" (Joshua 1:9).
DAVID'S TESTIMONY was: "God is our refuge and strength, A VERY PRESENT HELP IN TROUBLE. . . . THE LORD OF HOSTS IS WITH US; the God of Jacob is our refuge" (Psalm 46:1, 7). And he also said, "I have been young, and now am old; yet HAVE I NOT SEEN THE RIGHTEOUS FORSAKEN. . . ." (Psalm 37:25).
Of SOLOMON it is said: "And David said to Solomon his son, Be strong and of good courage, and do it build the temple of God: fear not, nor be dismayed: for THE LORD GOD, EVEN MY GOD, WILL BE WITH THEE: he will not fail thee, nor forsake thee, until thou has finished all the work for the service of the house of the Lord" (1 Chronicles 28:20).
To THE APOSTLES God said: "Lo, I AM WITH YOU ALWAY, even unto the end of the world" (Matthew 28:20).
To PAUL God said: "Then spake the Lord to Paul in the night by a vision, Be not afraid, but speak, and hold not thy peace: for I AM WITH THEE. . . ." (Acts 18:9-10).
To US God has this to say: ". . . I WILL NEVER LEAVE THEE NOR FORSAKE THEE. So that we may boldly say, The Lord is my helper, and I will not fear what man shall do unto me" (Hebrews 13:5-6).
In Paul's letter to the Romans, Paul said, "IF GOD BE FOR US, WHO CAN BE AGAINST US?" (Romans 8:31).
Paul told the Philippians, "I CAN DO ALL THINGS THROUGH CHRIST WHICH STRENGTHENETH ME" (Philippians 4:13).
God's promise to Gideon was, "Surely I will be with you."
That meant, "BE COURAGEOUS. If I am for you who can be against you? Not the Midianite army. You will smite them as one man. You can do all things through My strength. I will be with you."
God gives the same promise to every one of His children.
Whatever circumstance you find yourself in today, He says to you, "I am with you. Don't be discouraged. Don't be depressed. Don't be despondent. Don't be afraid. Don't worry. I am for you; it doesn't matter who or what is against you. I will always be with you. I will never leave you."
WHEN GOD IS WITH YOU, THE SIZE OF THE ENEMY IS OF NO GREAT CONCERN.
HOWEVER, In spite of the promise of God's presence, Gideon still asked for a sign to confirm the angel's message.
In fact, he asks for three signs in chapter 6.
Gideon found it very hard to believe that God could use him as Israel's leader.
This again points to Gideon's FEAR.