God's Essential Musts: Part 3 of 3
by John Lowe
(Laurens, SC)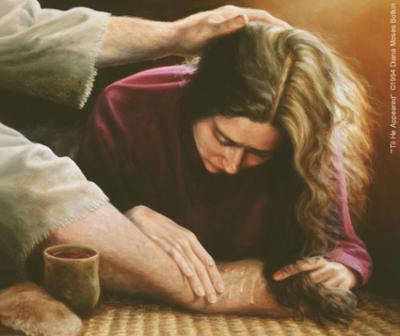 WE MUST SUFFER


Paul was making a tour of the churches where he had preached. Many people in those churches had suffered hardships and persecution because of their faith in Jesus. Paul prayed for them and he had them on his mind when he wrote, "Exhorting them to continue in the faith, and that we must through much tribulation enter into the Kingdom of God" (Acts 14:22). Paul loved them and he felt their pain, so he tried to encourage them. He told them that what they were going through was not uncommon, and that all believers would suffer in some way, and that, "we must through much tribulation enter into the Kingdom of God."

Satan is the god of this age, and he goes about as a roaring lion, seeking whom he may devour. The lost men and women of this world are the children of the devil, and they are rebels against Jesus Christ, and they will certainly oppose the servants of Christ. Jesus said, "Marvel not if the world hate you." And He also said, "In the world ye shall have tribulation." It's for sure; this world has not had a change of heart.

When Jesus came into the world, the world knew Him not and his own received Him not. And the world has the same attitude toward the servants of Jesus. Jesus said, "If they have called the Master of the house Beelzebub, how much more shall they call them of His own household?" The meaning is, "Those that hate Jesus and God will also hate us." It is true that persecution doesn't always take the same form. It's different in different places and at other times. People in America aren't mistreated because of what they believe about God, but in some parts of the world people still suffer and die if they declare faith in Christ.

There are so many things around today that will draw the interest of Christians away from church and a separated life. That's why it's so important for believers to be praying and studying the Bible and fellowshipping with Christian friends. Paul said, "If any man live Godly in Christ Jesus, he shall suffer persecution." And then he said, "It is given you, in behalf of Christ, not only to believe on Him but also to suffer for His sake."

When the Brooklyn Bridge was being built, the drillers were digging deep to get to bedrock. The giant buttresses must rest on bedrock to hold the weight of the gigantic bridge and all the traffic that would cross over it. The following story relates an incident that took place at that time.

One of the men in charge of the drilling called the chief engineer and asked him to examine the drills that were grinding through to solid rock. He said to the engineer, "Have we reached bedrock?" As the engineer looked down and watched the big drills turn, he replied, "No, not yet, there is nothing but soapstone." A short time later the engineer came by and said, "Stop your engines, you have hit bedrock." "And how can you tell so quickly?" he was asked. The reply is worth remembering: "Can't you see it shooting fire; when you get to bedrock it always shoots fire." And that's the way it is with the Christian; when a Christian gets to bedrock in his service, testimony, and life, he will find the sparks begin to fly.

As the end of the age nears, and Christ prepares to return, we may expect to suffer more and more for His Name. Before many moons have passed, the wrath of Satan will increase again, and Christians will once again begin to face tribulation. But let's stand
firm in our faith. Think about all those wonderful things that await us. Think of all the promises of God that will be revealed to us. And think about the glory we will share with our Savior. Only one must remain, and that is—
WE MUST APPEAR
"For we must all appear before the judgment seat of Christ; that every one may receive the things done in the body,…whether it be good or bad" (II Corinthians 5:10).
There is a day coming when Jesus will call His own to Himself. The Lord is coming with a shout and with the voice of the archangel and the trump of God. Then the dead and living, which are in Christ, will all be caught up to meet the Lord in the air. When the rapture takes place, the sons and daughters of God will stand in the congregation of the righteous. They must stand before the Bema or the judgment seat of Christ. Today, we are building upon Jesus, the solid Rock; and we are building with wood, hay, and stubble or with gold, silver and precious stones. On that day, we will be judged for our works. We have been entrusted with a soul, and He will want to know what we have done with it. He will declare to us the result of our lives, and then we will receive either a reward or suffer loss. There is no way to escape that hour of reckoning of Jesus with His saints. It is not a question of whether we are saved or lost, and it's not a question of heaven or hell. The sin question was settled long, long ago on the Cross. And now, there is no judgment as far as sin goes, for those who are in Christ Jesus; but there is a judgment of rewards.
The Kingdom of Heaven is like a high government official who takes a journey to a faraway country. He leaves each of his employees with a certain amount of money, and tells them to invest it so he will have even more when he returns. When the man returns, he calls his employees together to see how much they have increased his wealth, and to reward them accordingly. One who has done exceptionally well is given more authority, and another who pleased his boss was given slightly less authority. But, there was one employee who simply hid what he was given, and he loses his reward.
Surely, we would try harder in our daily life, and in our service for the Lord, if we remembered that God has revealed in His Word that we must stand and be judged for those things we have done in the body, whether good or bad. Let's be diligent in living for Jesus and in serving Him, because both will have some bearing on the Judgment Day.
Conclusion
There are five crowns that the Lord Jesus will give out on the Judgment Day. He will give them to His saints who have been faithful in five distinctive ways. These crowns cover more than service, they cover suffering, for example. Suffering, if need be, maybe unto death. There is another crown for "feeding the flock of God." It's called the pastor's crown, and it's also available to us. There is another crown that you may receive; it's given to those who have been faithful in their service to God and His Kingdom. And another crown will be given to those who have won souls for God.
Let's remember that the judgment of believers is not only a matter of service to the Lord, but it's also a matter of suffering, and of keeping the faith, and of holy living as well.