God's Message to Pharaoh part 1
by John Thomas Lowe
(Woodruff, S.C.)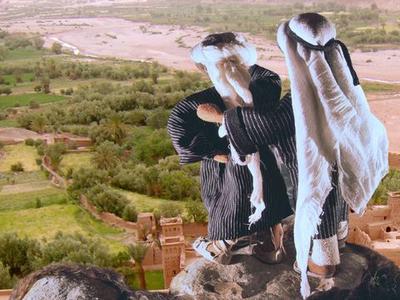 Exodus 4:21-23

21 And the LORD said unto Moses, When thou goest to return into Egypt, see that thou do all those wonders before Pharaoh, which I have put in thine hand: but I will harden his heart, that he shall not let the people go.
22 And thou shalt say unto Pharaoh, Thus saith the LORD, Israel is my son, even my firstborn:
23 And I say unto thee, Let my son go, that he may serve me: and if thou refuse to let him go, behold, I will slay thy son, even thy firstborn.


Introduction

This chapter is a continuation of the discourse that passed between God and Moses; and here Moses makes other objections to his mission; one is taken from the unbelief of the people of Israel, which is removed by giving him power to work miracles, by turning the rod in his hand into a serpent, and then into a rod again; and by putting his hand into his bosom at one time, when it became leprous, and again into the same place, when it became sound and whole, and by turning the water of the river into blood, Ex 4:1-9, another objection is formed from his want of eloquence, which is answered with an assurance, that God, that made man's mouth, would be with his mouth, and teach him what to say; and besides, Aaron his brother, who was an eloquent man, should be his spokesman, Ex 4:10-17 upon which he returned to Midian, and having obtained leave of his father-in-law to depart from thence, he took his wife and his sons, and returned to Egypt, Ex 4:18-20 at which time he received some fresh instructions from the Lord what he should do before Pharaoh, and what he should say unto him, Ex 4:21-23 then follows an account of what befell him by the way, because of the circumcision of his son, Ex 4:24-26 and the chapter is closed with an account of the meeting of Moses and Aaron, and of their gathering the elders of Israel together, to whom the commission of Moses was opened, and signs done before them, to which they gave credit, and expressed their joy and thankfulness, Ex 4:27-31.


Commentary
We were told in verse 18…
Moses obtains leave of his father-in-law to return to Egypt. His father-in-law had been kind to him when he was a stranger, and therefore he would not be so uncivil as to leave his family nor so unjust as to leave his service without giving him notice.
Note, The honor of being admitted into communion with God and being employed by/for him does not exempt us from the duties due to our families and callings in this world.
Moses said nothing to his father-in-law about the glorious manifestation of God that appeared to him. We are to be thankful to God for such favors but not boast of it before men. He receives further encouragement and directions from God in his work. After God had appeared to him in the burning bush to clear up an exchange of ideas, he often spoke to him with less overwhelming earnestness as there was occasion. And,
1. He assures Moses that the coasts are clear. Whatever new enemies he might make by undertaking this mission, his old enemies were all dead, all that sought his life (v. 19). Perhaps some secret fear of falling into their hands was at the bottom of Moses's backwardness1
2. To go to Egypt, though he was unwilling to admit it, instead, he pleaded unworthiness, insufficiency, poor pronunciation, etc.
Note that God knows all the temptations his people lie under and how to arm them against their secret fears (see Ps. 142:3).
3. He orders him to do the miracles, not only before the elders of Israel but before Pharaoh, v. 21. There were some alive perhaps in the court of Pharaoh who remembered Moses when he was the son of Pharaoh's daughter and had often called him a fool for deserting the honors of that relation. However, he is now sent back to court, clad with more extraordinary powers than Pharaoh's daughter could have advanced him to, so that it might appear he was no loser by his choice. This wonder-working rod did more to adorn the hand of Moses than the scepter of Egypt could have done.
Note, those who look with contempt upon worldly honors shall be recompensed with the honor from God, which is the actual honor.
4. That Pharaoh's stubbornness might be no surprise nor discouragement to him, and God tells him before that he would harden his heart. Pharaoh had hardened his own heart against the groans and cries of the oppressed Israelites and shut up the bowels of his compassion from them. In the way of righteous judgment, God hardens his heart against the conviction of the miracles and the terror of the plagues. Ministers must expect with many to labor in vain: we must not think it strange if we meet with those who will not be wrought upon by the most potent arguments and fairest reasonings, yet our judgment is with the Lord.
5. Words are put into his mouth to address Pharaoh, v. 22, 23. God had promised him (v. 12), I will teach thee what thou shalt say, and here he does teach him.
 (1.) He must deliver his message in the name of the great Jehovah: Thus saith the Lord; this is the first time that preface is used by any man which afterward is used so frequently by all the prophets: whether Pharaoh will hear, or whether he will forbear, Moses must tell him, Thus saith the Lord.
 (2.) He must let Pharaoh know Israel's relation to God and God's concern for Israel. Is Israel a servant? Is he a home-born enslaved person? Jer. 2:14. "No, Israel is my son, my firstborn, precious in my sight, honorable, and dear to me, not to be thus insulted and abused.
 (3.) He must demand a discharge for them: "Let my son go; not only my servant whom thou hast no right to detain but my son whose liberty and honor I am very jealous for. My son, my son, serves me, and therefore must be spared, must be pleaded for, Mal. 3:17.
 (4.) He must threaten Pharaoh with the death of the firstborn of Egypt in case of a refusal: I will slay thy son, even thy firstborn. As men deal with God's people, let them expect to be themselves dealt with; with the froward, he will wrestle.
• III. Moses addresses himself to this expedition. When God had assured him (v. 19) that the men were dead who sought his life immediately followed (v. 20), he took his wife and sons and set out for Egypt. Note, Though corruption may object much against the services God calls us to, grace will get the upper hand and will be obedient to the heavenly vision.

Question: What message did God send to Pharaoh through his dreams?
There will be seven years of great abundance in Egypt, followed by seven years of famine. No one will remember the years of abundance because the famine is so severe.

Why did God give Pharaoh the dreams?
"And now let Pharaoh look for a discerning and wise man and put him in charge of the land of Egypt. … The plan seemed good to Pharaoh and all his officials. The dream was given to Pharaoh in two forms because God had firmly decided the matter, and God would do it soon.

What is the promise of Pharaoh's dream?
He then came before Pharaoh and told him that his dream meant there would be seven years of abundance in the land of Egypt followed by seven years of famine. Joseph recommended that "a discerning and wise man" be put in charge, and that food should be collected in the good years and stored for use during the famine.

What did Pharaoh's two dreams mean?
In contrast to his interpretation of the ministers' dreams, Joseph determines that Pharaoh's two dreams are one, and he even explains why this is so: "As for Pharaoh having had the same dream twice, it means that God has determined the matter and that God will soon carry it out" (41:32).

What was Joseph's reward for interpreting Pharaoh's dream?
Joseph became the vizier of Egypt, the prime minister, and was given a gold seal of authority after interpreting the Pharaoh's dream. The Bible says that Joseph became a wonderful man whom everybody loved, and wherever he went, they cried after him 'Abrek'—an enigmatic phrase.

How did Joseph learn to interpret dreams?
God gave Joseph the ability to interpret dreams. Pharaoh's cupbearer and baker were also in custody when they each had a dream on the same night. … Then Joseph told them what the dreams meant. The cupbearer would be restored to his position, but the baker would be executed.

How did Joseph and Pharaoh respond to God's revelation of a coming crisis?
How did Joseph and Pharaoh respond to God's revelation of a coming crisis in Egypt's future? … The Pharaoh picked Joseph and made him be in charge of everything under him.

What is the meaning of Joseph's dream?
The meaning of the dream of Joseph was that he would become an administrator, and his father Jacob (the sun), his current stepmother (the moon), and his 11 brothers (stars; morning stars, also called planets) would bow down to him in honor and for provisions.

What did the fat cows symbolize in Pharaoh's dream?
Pharaoh dreams of seven fat cows, devoured by seven starving cows in one of the dreams. Seven ripe, healthy sheaves of wheat are devoured by seven shriveled, dry ones in the second. Joseph correctly predicts that this means, "Immediately ahead are seven years of great abundance in all the land of Egypt.

What does the Bible say about interpreting dreams?
Believers can prayerfully ask God for wisdom and guidance regarding the interpretation of dreams (James 1:5). If God speaks to us through a dream, he will always make his meaning clear, just as he did for people in the Bible.