God's Purpose
by James M
(Melbourne, Victoria)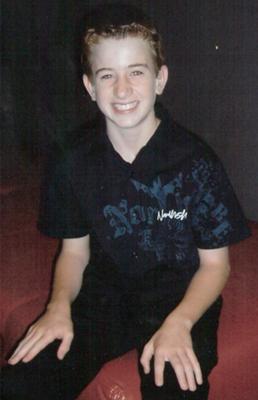 2005
1 Timothy 4:12


This is my first message, I may only be 14 years old but this verse keeps me going and I want to be an example of this, by doing it, not just saying it.

1 Timothy 4:12 – Don't let anyone look down on you because you are young, but set an example for all believers in speech, in life, in love, in faith and in purity.

I'm going to be talking about God's purpose and having the courage to do it. You see, we are the only ones that can spread the word. So we need to grab every opportunity that comes by and extend God's house!

It also takes a lot of courage and Faith! I have a vision of what it looks like to me; I will describe it for you. We are in this very room, shouting praises, hearing the word and meeting great people, having the best time.

When we get out, we see people driving past. It's back into the real world, and if someone asked me about church, God, etc. and I don't want to talk to them about it then I brush them off. I know for sure that I will be hitting myself for not taking the opportunity and I ask God for another one.

But soon I will be making a habit of not grabbing opportunities! Whereas if I go back and actually grabbed the opportunity, I know God is looking down on me with a smile on his face and I have grown spiritually and actually grown with my courage!

John 20:24
(doubt, hold back, it sounds ridiculous to them! etc.)
Here are some things that non-Christians think
• Bible is a rulebook, no, it's a life manual.
• It's a religion no, a relationship.
• We have guidelines and rules, no, we have passion and love!

Job 37:2-5
God is speaking to us AND through us! God is using us to spread the powerful word. That's why people speak in tongues, to let God pray for the person or people. These magical words come out of their mouth and it is God speaking through them. When they finish, they think 'wow, how did I do that?'

Well that was God's power in motion!! Most people struggle because they don't have the courage to speak out and they doubt God's word because they are scared of what others will think of them.

Ephesians 3:20 – God is able to do more
far more than we would ever dare to ask or even dream of. Way beyond our highest prayers, desires, thoughts or hopes.
It tells us that God WILL, not might, WILL help us become a greater person! God turned Moses, a murderer, into a great leader! He also turned Gideon from a coward to a courageous hero. He did it because it was his purpose and he will do the same thing FOR YOU!! He won't hesitate one bit, (act out hesitation) because you were brought here on Earth for a reason, a purpose.
You did not slip onto this world by accident, your parents may say so but God planned that moment for YOU to be on HIS world for HIS purpose. He recorded each day in a book with your name, he wrote what you thought, you said and what you did on every single day. He wrote it before you were in your mother's womb.
Here are some verses that help me realise that:
Psalms 139:15 – You know me inside and out, you know every bone in my body. You know exactly how I was made, bit by bit, how I was sculpted from nothing into something!!!! (emphasis the 'nothing into something')
1 Corinthians 2:7 – God's wisdom goes deep into the interior of his purposes. It is not the latest message, it's the oldest. God is determined to bring out his best in us.
Jeremiah 29:11 – 'For I know the plans I have for you' declares the lord 'Plans to prosper you, not to harm you, plans to give you hope and a future. (emphasis DECLARES..not guessed etc., he actually declares it.)
Here is a verse that encourages me to spread the gospel and hopefully will help you too-
Joshua 1:9 – Have I not commanded you? Be strong and courageous. Do not be terrified; do not be discouraged, for the Lord your God will be with you wherever you go!!
I pray that God's will and your courage will forever be on your heart and you will go GREAT distances for God! Why? Because our God IS GOOD!
Note from Mark:
Thanks James for sharing your first sermon. I still remember my first sermon and that was a long time ago! I will be praying for you that you will be a mighty preacher for our Lord. Study and practice and learn from other preachers and keep coming back to our website to read other preachers sermons. Good job.