Guess Who is Coming to Dinner Part 1
by John Lowe
(Laurens SC, USA)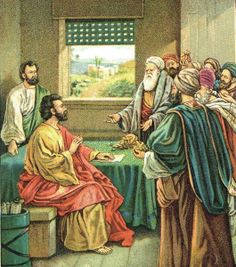 Introduction:

Luke 10:38-42
38 Now it came to pass, as they went, that he entered into a certain village: and a certain woman named Martha received him into her house.
39 And she had a sister called Mary, which also sat at Jesus' feet, and heard his word.
40 But Martha was cumbered about much serving, and came to him, and said, Lord, dost thou not care that my sister hath left me to serve alone? bid her therefore that she help me.
41 And Jesus answered and said unto her, Martha, Martha, thou art careful and troubled about many things:
42 But one thing is needful: and Mary hath chosen that good part, which shall not be taken away from her.
How do you feel?

Are you tired; don't feel like doing anything; would you like to go back to your room and take a nap.
Fatigue is one of our most common complaints.
Too many people are juggling multiple responsibilities while getting too little sleep and not enough exercise.
That's me; I don't get enough sleep.
I sleep anywhere from one hour-5 hours, so I feel tired most of the time.
Recently the National Transportation Safety Board announced that operator fatigue is a primary cause of one hundred thousand traffic accidents every year in the United States, resulting in fifteen hundred deaths annually.
On our American Waterways, fatigue accounts for16% of all accidents; and on our rails, fatigue has caused twenty terrible train wrecks in the last ten years.
In today's text, Jesus met a frazzled woman, named Martha, who was fatigued from stress, worry and all the work she had to do to prepare a meal for Jesus; and He talked to her about her condition.
Martha, who is thought to be a widow, lived with her sister Mary and her brother Lazarus in the town of Bethany, which at that time was about two miles from Jerusalem.
Jesus and His disciples had come to the town of Bethany,
because Martha had invited Jesus to eat at her home.
She received Him into her home in a very courteous manner.
Jesus knew this family very well.
In fact, Lazareth was a friend of Jesus.
He is the one that Jesus wept over and raised from the dead.
When Jesus entered the house, He began to preach to those that were there, and to those who came along with him.
Martha was extremely busy getting everything ready for the meal, but her sister Mary set down at Jesus' feet to listen to what He said.
There it is!
The one thing that we need.
Jesus told Martha, "But one thing is needful: and Mary hath chosen that good part."
She sat at His feet and listened with great eagerness, diligence, affection, and pleasure.
Mary chose to listen to God's word.
God's word is the one thing needful.
But why is God's word so important?
Well, for one thing, it tells us who we are.
In this world, there are very few people who really understand themselves.
It's hard for us to look honestly at ourselves.
The world is full of people, who think they are something, when they really aren't.
Then there is the other extreme; there are many people who suffer from low self-esteem, anorexia, bulimia, who don't see who they really are when they look in the mirror.
But the Bible, God's word, helps us to know ourselves better.
When we look into the mirror of God's word, first of all, we discover that we are people who have set very poor priorities.
Jesus tells us that we should seek first the Kingdom of God, or in other words, that God and His word should be number one in our lives.
But in our daily lives, what place does God really have?
If what we do during the day reflects our priorities, where does that leave God?
Do you set aside time each day to study and meditate on God's word?
Do you thank Him every morning for the new day that He has given you, for your family, for your home, for your friends?
Do you talk to your friends and family about God?
In your conversations with family and friends, do you mention that God is important to you?
I must confess that I have to answer very sadly to these questions.
There are other reasons why God's Word is so important; it teaches us that road to heaven; the road who is Jesus Christ our Lord.
It is a lamp to guide us down the right road, it is our spiritual food, and as I have heard J.D. say, "It recharges our batteries".
Listen to these words from Romans10:14, 17, "How then shall they call on him in whom they have not believed? and how shall they believe in him of whom they have not heard? and how shall they hear without a preacher? So then faith cometh by hearing, and hearing by the word of God."
Here it is again, "the one thing needed," the word of God.
It says that faith comes from hearing the word of God.
How can you believe in someone that you don't know?
This is a great verse, because it shows us how God works to bring a person to faith in Him.
It says that God uses a person to bring the word of God to someone who is lost and that the Holy Spirit takes that word and works a miracle in the heart of that lost man or woman; so then faith comes by hearing the word of God.
That's what Mary was doing, while Martha was being overwhelmed by all she had to do to prepare a delicious meal for Jesus.
How hard-working and caring and practical she was.
But Martha had some problems—not one single problem, but five overlapping ones that we can uncover by carefully considering our text.
These two women, Mary and Martha, are nothing alike, as we will see.
When we finish with their story I hope you will ask yourself, "Am I like Mary or am I like Martha?"


Let's look first at WHEN WE ARE LIKE MARTHA.

Remember, I said that Martha had five overlapping problems—she is DISTRACTED, she is DOUBTING, she is FEELING SELF-PITTY, she is WORRYING, AND she is TROUBLED.
Let's look at each one to see if we share any of the same problems.

SHE IS DISTRACTED.
Verse 40 says: "But Martha was distracted with much serving."
The Greek word is a compound of two smaller terms, the verb to draw and the word around or away.
It's the idea of being pulled in every direction.
Martha was pulled in every direction.
Most of us can identify with that.
We allow ourselves to become too busy, busier than God intends, busier than necessary, busier than is wise.
That is why so many people are tired today.
Our text tells us that Martha was distracted by all the preparations, which had to be made.
Just imagine God Himself is visiting.
The house is a mess.
The food isn't ready.
The table is dirty.
God is setting in your living room, and your sister refuses to help.
Martha is afraid that she will not be able to get everything done—

SHE IS DOUBTING
In verse 40, Martha says something shocking: "Lord do you care…"
How often, while being pulled in all directions, do we momentarily doubt God's caring and concern?
She was like the Psalmist who wrote: "No one cares for my soul" (Psalm 142:4).
You could say—

SHE IS FEELING SELF-PITY
"Lord," said Martha, "do you not care that my sister has left me to serve alone?"
Of course, Martha did need help.
No one denies that.
It is said that "Many Hands make light work."
The running of a household and the entertaining of guests require that every member of the family do his or her part.
But Martha's agenda didn't line up with the agenda of Jesus.
He wasn't so concerned about the seasoning in the beans, the dust on the floor, or the way the napkins were folded.
He was concerned that His life-changing Word gets out, and that those in the house hear what He had to say.
That left poor Martha feeling abandoned in the kitchen where she fell into a resentful mood of irritable self-pity.
The scripture says that Martha went into the room where Jesus was preaching, "And she stood and said", "My sister is not helping me, will you please ask her to give me a hand with the preparations."
Note that she did not set at the feet of Jesus as Mary did, to listen to His preaching, but instead, she stood so she could leave quickly and return to work.
Now understand, Martha wasn't wrong in what she wanted to give her Savior, a delicious meal.
But really, it's a question of priorities.
What is the one thing needful?
It is the Word of God.
Mary chose that one thing.
She sat at the feet of Jesus to hear God's word.