HALF OFF CHRISTIANS
by CharlesRobey
(Trussville, AL USA)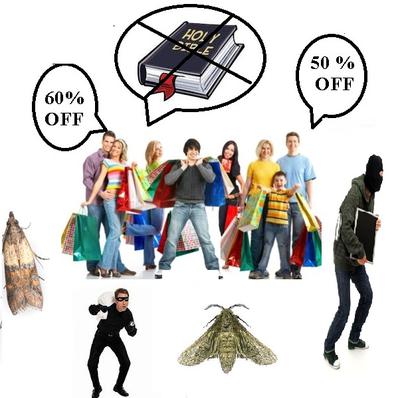 "Lay not up for yourselves treasures upon earth, where moth and rust doth corrupt, and where thieves break through and steal:But lay up for yourselves treasures in heaven, where neither moth nor rust doth corrupt, and where thieves do not break through nor steal: For where your treasure is, there will your heart be also." (Matthew 6:19-21)


Many Americans just love practicing the old, alluring, attractive American adage of "Everybody loves a bargain." From a secular, material point of view, that's probably the case, but what about the spiritual realm?

I once knew a man who would invariably always wait until after a holiday, so as to take advantage of the half-off sales. He would buy next year's Christmas paraphernalia the day after Christmas. He would buy Halloween candy after Halloween, Easter candy after Easter and Valentine candy after Valentine's Day.

The first events would probably not be controversial, but what about the latter? I suppose the unique arrangement of the Valentine's Day sale probably had nothing to do with the love of his wife, even though kind of unusual. I would certainly hope not.

So how does this particular routine parallel with our Christian prayer life? Do we Christians take advantage of a guaranteed prayer bargain, as do the bargain hunters with those worldly sales items? Do we wait until a crisis is over to make sure our prayer was answered, before we thank our heavenly Father for answered prayer, for His merciful grace?

Just knowing that we are talking to the all-powerful, all-knowing Creator and that He is just waiting to talk with us, blows my finite mind. (Psalm 27:8) What can we tell Him that He doesn't already know?

Yes, prayer is an amazing gift from God. For by prayer, we have immediate access to the throne room of the Father. And our thankfulness should always be a part of our initial prayer request, not just an afterthought. Not like getting those after-holiday bargains. It's all a matter of our Christian faith. (Hebrews 11:1.6)

The saints of old, as they talked with God, have much to teach us. Our Lord Himself had a passion for prayer, when He prayed (Psalm 22:1), as He hung there on the cross. (Matthew 27:46) Then He followed by praying (Psalm 31:5) as He cried out to God. (Luke 23:46)

You see, our prayers encourage us to intercede for others, and to be brutally honest about our sins, by giving more of ourselves to God.

Thus the more we visit God's throne room,
the more we pour our doubtful hearts out to God. We come to Him ever so bold, with our "Whys" and "How Longs." And we tend to establish a deeper faith, renewed strength and a renewed sense of His power and blessings. (Ephesians 3:20)
Yes, the more we make our pleas on our knees, the more we learn to praise Him more, to worship Him more, and to communicate with Him more personally. When we fill our prayers with His word and His promises, we keep in step with the Spirit, rather than running ahead of Him, so to speak. (Galatians 5:25)
So, are you a bargain hunter Christian, a half-off Christian, if you will? Do you wait for the best bargains of answered prayers before thanking God for His divine help, before you take your heavenly Father by faith, and thank Him in advance?
Unlike those leftover holiday bargains, our prayers should always be a current, advance thank you. You see, we can never thank God enough for what He has done for us, and what He is doing for us, and what He will be doing for us as well.(Revelation 1:8) God simply wants us to take an up-to-date delight in Him. (Psalm 37:4)
So, simply let Him take control of your life. If day by day we come close to Him, He has promised to draw near to us. (James 4:8). That alone is His up-to-date, one hundred percent bargain for our lives. No half-off, if you please.
Author's Postscript:
I realize that we Christians would never intentionally break God's laws. And God does not accuse us of gross sin. Rather, we may just be taking it easy, so to speak, much like the lukewarm Laodicean church of the Bible. (Revelation 3:14-16) They were simply lukewarm, rather than being on fire for God. So, let us examine ourselves as to whether or not we are yielding to that attitude. (1 Peter 4:17-19)
Unlike the "half-off" bargain hunters, we Christians need to seek God with all our heart and with all our soul, for God doesn't want half-hearted Christians, and he certainly doesn't want half-off Christians. (Hosea 7:13-14)
No more spiritual bargain sales. No more half-heartedness. Keep your eyes on the half-off gift and (maybe) you'll be blessed as long as it lasts. Turn your heart to the Giver, and you will be blessed for all eternity.
So, just where would you be without Jesus? What has He done for you? (Ephesians 2:12) We can never thank God enough. (Ephesians 1:18)